The D&D Daily Mobile Edition
December 18,

2015



The LP Industry's #1 News Source - Informing, Educating and Instilling a sense of community




2015's GLPS's - Group LP Selfie's
Your Team - Your Pride - Our Industry
One Team at a Time

Carter's Loss Prevention Team with their partners from Human Resources celebrating Carter's 150th birthday this year!

"Carter's – Partnerships are delivering results! "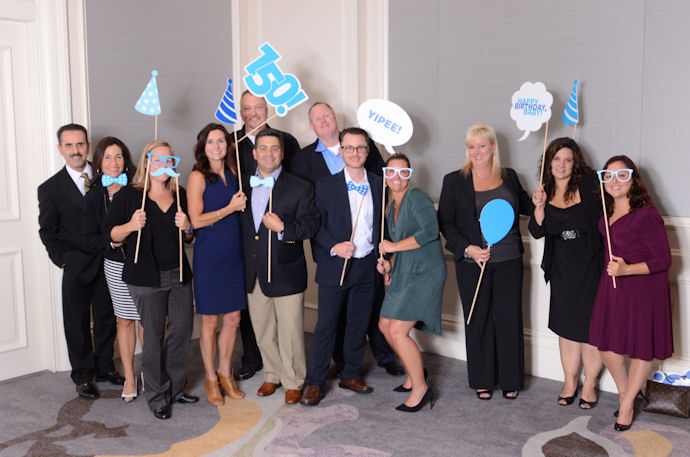 Left to Right: Andy Palomino (RLPM), Lynette Gage (RHRM), Grace LaTour (RLPM), Susan Mimnaugh (Senior Director, HR), Eric Koopmeiners (RLPM), David Shugan (Senior Director, Loss Prevention), Matt Rowland (RLPM), John Mattera (RLPM), Heidi Haugh (RLPM), Michelle Gaby (RHRM), Heather Ventresca (RHRM), Karen Kobza (RHRM).

News Brief
Sponsored by WG Security Products, Inc.
The LP/Security Nexus to the San Bernardino Shooting
- Shooter's neighbor, who worked in Retail Loss Prevention, arrested on terror charges - allegedly planned earlier attacks
Enrique Marquez, a neighbor and friend of one of the San Bernardino shooters, has been arrested for allegedly providing material support to terrorists, officials said. Authorities said that Marquez and shooter Syed Farook allegedly began plotting terror attacks in Southern California in 2011 -- attacks which were, fortunately, not carried out -- and discussed a firearms and explosives attack on Riverside Community College. "While there currently is no evidence that Mr. Marquez participated in the Dec. 2, 2015 attack or had advance knowledge of it, his prior purchase of the firearms and ongoing failure to warn authorities about Farook's intent to commit mass murder had fatal consequences," said U.S. Attorney Eileen M. Decker of the Central District of California.

Marquez, 24, was charged with conspiring with Farook in 2011 and 2012 to commit crimes of terrorism, as well as unlawfully purchasing two assault rifles used in the San Bernardino massacre and defrauding immigration authorities by entering into a sham marriage. A day after the shooting, Marquez called 911, according to a transcript included in the affidavit. "What's wrong? Why do you feel like you want to kill yourself? What's going on?" the operator asks. "I don't know. My neighbor. He did the San Bernardino shooting," Marquez said. "They can trace all the guns back to me."

According to the Associated Press, Marquez was a licensed security guard for several years, but his license expired at the end of 2014. He was hired to work at Walmart in May but has since been fired, a company spokesman said. The New York Post reported that employees at a Walmart in Corona, Calif. said Marquez had been working there as an asset protection and customer specialist for about six months. He was last seen there on Nov. 29, they said. latimes.com abcnews.com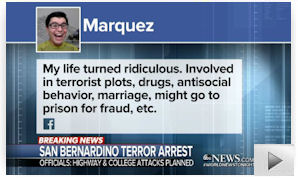 Disney and Other Theme Parks Add Metal Detectors for Holidays - Are Malls Next?
As they prepare to host tens of millions of holiday visitors, three of America's biggest theme park operators — Disney, Universal and SeaWorld — on Thursday reacted to heightened security concerns by installing metal detectors outside their gates.

But the companies, which have experimented with metal detection in the past but never adopted it on a large scale, plan to use the equipment in different ways. Disney, whose six domestic theme parks attract about 50 million people annually, will most likely make the detectors permanent. But they will initially screen guests randomly rather than divert everyone through a new line. Universal described its efforts as "a test."

This is a natural progression for us as we study the best security practices for today's world," Tom Schroder, a Universal spokesman, said in an email. SeaWorld, which operates 11 smaller parks under various brands in five states, said it would also increase security inside its properties. "The safety of our guests and team members, along with the welfare of our animals, have always been our top priority," SeaWorld said in a statement.

Disney, which also halted the sale of toy guns at its parks (after worries that a toy could be mistaken for a real firearm and prompt alarm), declined to comment beyond an emailed statement: "We continually review our comprehensive approach to security and are implementing additional security measures, as appropriate." nytimes.com

Get ready for 'Super Saturday'
According to the International Council of Shopping Centers latest consumer survey, which finds that 44% of consumers still having holiday shopping left to due, and 92% of them will be heading out to stores in force over the coming weekend to shop, dine, see a movie and/or attend a holiday related event. 37 million consumers will buy something online and pick it up at a store, according to ICSC. Of these shoppers, 76% will purchase additional items in the store where they retrieved their purchase and nearly half (48%) will purchase an item at an adjacent store. chainstoreage.com

'Star Wars' Theaters Tighten Security Due to Heavy Crowds, Suspicious Activity
With a rush of holiday moviegoers and following some suspicious activity outside theaters in at least two U.S. cities - one last week in Southern California and another in Arizona last night - exhibitors across the nation have "doubled" workforce security in preparation for the 4,134-theater release of Star Wars: The Force Awakens. It is understood that armed guards will be on duty in some cases and that heightened security at the nation's theaters will be in place throughout the holidays.

The National Association of Theatre Owners (NATO) sent a notice out to its members about both suspicious incidents, Deadline was told, including the latest incident in Tempe, AZ. When contacted by Deadline, a NATO spokesman said, "As a general rule we don't comment on security issues." One film buyer who has the film booked on the majority of their screens said they have five security guards employed at each theater. "We've hired security at every location to be safe," the buyer said. "We will have five (guards) posted and reserve the right to check (customers') bags. We will not let anyone walk in with a backpack or anything larger than a purse, and whatever they are carrying will be checked." deadline.com

FreightWatch warns of increased cargo and facility theft during Christmas, New Year's weeks
FreightWatch International is encouraging shippers and carriers to reduce shipping delays as much as possible during the winter holiday season to help reduce cargo theft. FWI said the holiday shipping season is one of the most dangerous for cargo theft and adds that this year, with Christmas Day and New Year's Day both falling on a Friday, two separate three-day weekends create more opportunity for freight to be left unattended or parked in unsecured locations for longer periods of time. FreightWatch said in addition to the usual spike in full truckload theft and pilferage, a spike in facility theft is also a possibility because of extra merchandise being shipped to restock store shelves after the holiday sales. As a recommendation, FreightWatch encourages logistics and security professionals to confirm holiday hours of operation with shipping partners to mitigate any shipping delays. ccjdigital.com

The United Nations of Merchants - Manhattan - The retail melting pot of the world
A first-of-its-kind survey of 906 existing retailers in three of Manhattan's leading shopping districts (SoHo, Fifth Avenue, and Madison Avenue) found a virtual "United Nations" of merchants originating from 26 countries. The Cushman & Wakefield study found that nearly four out of ten retailers – 39% -- originate from outside the United States.

American retailers made up 61% of the overall sample, Italians ranked overall at 11%. France placed third overall, representing 7% of the total. The U.K. ranked fourth and accounted for 5% of the surveyed retailers. chainstoreage.com

Stores with the best, worst return policies
There are several retailers who offer hassle-free returns with no deadline. These include department stores Nordstrom and Kohl's; specialty retailers L.L. Bean and Lands' End; and home goods store Bed Bath & Beyond.

On the flip side, Apple, Barnes & Noble and Lululemon offer just 14 days for shoppers to return purchases, while Best Buy allows 15 days for most products. Fast-fashion shop Forever 21 allows only 21 days for returns, though it gives a little more leeway for online purchases. Sears and GameStop allow just 30 days for returns and do not accept them without a receipt. cnbc.com

Hoverboard Safety Concerns Create Challenge for Retailers, Regulators -Instances of hoverboards bursting into flames have sparked an investigation by U.S. safety watchdogs
Rising safety concerns have turned the invention into a reminder of how quickly Chinese factories can flood a new market and the risks for retailers that scoop up little-known brands.

Instances of hoverboards, better described as self-balancing electric scooters, bursting into flames have sparked an investigation by U.S. safety watchdogs. Retailers, such as Amazon.com and Target temporarily stopped selling some brands.

On Wednesday, the U.S. Postal Service said it would no longer allow hoverboards with lithium batteries to be shipped by plane. "Out of an abundance of caution," it said, the devices will be restricted to ground shipping. The Consumer Product Safety Commission is accelerating an investigation into the devices after tallying 12 specific incidents of them catching fire. wsj.com

Staples, Office Depot Say They Won't Gouge FTC Tattlers- FTC won't give up who's trying to block merger
Staples and Office Depot on Thursday slammed the Federal Trade Commission's decision to keep secret the identities of big-name clients that warned of price-hikes following plans for a $6.3 billion merger, telling a D.C. judge the agency is overblowing fears of retaliation by the suppliers.

The FTC has so far refused to fully hand over names of companies that testified against the merger, citing concerns Staples and Office Depot will react by cutting off business partnerships or raising prices. But according to Staples' attorney, Diane P. Sullivan of Weil Gotshal, the mysterious Fortune 500 companies backing the FTC's challenge likely aren't afraid of "their paperclip supplier." law360.com

Staples, FTC stalled on settlement talks
The U.S. Federal Trade Commission is looking for office supply store Staples to improve its offer to divest assets to further its bid to buy rival Office Depot , the agency said in court on Thursday. Arguing for Staples, Diane Sullivan said that the company had made a "significant and substantial" offer to the FTC. The company said earlier this month that it had offered to divest $500 million in commercial.

Arguing for the FTC, Tara Reinhart said at a pre-trial hearing that the FTC had rejected that as inadequate. "We have actually asked them to come back," she said.

Canada's Competition Bureau has also said that it would challenge the proposed transaction. businessinsider.com

Pier 1 Latest To End On-Call Scheduling As NY Turns Up Heat
Pier 1 Imports has agreed to shelve on-call scheduling nationwide by April, joining other major retailers who gave up the practice after pressure from Albany, New York Attorney General Eric T. Schneiderman said Thursday. law360.com

Forever 21 To Pay $100,000 For Stockroom Safety Hazards at Westfarms
An employee had called OSHA to complain last November that piles of boxes blocked the back door and narrowed the hallway from the store to the exit at the Westfarms Mall in Farmington. Initially, the workplace safety division had asked for a $165,000 fine, and the company contested it.

OSHA cited Forever 21 in May after an inspection of the Farmington store found boxes piled as high as 10 feet and stacked in an unstable manner, blocking exit routes and creating a hazard. The division said in May that the retailer had been cited at five other stores nationwide during the last five years for similar hazards. oshatoday.com



LPRC News - TJMaxx Storelab Project
The University of Florida Retailing Center is partnering with TJMaxx in order to gather data on video analytics in the TJMaxx Storelab in Gainesville, Florida. The main focus will help us to analyze shoppers' behaviors and customer perceptions as it relates to video analytics. This initiative will be spearheaded by the Loss Prevention Research Council video-solutions team, along with the likings of Professor Hyunjoo Oh from the University of Florida. Stay tuned as more news and details regarding this project emerge!
All the News - One Place - One Source - One Time
The D&D Daily respects your time
& doesn't filter retail's reality

Report Your News!
(content subject to approval)



Congress passes controversial cybersecurity bill attached to omnibus budget
This morning, Congress passed the Cybersecurity Information Sharing Act of 2015, attached as the 14th rider to an omnibus budget bill. The bill is expected to be signed into law by the president later today. Intended to ease sharing of information between corporations and the government, the bill had drawn controversy since its introduction last year. The Center for Democracy and Technology said it risked creating "a backdoor wiretap," while Sen. Ron Wyden (D-OR) called it "a surveillance bill by another name." Earlier this week, Sen. Diane Feinstein (D-CA) called the bill "an important first step to address a significant drain on our economy and threat to our national security."

The bill passed by Congress also strips away many of the previous anonymization provisions included in previous versions of CISA, which has drawn significant criticism from the security community. In effect, the new language clears the way for an open channel between tech companies and the government, unaffected by existing privacy laws. theverge.com

Banks: Card Breach at Landry's Restaurants
Fraud analysts in the banking industry tell KrebsOnSecurity that the latest hospitality firm to suffer a credit card breach is likely Landry's Inc., a company that manages a nationwide stable of well-known restaurants - including Bubba Gump, Claim Jumper, McCormick & Schmick's, and Morton's. Houston-based Landry's Inc. owns and operates more than 500 properties, such as Landry's Seafood, Chart House and Rainforest Cafe. Last week, I began hearing from banking industry sources who said fraud patterns on cards they'd issued to customers strongly suggested a breach at the restaurateur. Industry sources told this author that the problem appears to have started in May 2015 and may still be impacting some Landry's locations. Landry's posted a press release here, acknowledging the investigation. krebsonsecurity.com

Password Thieves Target Digital Gift Card Retailer Gyft - 3rd party at fault?
Digital gift card retailer Gyft has forced a password reset for some of its users. The move comes in response to the theft of usernames and passwords from a subset of Gyft customers. Mountain View, Calif. based Gyft lets customers buy and use gift cards entirely from their mobile devices. Gyft declined to comment on the record for this story. But company officials insist their platforms were never breached - pointing instead to an unnamed third party. The company has not disclosed publicly how many customers it has, but insiders said the percentage of users affected was in the "high single digits." krebsonsecurity.com

Safeway Says No Payment Data Stolen From California Stores, Only Colorado
There's potential good news out of Safeway: while the company confirmed that they found skimmers in credit card payment terminals in two states, a spokesperson says that the baddies didn't harvest any customer data from the stores in California. Instead, the grocer found them back in September while inspecting terminals. While it's good news that customers didn't walk up to an ATM only to find their bank accounts drained, it's still worrisome that someone was able to install the skimmers in the first place. consumerist.com

Simple Pro POS Malware Could Cause Retail Havoc this Christmas
Security experts have warned US businesses which still haven't invested in chip and PIN (EMV) readers to remain extra vigilant this holiday season, after revealing more details on a new Point of Sale (POS) malware. Although Pro POS was first discovered on underground forums late last month, Cisco's Talos team has given it the once over in a detailed analysis here. It's designed to lift card data and even check whether said details could be used internationally.

"Since PoS malware like Pro PoS is available for purchase, it is even easier for threat actors to utilize it to steal payment card data," Talos concluded. "Businesses who utilize payment card readers that are not chip-enabled will need to remain extra vigilant and adhere to industry best practices to ensure coverage and protection against these advancing malware threats, especially during the holiday season." paymentssource.com

U.S. going after internal fraud on its own credit cards - setting up new internal Analytics Team - no more casinos or strip clubs
Late Wednesday night the chamber approved by unanimous consent Democratic legislation directing the General Services Administration (GSA) to create an Office of Federal Charge Card Analytics and Review, which would be responsible for supervising how federal agencies and program use their plastic to make purchases.

The legislation, which now goes to the House, bolsters a 2012 law instructing federal agencies to firm up internal safeguards for identifying and stopping unauthorized purchases.

That law was inspired in part by a report earlier this year from the Defense Department finding that government credit card holders from across the agency improperly spent more than $1 million at casinos and adult entertainment clubs in a single year. thefiscaltimes.com

Why we need a national IoT strategy
New report calls for a concerted effort from the government to develop a cohesive strategy to support the development and adoption of Internet of Things technologies. cio.com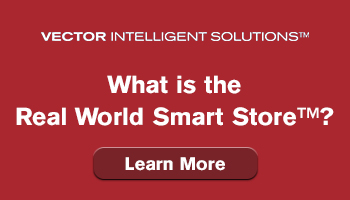 Spotlight on CAP Index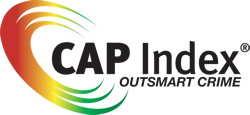 CAPAnalytics™, from CAP Index®, Delivers Objective, Actionable Security Intelligence
The real secret to having good data is knowing exactly how to leverage it to maximum advantage. For over 27 years, CAP Index has dominated the discipline it helped create – crime risk forecasting – in large measure because of the creative application of its proprietary data. One example is CAP Index's use of analytics to combine its industry-standard CRIMECAST® Scores with company data to create customized risk assessments that lead to insightful and actionable recommendations for security resource optimization.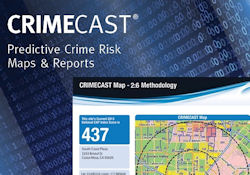 CAP Index also works with leading trade associations to help them investigate key security and loss-related issues, trends, and best practices and communicate the findings to their members through research publications and presentations at annual meetings. In collaboration with major industry associations like the American Bankers Association, the Food Marketing Institute, the Loss Prevention Research Council, the Restaurant Loss Prevention & Security Association, and the United Kingdom's Fashion Forum, actual industry crime and loss information is often benchmarked against authoritative CAP Index CRIMECAST Scores.

For both industry groups and for individual clients, Basia Pietrawska, CAP Index's Vice President of Crime Intelligence Analysis explains, "We always strive to do one thing: empower them to make decisions based on objective data and statistics rather than subjective ideas about security and loss prevention."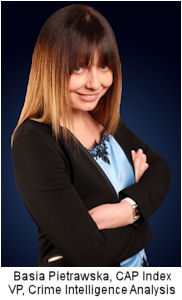 The results can be impressive. CAP Index created customized risk assessment scores for a large apparel retailer and delivered more than a 30% shrink reduction through an enhanced loss prevention strategy. A sporting goods retailer used its customized risk assessment to optimize its armored car allocation, which resulted in reduced losses and enhanced employee safety.

"The applications are almost limitless, whether we are aggregating data for a national association so its members can understand how they compare to industry averages or helping one company examine its crime trends or another company determine its most effective security measures, we are always helping security professionals make data-driven decisions," explains Pietrawska.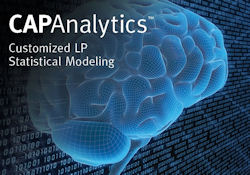 If you want help understanding what to do with your data, contact CAP Index. By performing a complimentary exploratory validation study, CAP Index can combine their proprietary data with your company's information to determine what data-driven decision-making options may be possible for you. To find out what yet-to-be discovered intelligence is hidden in your data, click here to sign up for CAP's free, no obligation validation study.
Basia Pietrawska
Vice President,
Crime Intelligence Analysis
267-506-6237
bp@capindex.com

capindex.com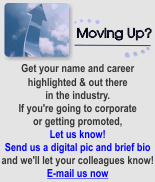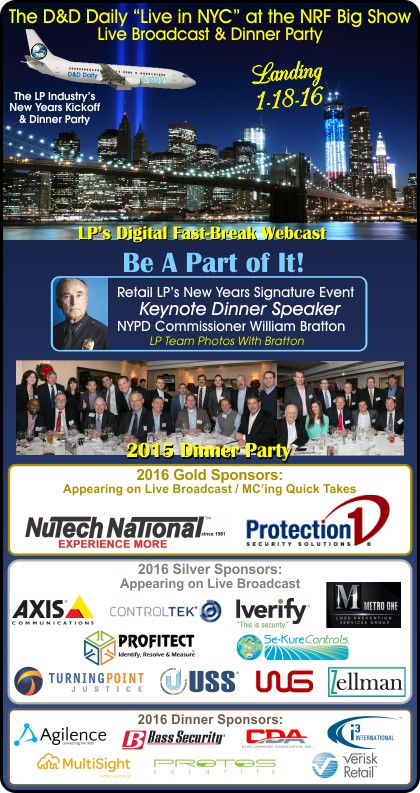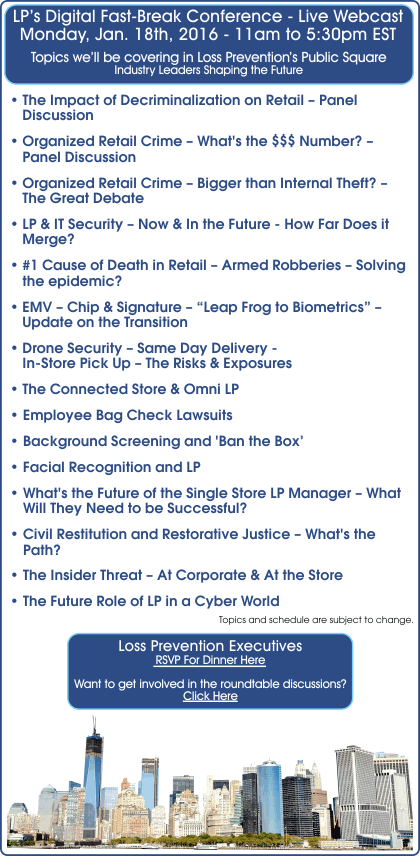 The Insider Threat &
Server Room Mitigation
Charles Delgado, VP Asset Protection, Meijer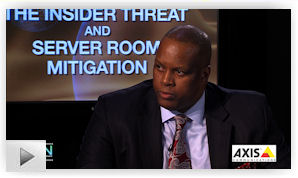 As technology has evolved to the point where everyone is interconnected and has the ability to access virtually any information, there's more exposure than ever before to our data, our assets and our organizations. The Insider Threat is often an overlooked and under-valued subject for retailers, however, Charles Delgado, VP Asset Protection, Meijer, tells us why it isn't just a corporate IT problem but something Loss Prevention members in the field should be cognizant of as well. Learn why EMV technology is shifting the threat from outside hackers to low-level employees coming in just to identify retailers' vulnerabilities.
---
Amber and Joe catch up with Bill Titus, Managing Director, PwC. An agent of change for the LP industry for many years, Bill talks about current opportunities and challenges for LP executives when it comes to omnichannel, big data and cybersecurity.
Solution Providers, have a video or commercial you want to publish? Contact us.


Canadian Push
Sponsored by Vector Security

e-commerce

Sponsored by The Zellman Group
How Online Retailers Can Fight Fraud Increases After The EMV Rollout
In every country that has adopted the EMV standard, there has been a follow-on wave of fraudulent credit card activity in the online retail world. Why is this happening, and what can retailers do to avoid it?

So far, we've seen that the U.S. online retailers doing the best job at combating fraud have adopted best practices from merchants in countries where EMV has already taken hold. Some of the most effective fraud prevention best practices we've seen include:

● Automating fraud detection. All the top payment processors incorporate fraud detection in their offerings. They use software to analyze unusual buying patterns in user data (like multiple purchases on different cards from the same address, or small gift card purchases followed by a big ticket item purchase) and flag potential cases of fraud.

● Encoding data so fraudsters can't access it. Several software solutions exist that encrypt customer information, replacing it with a string of letters and numbers that can't be used by fraudsters if the retailer's system is cracked.

● Pushing liability for fraud back to the issuer. In the U.S., banks have pushed liability for fraud to merchants, meaning that if you get burned by fraud when a "chip and PIN" system wasn't used, you're on the hook for it. That's a killer for online retail. Luckily, Verified By Visa, MasterCard SecureCode and American Express SafeKey all use 3-D Secure technology to provide an additional layer of authentication — and the use of 3-D Secure shifts fraud liability from the retailer back to the issuer.

● Getting a handle on chargebacks. Companies like mine offer services that inform retailers when customers dispute a charge, allowing the retailer to evaluate the legitimacy of the chargeback. This is important because, in 58 percent of instances, merchants are never notified that a charge is being contested, leaving them defenseless against the chargeback. And the cost of chargebacks, in dollars, time and effort are huge. The actual cost of chargebacks can be up to 270 percent of the disputed charge—meaning, on a $100 chargeback, you may wind up paying $270 in fees. forbes.com

U.S. government calls on Alibaba to do more to fight counterfeiting
Alibaba Group had its wrist slapped Thursday by a U.S. government agency, but avoided the embarrassment of having its e-commerce marketplaces put back on a list of international marketplaces that promote the sale of phony goods.

The U.S. agency had put Taobao, Alibaba's biggest online shopping site on the list in 2008, but removed it in 2012, citing Alibaba's efforts to fight counterfeiters. A new mention would damage Alibaba's reputation in the United States, where its shares trade on the New York Stock Exchange and where it's cultivating business relationships with retailers and entertainment companies as part of the company's global expansion. internetretailer.com

Fake Kroger coupon circulating Facebook
A Kroger coupon is circulating Facebook claiming to give customers 40 percent off all purchases in store. The problem is, it's fake. They said in a statement, "There is currently an unauthorized "40 percent off all purchases in store" offer circulating. This giveaway is not affiliated with or supported by the Kroger Co. in any way. We recommend not engaging with the site(s) that offer links to the coupon, or providing them with any personal information. Our team is actively working with Facebook and domain service providers to address the concern." wric.com

Sales of Counterfeit Goods Online Up 15% in 2015
Online sales of counterfeit goods increased by about 15 percent in 2015 with retail, electronics, pharmaceuticals and luxury brands among the worst-hit sectors, according to the annual "notorious markets" report released by U.S. trade officials Thursday. law360.com

E-commerce accounts for 15% of UK retail sales in November

Amazon.com Q3 sales increased 23% to $25.4 billion

FedEx Profit Boosted by Online Holiday Shopping

Study: Holiday delivery performance worsens

Study: Online sales, browsing come from different sources

Amazon grabbing a bigger share of holiday e-commerce
"Fraud is not a person - it is a dynamic grouping of statistics that deviate from the norm."
Stuart B. Levine, CFI, CFCI
CEO, The Zellman Group & Zelligent


ORC News
Sponsored by NEDAP
San Antonio, TX: Woman busted for trafficking in stolen High-end good; $50,000 of items seized
A woman accused of buying stolen items from shoplifters was arrested Thursday morning. Noemi Lopez-Padilla was arrested at El Camaron Pelado on West Commerce, a restaurant she co-owns. Investigators believe the 41-year-old has been buying merchandise stolen from high-end retail stores, then re-selling it to make a profit. They recovered close to $50,000 in stolen property and $10,000 in cash at the time of her arrest. Police say Lopez-Padilla was buying anything that could be re-sold, like clothing and cosmetics. She is charged with organized retail theft. kens5.com
Jackson Co, MS: Major Shoplifting Duo Arrested on I-10; $26,000 of merchandise recovered
On 14th December 2015, at approximately 11:00 AM Jackson County Deputy Matt Wade who is assigned to Jackson County Metro Criminal Interdiction Team, conducted a traffic stop on interstate 10, eastbound near the 57 mile marker on 2007 Mercedes SUV for a tag violation. The occupants were identified as Lauro Mesa age 26 and Alfredo Cruz-Gomez age 27 both from Tampa Florida. Further investigation by Deputy Wade and other interdiction Agents led to the discovery of large quantities of merchandise with tags from Ross department store. Instigators with Jackson County Sheriff's Criminal Investigation Division responded to the scene. Further investigation revealed the occupants were wanted in connection with shoplifting at Ross department stores in Texas, Louisiana, Gulfport and D'lberville Mississippi as well as Panama City, Florida. A thorough search of the vehicle revealed it contained various items stolen from Ross Department stores valued at $26,442.66. These items include clothes, purses, shoes, belts, electronics and fragrances. wxxv25.com
Chicago Police: 10-month investigation leads to stolen merchandise bust
Chicago Police have arrested two southwest suburban men suspected of selling stolen iPhones, counterfeit merchandise and untaxed cigarettes out of a retail outlet in the city. Asad A. Abumuslem, 52, of Oak Lawn, and Saad Abdulhadi, of Midlothian were each charged with one felony count of continuing financial crime enterprise and one felony count of theft, according to Chicago Police. After reports from residents that the store was buying and reselling stolen iPhones, police initiated Operation "Clean Break," which was conducted over a 10-month span by Intelligence Section Officers of the Organized Crime Division and the Asset Forfeiture Unit, according to police. suntimes.com

Wylie, TX: ORC or being Frugal ?? Extreme Couponing Drove Her to Ruin
A mom says she lost her savings and her pregnancy fighting back against Target, which accused her of stealing $27,000 worth of merchandise she split with accomplices on the inside. "It's a steal" when you get a good deal at the store, but authorities say "extreme couponer" Elyse Rumenapp's obscene savings were truly crooked. The warehouse worth of stuff she snatched up on the cheap included razors, common household cleaners, boxes and boxes of flatscreen TVs, iPads, computers, thousands of dollars worth of gift cards, and $3,600 in Visa gift cards she used to buy a boob job. Rumenapp, 25, attracted novice shoppers who gravitated toward the cost-cutting kung fu master to get schooled on saving big. Now the nurse is broke after burning her entire savings to defend herself against criminal charges of "organized retail theft" in 2012. After being acquitted last year, Rumenapp sued Target this week for siccing the police on her and destroying her life. Rumenapp said the two-year ordeal made her suffer extreme "anguish," culminating in a miscarriage. thedailybeast.com

Braintree, MA: Police arrest 19 year old in $1,100 Lord & Taylor theft at South Shore Plaza, seeking 17 year old suspect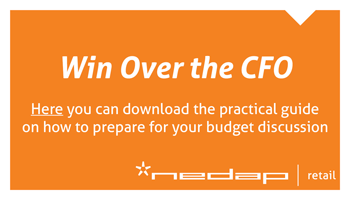 Do you have an ORC case to share?
Share your ORC news and help the industry grow


Retail Crime News

Sponsored by Security Resources
Atlanta, GA: Two Armed Robbers hit Kroger, leading Police on a chase
Two suspects were in custody Thursday after allegedly robbing a Kroger store and leading police officers on a chase. The robbery happened about 9 a.m. in the portion of southeast Atlanta that is inside DeKalb County. "Responding officers observed the suspects leaving in a vehicle and pursued them to Memorial [Drive] and Clifton [Road]," DeKalb police Major S.R. Fore told The Atlanta Journal-Constitution. Fore said the suspects abandoned the vehicle and attempted to run, but were taken into custody. Atlanta police initially reported that shots were fired inside the store, but Fore said in an email that no shots were fired. The incident was the second robbery at the store in recent weeks. ajc.com

Reno, NV: Home Depot Shooter Found Guilty, facing up to 48 years in prison
A Reno man has been found guilty in Washoe District Court in connection with a 2015 shooting at the Northtowne Home Depot store. After a three-day trial, 20-year-old Jared Anthony Johnson was found guilty of one count of Robbery with the Use of a Deadly Weapon and three counts of Assault with the Use of a Deadly Weapon. The Washoe County District Attorney's Office says the charges stemmed from an incident August 4, 2015, when Johnson, who was short on rent money, stole tools from the store. As he left with about $300 in stolen merchandise in his backpack, he was confronted by two store security officers who had watched the theft. He tried to escape but was caught, leading to a struggle. During the fight, he pulled a loaded .22 caliber revolver from his backpack and fired three times. kolotv.com

Port St. Lucie, FL: Armed Robbery at Winn-Dixie Thursday morning; possible connection to Family Dollar robbery
Port St. Lucie police are investigating a Thursday morning robbery at a Winn-Dixie in which a man made off with an undisclosed amount of money, a spokesman said. A man about 7:10 a.m. went in the grocery store and approached the customer service cashier and demanded money, said Sgt. Robert Vega, police spokesman. The man displayed a handgun and got cash, Advil and a carton of cigarettes, Vega said. Vega said the man was in the store for a short period of time and that no one was hurt. Vega said police believe it's the same person who on December 6 robbed a Family Dollar store in Port St. Lucie. tcpalm.com

Logan Co, WV: GPS Tracking in pill bottle leads investigators to CVS robbery suspects; CVS manager paid $5k for inside info
The woman investigators say drove the getaway car in connection to a string of CVS robberies is now in custody. Kristy Albright was booked into the jail just before 7 p.m. Thursday. The warrant she is being held on is for a charge of second degree robbery out of Kanawha County. According to a criminal complaint Albright drove the car during the robbery at the Dunbar CVS and during "other robberies" for her boyfriend Charles "Eddie" Jacobs. Jacobs is currently in jail on a probation violation. He is expected to be arraigned Friday on charges held-up four different CVS stores in on five different occasions over the last few months. Jacobs also told investigators he paid a woman named Kellie Cook, who managed one of the locations he robbed, $5,000 for information about the amount of pills in the store and the dates the pills were delivered. Cook was arraigned Thursday on a charge of second degree robbery. Investigators were able to crack the string of robberies because of a GPS tracking system that was placed inside a bill bottles and given to Jacobs during the most recent pharmacy robbery Saturday December 12 at the Dunbar CVS. wsaz.com
Richmond, CA: Police make arrest in $200,000 theft of artworks from trailer; all artwork recovered
Police detectives have made an arrest in the Sept. 4 heist of original glass-blown art pieces from a parked cargo trailer in Richmond, and say all the art pieces valued at $200,000 have been recovered. Mario Silva of Richmond (pictured below) was arrested after confessing to the theft of 17 pieces of artwork — some equivalent to the size of a human torso — from the trailer in the 3800 block of Roosevelt Avenue, police said. Chicago artist Alexis Silk had planned to show her year's worth of work at the annual art and wine show in Sausalito. The cargo trailer was parked in front of her friend's home, police said. The art was stolen the day before the show. richmondstandard.com

Dadeville, AL: Family Dollar employee busted for $3,000 theft; with the store for less than a month
Rebecca Lynn Autry, 23, of Dadeville was arrested by Dadeville Police at 5:15 p.m. Wednesday evening, according to Dadeville Police Chief David Barbour. "She was charged with first-degree theft of property," Barbour said. "The arrest came after it was found that she during her short time of employment at the business had taken over $3,000 in cash and cards from the business." Autry had been an employee at Family Dollar in Dadeville for less than months. alexcityoutlook.com

Atlanta, GA: Smash And Grab Thieves Hit Mall At West End
Police are investigating a smash and grab overnight at the Mall at West End. Reports from the scene indicate that thieves used a rock to smash in the doors of the mall on the Abernathy Street side. Once inside, they shattered the plate glass of the Jimmy Jazz store. cbslocal.com

Battle Creek, MI: Police arrest 2 for Credit Card Freud; 50 fake credit cards recovered

Greenville, MI: Employee steals over $93,000 doing fake refunds from a family run Garden Center

Waldorf, MD: Man pleads guilty for Theft, Arson of Fred's Sporting Goods: damage estimated at $500,000

UK: Safergems are warning retailers to be vigilant after a duo stole a Rolex watch in Birmingham's Jewellery Quarter on December 14


Robberies and Burglaries
● BP – Moravia, IA - Burglary
● Casey's General – Springfield, MO – Armed Robbery
● Chevron – Tuscaloosa Co, AL – Burglary
● Citgo – Hyde Park, NY – Armed Robbery
● CVS – Peru, IL – Robbery
● Dollar General – Omaha, NE - Robbery
● Dollar General – Jackson Co, GA – Burglary
● Dollar General – Laurel, MD – Armed Robbery
● Dollar General – Tippecanoe, IN – Armed Robbery
● Douglas Hardware – Racine, WI - Robbery
● GT Distributor (Guns) – Austin, TX – Burglary
● McDonalds – Chicago (Midway) – Shooting / 2 injured
● McIntyre Gun Shop – Clarke Co, AL - Burglary / 1 killed 1 injured
● Mr Discount Pharmacy – Meridian, MS – Armed Robbery
● Plaid Pantry – Portland, OR – Shooting / 1 killed
● Speedway – Greenville, NC - Robbery
● S-T Grocery – Lansingburgh, NY - Robbery
● T- Mobile –NYC Manhattan, NY - Armed Robbery
● Wawa – Chesterfield Co, VA – Shooting, no injuries
● Winn Dixie – Port St Lucie, FL – Armed Robbery


Featured Job Listings
Sponsored by NuTech National
Feature Your Job Here For 30 Days -
70% Aren't On the Boards
Regional LP Mgr
Tractor Supply Company
Minneapolis, MN
Tractor Supply Company
Regional LP Mgr
Tractor Supply Company
Omaha, NE
Tractor Supply Company
VP of LP
Mattress Firm
Houston, TX
Mattress Firm
Asset Protection Specialists
Southeastern Grocers
AL, FL, MS
Paris Freeman
Dir Corp. Investigations
US Foods
Chicago, IL
US Foods
Dir LP
Conn's Home Plus
The Woodlands, TX
Conn's Home Plus
Sr. Mgr. Global Corp. Security
Avon
New York, NY
Avon
AVP Mgr of AP Operations
BJ's Wholesale Club
Westborough, MA
BJ's Wholesale Club

Director Store LP
Michaels

Irving, TX
Michaels


Dir LP
Sephora
San Francisco, CA
Sephora
Dir LP
True Religion Brand Jeans
Manhattan Beach, CA
True Religion Brand Jeans
LP Manager
Natural Grocers
Lakewood, CO
Natural Grocers
Sr Mgr Corp Investigations
US Foods
Chicago, IL
US Foods
LP Officer
Bi-Mart Corp.
Yakima, WA
Bi-Mart Corp.
Zone Mgr, LP & Safety
Lumber Liquidators
Pomona, CA
Lumber Liquidators
Dir Safety & LP
Harbor Freight Tools
Calabasas, CA
Harbor Freight Tools
Dir AP
99 Cents Only Stores
Commerce, CA
99 Cents Only Stores
LP Dir
BevMo
Concord, CA
BevMo
Dir LP (Western Canada)
Walmart Canada
Calgary, CA
Walmart Canada

Daily Job Alerts


Appearing One Day Only
View our Internet Jobs Archives here
LP Specialist
Dillons
Wichita, KS
Kroger
LP Specialist
Ralphs
El Cajon, CA
Kroger
AP Manager in Training
Walmart
Saint Charles, IL
Wal-Mart
AP Manager in Training
Walmart
N. Myrtle Beach, SC
Wal-Mart
AP Manager
Walmart
Ottawa, KS
Wal-Mart
AP Manager in Training
Walmart
Olive Branch, MS
Wal-Mart
ETL Assets Protection
Target
Hauppauge, NY
Target
ETL Assets Protection
Target
Roanoke, VA
Target
ETL Assets Protection
Target
Raleigh, NC
Target
Multi Unit LP Mgr
Kmart
West Jordan, UT
Sears Holdings Corp
LP Manager Hrly
Kmart
Gulfport, MS
Sears Holdings Corp
AP Manager
Sears
Boca Raton, FL
Sears Holdings Corp
LP Manager
Sears
Salem, NH
Sears Holdings Corp
Multi Unit LP Mgr
Sears
Frisco, TX
Sears Holdings Corp
Sr Reg. Mgr AP
Five Below
Philadelphia, PA
LinkedIn
LP Dept Mgr
Century 21 Dept Stores
Morristown, NJ
Century 21 Dept Stores
LP Dept Mgr
Century 21 Dept Stores
Westbury, NY
Century 21 Dept Stores
LP Dept Mgr
Century 21 Dept Stores
Rego Park, NY
Century 21 Dept Stores
Reg. Dir AP
Rite Aid
Pennsylvania
Rite Aid




Home of the Industry's Original
On the Move
Sponsored by Civil Demand Associates
None to report.
Post Your New Job or Promotion!
See all the Industry Movement


Your Career
Sponsor this section of the Daily
How to Accept and Give Professional Criticism with Grace Criticism is a powerful training tool when used properly. We all have received criticism from someone in our professional careers, and with an open mind here is how you can accept it and use it to your advantage. Remain calm

How to Give Feedback that Sticks
If you want to give feedback that people will take seriously and have a lasting impression, you need to look at how you're starting the conversation and what energy you're giving off. Build good Team Mojo

When to Ignore Feedback, and When You Should Listen You shouldn't listen to all advice. If you did, you would be overloaded with all sorts of information. Instead, by focusing on the feedback that will help you grow, you can reach your goals. Here's how to know when to ignore certain pieces of advice. When it's vague

How to Give Effective Feedback When You Don't Want to There's a formula you can use whenever you want to give quality feedback effectively. By thinking about the big picture first, you can avoid negative reactions. S+B+I=F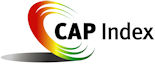 Tip of the Day
Sponsored by Vector Security
Selecting the companies you want to work for is harder than you think. It may not be the obvious list when you take into consideration geography, organizational structure, and success of the retailer, growth plans and growth opportunities for your own career. Do some research on each company and open your mind to the small companies. They have just as many opportunities as the rest. They're harder to get in and communicate with, but if it's done right, you may be surprised. One executive years ago sent a letter to a company president who didn't have an LP program and made some bold commitments. He went on to build a very successful LP program there. Be aggressive!

Just a Thought,
Gus





Upcoming Events
---
Recruiting?
Get your job e-mailed to everyone... everyday
Post on our Featured Jobs Board!
Reach your target audience in 2016 every day!
Request our 2016 Media Kit
update account / change e-mail
unsubscribe FEEDBACK
www.downing-downing.com

Advertise With The D&D Daily




36615 Vine Street, Suite 103
Willoughby, OH 44094
440.942.0671
copyright 2009-2019
all rights reserved globally