The D&D Daily Mobile Edition
December 19,

2014



The LP Industry's #1 News Source - Informing, Educating and Instilling a sense of community


News Brief
Sponsored by WG Security Products, Inc.
The Insane $11 Billion Scam at Retailers' Return Desks - Return Fraud up $1B over last year Return fraud has been called the invisible heist - or "de-shopping." But the increasing number of fraudsters bringing back wares to stores to make an illicit killing has become impossible to ignore. New numbers out today reveal the extent of the "shrinkage." According to the National Retail Federation, the tally of red from return fraud this year is a whopping $10.9 billion in the U.S., based on figures from 60 retailers surveyed. Holiday shopping season alone accounts for $3.6 billion. (See the NRF's full press release in today's Daily below.) "The losses to the industry have moved up $1 billion-plus from a year ago," said Bob Moraca, the NRF's vice president of loss prevention. "I am frightened by how much of this is caused by organized retail crime." In some cases, the scammers' tactics are so intricate that it's hard to believe how much talent is wasted on the effort to cheat businesses out of everyday items. The industry lore is downright jaw-dropping in the details of the cons known as "brick-in-box" returns. One customer retooled a Nintendo Wii with its innards switched out for glued pennies. Another sent back a flat-screen television with a bona fide tombstone within. Another returned a printer box stuffed with a candy-filled pinata. Expensive items, such as $400 handbags, might be stolen and then returned for in-store credit that is issued to the conniving customer in the form of a gift card. Then the gift card is shopped online in a gray market to collect cold currency. "By selling the gift card online, [criminals] can receive up to 80 percent of the retail value, versus 10-20 percent on the street corner," said Joseph LaRocca, vice president of loss prevention at Retail Partners, a Los Angeles-based consulting firm. thedailybeast.com

Former Rite Aid Quality Assurance Executive Pleads Guilty to 9 yr $14.6M Kickback Scheme Federal prosecutors today charged Timothy Foster and businessman Jay Findling with conspiracy to commit wire fraud and 65-year-old Foster with making false statements. They face up to 5 years in prison and a $250,000 fine on each count and are required to pay restitution to Rite Aid. The Cumberland County-based company says it's pleased with the outcome. The 54-year-old Findling must forfeiture $11.6 million to the government. Prosecutors say Foster used Findling's company as a front to sell surplus inventory to third parties at higher prices and that they pocketed the difference. witf.org

One Click Away - All Your Company E-Mails Go Public - Just Like Sony This month's news provides yet another occasion for a friendly public-service reminder to anyone who uses a digital device to say anything to anyone, ever. Don't do it. Don't email, don't text, don't update, don't send photos. At least, don't do it if you have any expectation that what you say will remain private - a sentiment that's usually taken for granted in human communication, but that we should all throw to the winds, at least until we figure out a way to completely rethink how we store and manage our digital data. Because here's the thing about the digital world that we must remember. Nothing you say in any form mediated through digital technology - absolutely nothing at all - is guaranteed to stay private. Before you type anything, just think: How will this look when it gets out? Assume everything is public. Go about your business as if all you do on a computer is vulnerable to intrusion and exposure. Second, agitate for a world in which saving is not the default. "Everyone is so excited about the cloud, but the cloud is really a drunken Xerox machine making copies of pretty much everything that everyone has said anywhere and spewing it all over the place." nytimes.com

Game Changer - Consumers Can Sue Target Over Data Breach, Judge Says - Weeks after banks given lawsuit approval A U.S. judge has cleared the way for consumers to sue Target Corp over the retailer's late 2013 data breach that they say compromised their personal financial information. U.S. District Judge Paul Magnuson in St. Paul, Minnesota, on Thursday dismissed claims by plaintiffs in certain states but largely denied Target's request to toss the proposed class action lawsuit. Magnuson rejected Target's argument that the consumers lacked standing to sue because they could not establish any injury. "Plaintiffs' allegations plausibly allege that they suffered injuries that are 'fairly traceable' to Target's conduct," Magnuson wrote. The ruling followed a similar decision by Magnuson earlier this month allowing banks to move forward with a lawsuit to recoup money they spent reimbursing fraudulent charges and issuing new credit and debit cards because of the breach. Thursday's ruling pertained to consumers who used their credit or debit cards at Target during the period of the breach and had their information compromised, causing them unauthorized charges, lost account access, fees and credit monitoring costs. Editor's Note: This could end up in the U.S. Supreme Court. Especially considering that virtually 50 percent of U.S. citizens could sue any organization for a data breach. Get ready for the class-action suits - and for more involvement for the LP community. reuters.com

White House calls Sony hack 'National Security Matter' The White House says that it's treating the malware attack against Sony Pictures Entertainment and subsequent data leaks as a "national security matter." But the administration says it's too early in its investigation into the attack to definitively attribute the attacks to any particular group or nation state. "This is something that's being treated as a serious national security matter," White House Press Secretary Josh Earnest told reporters in a Dec. 18 briefing. "There is evidence to indicate that we have seen destructive activity with malicious intent that was initiated by a sophisticated actor. And it is being treated by those investigative agencies, both at the FBI and the Department of Justice, as seriously as you would expect." govinfosecurity.com

Pres. Obama Signs 5 Cybersecurity Bills

Charney plotting return to American Apparel
American Apparel is being stalked by at least two prospective acquirers - and the idea is to bring back founder Dov Charney. The cash-strapped clothing chain has received multiple takeover bids in recent weeks, one of them from a private-equity firm that's partnering with Charney in a bid that values the company at $1.30 to $1.40 a share, The NY Post has learned. The firm, whose identity couldn't immediately be confirmed, wrote a letter to American Apparel's board on Friday reiterating its interest in buying the company, sources said. The company's board, however, has been busy finalizing the official termination of Charney, which it announced Tuesday after a six-month suspension of the company founder amid allegations of misconduct. Amid the conflict, Charney has been looking for a financial partner as he seeks a way back into the company he founded in 1998. nypost.com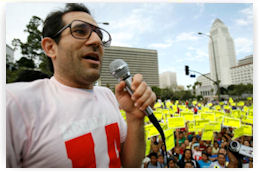 Dollar General still 'actively engaged' with FTC in Family Dollar purchase - Who will win the dollar-store showdown? Dollar General Corporation today stated that it remains actively engaged in discussions with the Federal Trade Commission regarding the extent of potential divestitures that would be required in connection with an acquisition of Family Dollar Stores, Inc. Dollar General does not expect to provide any further update prior to the Family Dollar shareholders meeting currently scheduled for December 23, 2014. businesswire.com

Retail Liquidations Expected After the Holidays This wasn't exactly a big year for high-profile, mega bankruptcies in the fashion sector - more likely, come January, it'll be notable for its retail liquidations. That's because companies in fashion and retail tend to wait until after the holiday season to file - cash generated from the season can be used to fund the bankruptcy. When companies file before hand, it typically means they are so distressed they just can't wait any longer. This year, retailers catering to young adults have been particularly pressured. Already, Dots (filed for Chapter 11 bankruptcy court protection in February) and Coldwater Creek (filed in April) have liquidated. Delia's Inc. filed earlier this month and is in the process of liquidating all stores. wwd.com

Tablets replacing cash tills in the U.K.
An increasing number of retailers are starting to deploy in-store technology that reflects what their customers are using at home, namely iPads and other mobile tablet devices, and this looks set to be a hot point for retail in the coming years. The first movers, such as global fashion house Burberry, have primarily used these tools for helping customers check stock and to showcase ranges that are unavailable in-store. Future use - and only a few retailers are providing the service to date - revolves around linking payments to tablet devices so that businesses can take customers' money around the shop-floor. Other retailers, such as Carphone Warehouse, have rolled out tablets to the majority of their workforce, allowing staff to check stock levels, compare prices and generally give salespeople an opportunity to have more interactive conversations with consumers. Craig Crawford, former senior member of Burberry's tech architecture team between 2007 and March 2014, said "stores will have fewer cash tills" in the future. essentialretail.com

Organized criminals targeting individual iPhone, Android users A well organized criminal group is targeting both iOS and Android users with highly targeted man-in-the-middle attacks, according to a new threat advisory from Akamai Technologies, Inc. For example, they were able to target a group of individuals congregating in an Asian country based on their communications, and then used man-in-the-middle and social engineering to trick users into installing the Xsser mobile remote access Trojan on their mobile devices. The criminals were able to impersonate or bypass the official Google and Apple app stores, used text messages and social media, and tampered with local Wifi access points. Cell phone signals may have been intercepted as well. By monitoring traffic the criminals would be able to see what users were searching for -- and then provide them with malware disguised as the searched-for item. csoonline.com

Major Chinese smartphone manufacturer installed backdoor on up to 10 million devices Coolpad, the world's sixth largest smartphone manufacturer, installed a back door that allows the company to install applications, send alerts, and monitor communications without user knowledge or approval. According to Palo Alto Networks, which discovered the security flaw, the "CoolReaper" backdoor has been found on 24 Coolpad phone models sold in China, adding up to over 10 million devices. "This is the first time we've ever seen a manufacturer install a back door like this," said Ryan Olson, intelligence director of Palo Alto Networks' Unit 42. To control access to this backdoor, Coolpad set up a Website that was actually accessible by the public. csoonline.com

Quarterly Same Store Sales Results
Nike Q2 - does not report retail - overall revenue up 15%
Pier 1 Imports Q3 up up 2.5% with total sales up 4.1%

How to prevent theft, loss and snooping on the road

UK: Christmas retail theft could cost $1.5 billion

Whole Foods, Wegmans, Acme face lawsuits over fresh-baked goods

Kohl's open around the clock today thru 6 p.m. Christmas Eve

'Super Saturday' sales could beat Black Friday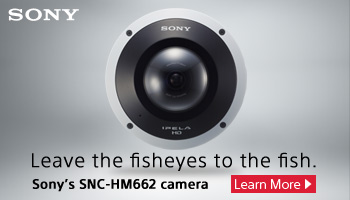 All the news - One place - One Source - One Time
The D&D Daily respects your time
& doesn't filter retail's reality
Report Your News!
(content subject to approval)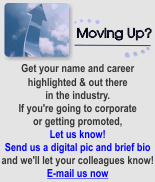 Loss Prevention News Network

Preparing - Training - Responding to the Active Shooter
Rich Mellor


Rich Mellor, Senior Advisor, Asset Protection at the NRF and former VP of LP for the NRF, sits down with LPNN to discuss the most dangerous situation in retail -- active shooter events. Studies have shown business locales, such as retail stores, are the most frequently attacked locations in active shooter events. Rich talks about what the LP industry can do to better prepare and help prevent such incidents, including partnerships with law enforcement and other emergency responders.
---
In this LPNN Quick Take, hear from Joe LaRocca, Greg DeTardo, President at NuTech National and Jon Gold, VP, Supply Chain & Customs Policy at the NRF as they discuss the biggest issue facing retail at this time - the supply chain labor contract for the west coast port. And how this affects the Loss Prevention executives and retailers. They also talk about the growing ORC problem and Cargo theft.




Joan Manson

Sponsored By:


Bass Security





Sponsored By:



Keith White & Michael Nelson

Sponsored By:


Dan Faketty and Professor Bob Hanson

Sponsored By:


The NRF's LP Legislative Committee, a National Update





Jeff Fulmer & Jon Gold


Sponsored By:


Preparing - Training - Responding to the Active Shooter





Rich Mellor


Sponsored By:

Cyber Security's Increasing Impact on Retail & the Role of Loss Prevention

Tom Litchford
Sponsored By:

Stan Welch, VP of LP, JCPenney



Sponsored By:



In case you missed it ...
Click here to view all the episodes from
"Live in Ft. Lauderdale at the NRF LP Show."

Solution Providers, have a video or commercial you want to publish? Contact us.


New Group LP Selfie
Keep Them Coming!!!!!!!

2014 Group LP Selfie Review Continues Tomorrow

2015's Get LP Social to Include
Vendor Group Selfies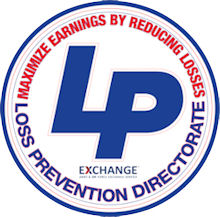 The Exchange HQ Loss Prevention Team, Dallas, Texas
Greetings from The Headquarters of the Army and Air Force Exchange Service

"Maximizing Earnings by Reducing Losses"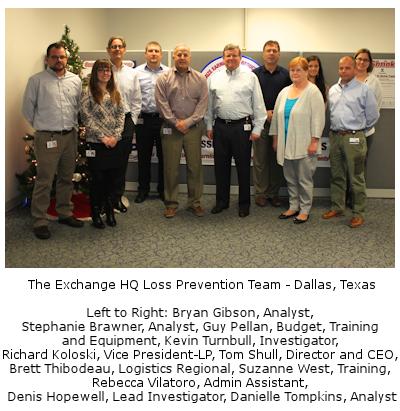 View all the selfies here!

Three 2014 Group Selfie LP Teams to win Pizza Parties!
Drawing at our Live in NYC at the NRF Big Show, January 12th.
Make sure you're watching!

Canadian Push
Sponsored by Vector Security
The Brick trains staff to fight crime
Retail theft has become increasingly brazen but The Brick has built a successful crime-fighting program that starts with staff. When The Brick first started holding outdoor tent sale events the biggest security concern was overnight theft. "Now they worry about theft in broad daylight. Someone always has to be out there, guarding it, because if you don't, people will drive up and steal a bed," says Heather Murray, vice-president, internal audit and loss prevention for The Brick Group. "I would say that it is more brazen than it ever was." Over 26 years in the business Murray has worked to bring losses due to theft at the national furniture retailer down to 0.05 per cent of sales. The retail industry average is closer to 1.26 per cent of sales, according to data from the Retail Council of Canada. The most important component is customer service, says Murray. Sales associates are told to never chase a suspect. Instead, they are trained to greet customers personally, and in the event that something does go wrong, to try to remember details that will make them a good witness. Reporting every incident - internally or to police - is part of The Brick's crime-fighting strategy. The Brick has had a Crime Busters program since 1984, launched by Murray's predecessor in the job, Tom Dunlop, a former RCMP Sergeant in commercial crime and a founding member of Edmonton Crime Stoppers. The retailer has an internal anonymous hotline for employees to report suspicious activity among co-workers. Merchandising is another important component when it comes to reducing theft. In 2007, Murray launched an internal newspaper called Brick Busters that reports on incidents of fraud and theft. It also describes incidents in which staff stopped or prevented losses. It's an important coaching device, Murray says. It helped staff in a Montreal store recognize a gift-card fraud in progress. A fraudster was attempting to make a purchase using gift cards that had been bought with a stolen credit card in Alberta. thestar.com
Hundreds of Manitobans accounts drained last weekend - Debit card skimming device found The debit card scam and spending blitz by fraudsters happened in the late hours Saturday night, and early morning hours Sunday. Winnipeg Police are investigating the card skimming incident. globalnews.ca

Canada lags 2 or 3 years behind omni-channel retailing In Canada, big retailers like Target aren't being nearly as aggressive in their collective shift to offer sales through multiple channels. The Canadian arm of the U.S. department store didn't launch e-commerce sales here when it arrived in early 2013 and Target Canada still doesn't sell online. There's a reason for that of course: Target knows it will still be years before online shopping truly becomes mass market in Canada, according to experts. "Canadian retailers will, in our view, enjoy two or three years of 'lag time' to make the transformation to omni-channel," analysts at Desjardins Securities said in a research note this week. While Canadian retailers have largely eschewed online efforts (until recently), U.S.-based rivals have rushed to fill the void. Amazon has leapt to the head of the pack in online sales in Canada, according to BMO Capital Markets. BMO estimates Amazon.ca took in about $1.5 billion in sales last year, a "significantly higher" sum compared to chief rivals Walmart.ca, Costco.ca, BestBuy.ca and HomeDepot.ca - all U.S. companies. globalnews.ca

Ikea to open string of smaller stores across Canada

Two Calgary Police Service constables are in charge of a program to reduce organized retail crime They manage an online network for retailers and police, called Retail C.O.P. (Cameras on Patrol), a web-based interactive program where photographs and video surveillance images of criminals, suspected criminals and criminal activity can be posted to further police investigations. Now pictures of shoplifters can be posted to Retail C.O.P., even after a single incident. That makes it easier to identify people who aren't actually being caught for the first time, but are in fact chronic shoplifters or people who might be working for an organized retail crime group. "We are able to share information with the retail community within minutes of obtaining it, preventing crimes occurring. When crimes do occur, we assist in the identification process, as many of the offenders are known to us," says Critchley. Critchley and Sampson also initiate and implement offender management strategies, working with probation authorities, crown attorneys and internal and external specialty police units in an effort to prevent habitual shoplifters from reoffending. ourwindsor.ca

Toronto cops shoot man cutting his own throat and wrists at Scarborough mall A knife-wielding man who was cutting himself was shot during a confrontation with police at a busy Scarborough mall Thursday. Police responded to Agincourt Mall, in the north-east end of the city, around 4:45 p.m. after receiving a 911 call about a man who was cutting himself with "a large knife," police said. "We received a call for man wielding a large knife, cutting his own throat and wrists at rear of the mall," Const. David Hopkinson said. "Officers responded and began speaking to the man and then shots were fired. "We can't comment on what prompted the gunfire." The shooting unfolded behind the WalMart near the loading docks. Several area residents reportedly heard up to three gunshots. The victim, believed to be a man in his 40s, was rushed to hospital with life-threatening injuries. canoe.ca

Montreal Man sentenced to Over Five Years in Jail on elaborate Credit Card Fraud A 24-year-old Montreal man with no prior record will spend over five years in jail after pleading guilty in an elaborate credit card scam. Nour-El-Dean Mouneimneh is already serving a 4.5 year sentence after pleading guilty to several fraud charges in May. His 17-page record consists only of charges related to this elaborate credit card scam, which was ongoing between November 2013 and March 2014. Mouneimneh and another man obtained stolen credit card information, and then uploaded that information to blank cards. They used the blank cards to buy prepaid credit cards, gift cards, and merchandise from businesses all over Newfoundland, as well as in Nova Scotia and New Brunswick. On Thursday, Mouneimneh pleaded guilty to more related charges in the credit scam, as well as to participating in a June riot at HMP which resulted in thousands of dollars of damage to one of the units. He also admitted to uttering threats towards a Correctional Officer. For those offenses, he was sentenced to an additional 13 months in jail. Mouneimneh has been ordered to pay over $2,000 restitution to Sobey's in Corner Brook, and over $4,000 to FIA credit card services, on top of the $17,000 in fines he was ordered to pay back in May. torontotelegraph.com

Attempted robbery at south Calgary jewellery store thwarted by attentive staff, off-duty Alberta Sheriff

Windsor Police arrest shoplifter with assistance from alert citizen

Winnipeg Police seek suspect after armed convenience store robbery

Ontario duo charged with theft after tweeting selfies with stolen liquor

e-commerce

Sponsored by The Zellman Group
$42.5B spent online so far this holiday season
The Internet analytics company comScore reports that U.S. consumer spending from desktop computers for the first 44 days of the November-December 2014 holiday shopping season is up 15% from last year, to $42.5 billion. "Varying reports have indicated weakness in the consumer economy due to flagging brick-and-mortar sales over the holiday weekend, but what we may really be seeing is an accelerating shift to online buying as mobile phones spur increased showrooming activity. The data we're seeing suggest it may be more a change in shopping behavior than a lack of consumer demand," said comScore chairman emeritus Gian Fulgoni. retailingtoday.com

Report: Google looking to launch "buy" button to take on Amazon Google could be preparing to take on Amazon.com with its own unique e-commerce solution. According to the Wall Street Journal, Google is developing a "buy now" button that would be embedded right into results pages within the search engine. The inclusion of a "buy now" button in search results would allow searchers to put the item in a shopping cart immediately and check out with a single click (similar to Amazon's one-click ordering feature). The Google "buy now" button would allow the company to keep potential customers on its pages longer and give them a quick way of shopping online. chainstoreage.com

It's an omnichannel holiday for CVS customers
CVS has developed an omnichannel strategy for this holiday season that focuses on targeting customers online, on mobile and in stores. Consumers can follow @CVS_Extra on Twitter to learn about upcoming promotions and ways to win a variety of gift items through special contests. Additional holiday savings and tips can be found on the CVS Facebook page. retailingtoday.com

Shoppers are spending more on cosmetics online

The Ten Things That Changed Payments In 2014
"Fraud is not a person - it is a dynamic grouping of statistics that deviate from the norm."
Stuart B. Levine, CFI, CFCI
CEO, The Zellman Group & Zellman Fraudnet


Press Releases


Retailers Estimate Holiday Return Fraud Will Cost Them $3.6 Billion, According to NRF Survey
WASHINGTON, December 19, 2014 - Techniques and processes put in place to thwart criminal activity around retailers' return policies continue to be put to the test, and with steadily improving retail sales, even more is on the line when it comes to losses from return fraud.

According to the National Retail Federation's 2014 Return Fraud Survey completed by loss prevention executives at 60 retail companies representing grocery, department, discount, specialty and small retailers, the industry will lose an estimated $10.9 billion to return fraud this year. Additionally, of those surveyed, retailers estimate $3.6 billion will be lost to return fraud this holiday season alone, similar to last year's $3.4 billion. Overall, retailers polled estimate 5.5 percent of holiday returns are fraudulent, similar to last year's 5.8 percent.

Today's sophisticated technology does well keeping criminals at arm's length but often isn't enough to completely stop the unethical practices of organized and individual retail fraud occurrences," said NRF Vice President of Loss Prevention Bob Moraca. "Return fraud has become an unfortunate trend in retail thanks to thieves taking advantage of retailers' return policies to benefit from the cash or store credit they don't deserve. Additionally, many of these return fraud instances are a direct result of larger, more experienced crime rings that continue to pose serious threats to retailers' operations and their bottom lines."

According to the survey, nearly all (92.7%) of the retailers polled say they have experienced the return of stolen merchandise in the last year, similar to last year's 94.8 percent. In a troubling sign that organized retail crime continues to present significant challenges for retailers, more than three-quarters of those polled (78.2%) say they have experienced return fraud through returns by organized retail crime groups, up from 60.3 percent last year.

As more shoppers look to digital receipts for ease and convenience, retailers are noticing increasing return fraud instances with e-receipts: the survey found more retailers this year said they have experienced return fraud with the use of e-receipts (18.2% versus 15.5 % last year).

The survey also found a significant jump in the number of retailers who say they have experienced the return of merchandise purchased with fraudulent or stolen payment methods (81.8% versus 69% last year).

Additionally, one-quarter (25.5%) of the retailers surveyed said they have witnessed fraudulent returns using counterfeit receipts, down slightly from 29.3 percent last year; eight in 10 (81.8%) retailers surveyed report that they've dealt with employee return fraud or collusion with external sources, down from 93.1 percent last year.

One of the biggest issues for retailers is the practice of "wardrobing," or the return of used, non-defective merchandise such as special occasion apparel and certain electronics. Though many companies have employed specific tactics to curb this unethical practice, nearly three-quarters (72.7%) of retailers polled say they have experienced wardrobing in the past year, up from 62.1 percent last year.

The problem of return fraud has forced many retailers to adopt policies that require customers who are returning merchandise to show identification. Retailers estimate that 14.1 percent of the returns made throughout the year without a receipt are fraudulent and as a result, 70.9 percent now require customers returning items without a receipt to show identification. Even when a receipt is present, more retailers polled this year say they ask for identification (25.5% versus 12.3% last year.)

Overall, retailers report a small percentage of online purchases returned to their stores to be fraudulent (3.5%).

When asked about return fraud and the various types of payment methods, 72.7 percent of those polled said they have witnessed an increase in gift cards/store merchandise credit fraud in the past year. Nearly four in 10 (38.2%) surveyed said they have witnessed an increase in return fraud with the use of credit cards, although 45.5 percent report no change in fraudulent credit card usage from last year. Additionally, three in 10 (30.9%) said they've witnessed an increase in debit card fraud.

Eighty-seven percent of those polled said they allow customers to return merchandise bought online to their brick-and-mortar stores, up from 82.5 percent last year.


View complete results from the 2014 Return Fraud Survey here.

ORC News
Sponsored by Security Resources
Four-month investigation of notorious cargo theft ring's return - Unloading Millions To Local Fences & Vendors in Northern New Jersey More details have emerged in the new case against a highly organized North Jersey freight train robbery gang that authorities believed had been broken up more than a decade ago. Yesterday, "Conrail Boyz" theft ring leader Edward Mongon, 40, of North Bergen, appeared in Central Judicial Processing Court in Jersey City yesterday, along with seven others facing cargo theft charges. According to the Hudson County Prosecutor's Office, the Conrail Boyz studied schedules, practices and access points on the CSX and Norfolk Southern rail lines in order to target shipping containers containing valuable merchandise. The gang would open containers both during stops and while trains were moving and stole millions worth of high-end clothing, sneakers, watches, electronics, liquor and other retail items with help from accomplices on the ground, authorities said. These goods were distributed to "fences" in Jersey City and North Bergen for sale to local vendors, officials added. Investigators tracked the group for nearly four months, following stolen goods and monitoring deliveries to the fences, authorities said, adding that the goods were then distributed to various customers including variety store JRichard in Paterson. A total of 10 have been charged in connection to the highly-organized theft ring, which had previously been in operation from 1992 to 2003. The group gained notoriety in 2004 when Mongon was convicted and sentenced to 13 years in prison for running the theft gang. nj.com
Four Atlanta fraud ring members to serve prison time for stealing $600,000 from Home Depot Four metro Atlanta men have been convicted and sentenced for defrauding and conspiring to defraud Atlanta-based The Home Depot Inc. According to the Department of Justice, beginning in at least January 2011, Robert Lee Hatcher III, 32, of Atlanta; Willie Dewayne Lynch, 30, of Atlanta; and Andrew Oliver, 62, of Stone Mountain, Ga. entered Home Depot stores in Georgia, Alabama, Florida, Tennessee, North Carolina, South Carolina, Kentucky, Louisiana, Mississippi, and Texas, and selected merchandise for purchase. But, before buying the items, the men covered the UPC labels on high-priced items with UPC labels they removed from lower-priced items - a practice commonly called "ticket-switching." The defendants then took the merchandise to a sales terminal, where they purchased it for the lower price. After fraudulently purchasing the merchandise, Hatcher, Lynch, and Oliver removed the lower-priced UPC label, revealing the original, higher-priced UPC label. Next, the defendants returned the fraudulently purchased merchandise to Home Depot stores and obtained refund cards in the amounts of the actual price of the merchandise. Hatcher, Lynch, and Oliver then sold the refund cards to Arthur James Freeman, 54, of Atlanta, Ga., in exchange for cash at 60 percent of the actual value contained on the refund cards. Freeman then used the fraudulently obtained refund cards to buy merchandise at Home Depot stores, which he used to stock two retail stores that he owned and operated in Atlanta known as "Bargain Wholesale." "These defendants executed a long-term, sophisticated scam to defraud The Home Depot out of more than $600,000," United States Attorney Sally Quillian Yates, said in a statement. bizjournals.com

Employee at Florida Home Depot store accused of stealing $68K through fraudulent returns A Home Depot employee stole over $68,000 through making fraudulent returns over the course of six weeks, according to Palm Beach County Sheriff's deputies. According to an arrest report, Home Depot employee Nancy Baptiste would make returns for items that had not actually been returned and would pocket the cash. The store, located at 9820 Glades Road in West Boca, started noticing her strange returns in early November. Baptiste was arrested Wednesday. Baptiste was caught after her register activity started raising red flags with managers. Each cashier has a unique number that logs how many transactions a cashier makes. The code is specifically designed to assist in audits and monitor suspicious activities, according to the report. Deputies said in the month of September alone, Baptiste rung in $18,000 worth of returns. She would manually key in the merchandise code each time, deputies said. These returns also did not include receipts, deputies said. Sometimes, Baptiste would grab items from around the returns and special services desk and scan them in, deputies said. securityinfowatch.com

UPS Worker in Corpus Christi, TX Arrested For Stealing Cell Phones Tis the season for shipping, and at the height of it, KRIS 6 News has learned of a troubling story about a local UPS worker accused of theft. He was not a delivery driver, but a warehouse employee. Corpus Christi police say on Monday, two brand new iPhone 6 devices were found inside Jesus Franco's lunchbox. Each was valued at $800. UPS's loss prevention division called CCPD, and Franco was arrested on felony theft charges. At the warehouse on Navigation, a worker told KRIS 6 News that the head of Loss Prevention was in the Rio Grande Valley and unavailable for comment on the case. In an email to KRIS 6 News late Thursday afternoon, the company wouldn't specify how many items were reported as "unreceived" by customers or whether any other workers are also suspected of theft. The statement did say, "This case was the result of an internal ups investigation. UPS terminated the employee and notified law enforcement, who took the individual into custody Monday." kristv.com

Jacksonville UPS Worker Accused Of Stealing Packages Worth Thousands An employee at the Jacksonville UPS store is accused of stealing thousands of dollars worth of electronics and other items from packages. 31-year-old Clayton Whitaker of the 100 block of Leland Lake was booked at the Morgan County Jail for theft at 4 p.m. yesterday. Jacksonville Police Lieutenant Rodney Cox says an investigation was opened up last month regarding opened packages. He says about $10-thousand of merchandise, mainly new cell phones and phones ordered by customers that were supposed to be delivered to the Jacksonville AT&T store, were taken. wics.com
Do you have an ORC case to share?
Share your ORC news and help the industry grow

Retail Crime News

Sponsored by NuTech National
Store owner, suspected robber exchange gunfire at a Kansas City clothing store Police are investigating a double shooting that happened Thursday night at 63rd and Troost in Kansas City, Mo. The shooting took place at the Underground Clothing store around 7:30 p.m. Police said a man was attempting to rob the store when the owner of the business pulled out his own gun and exchanged gunfire with the suspect. Both the suspect and the victim were shot and taken to the hospital with life threatening injuries. fox4kc.com
Sarasota Co, FL Sheriff's Office wraps up Operation Booster Buster with 13 arrests The Sarasota County Sheriff's Office arrested 13 people Thursday in a holiday retail theft operation. Over the past two days, deputies arrested 12 adults and one juvenile for crimes along the retail corridor at Bee Ridge and Cattlemen Roads. Charges including grand theft, petty theft, and drug possession. In all, the defendants have 98 prior felonies and 101 misdemeanors. mysuncoast.com
Indiana Excise Police seize alleged counterfeit merchandise, pills and more in Wabash Indiana State Excise Police seized hundreds of counterfeit items, synthetic marijuana, cash and prescription drugs believed to be counterfeit during a raid Wednesday morning at three buildings in Wabash. Police began their investigation of the store after receiving an anonymous complaint about the store allegedly selling synthetic marijuana, which is known as "spice," an Excise Police news release said. Excise officers served search warrants at about 10 a.m. Wednesday at Plaza Mini Mart, 180 W. Harrison Ave.; City Fashion, 150 W. Harrison Ave.; and a vacant building at 186 W. Harrison Ave. The merchandise seized included purses, jackets, hats, shirts and shoes, the news release said. The items were reported to be imitations of name-brand goods from manufacturers such as Nike, Michael Kors, Coach, Louis Vuitton, Polo, Gucci, The North Face, Ugg, MLB and NBA. Officers also seized 625 packets of alleged synthetic marijuana, which weighed a combined total of about 2,500 grams, 93 pills believed to be counterfeit productions of the brand-name drug Viagra and $1,229 in cash, the news release said. news-sentinel.com

South Jersey Cop, Son Wrestle, Stop CVS Robbery Suspect Sgt. Daniel Murray and his son, Bryan, went to a CVS in South Jersey on Monday night to buy some odds and ends. They ended up stopping a robbery allegedly involving a Gloucester Township man. The incident happened around 8:30 p.m. when the pair were checking out and saw a masked man running toward the store's front door. The suspect, 27-year-old Matthew Donahue of Gloucester Township, had forced pharmacists at the Runnemede store to give him about $11,000 in OxyContin prescription pills at knife point. nbcphiladelphia.com

Murrieta Theft Suspect Shoves Elderly 78 year old Walmart Employee While Fleeing Store Murrieta police are asking for the public's help in identifying a man who ran out of a local Walmart with a stolen computer, injuring an elderly employee in the process. It happened on Dec. 11 around 5 p.m. at the Walmart on Murrieta Hot Springs Road, according to a police bulletin. As the man was leaving the store, a 78-year-old employee tried to check for a receipt for the computer the man was carrying, which she noticed was still wrapped in its anti-theft device, police said. That's when the man ran around her, pushing her down. "The associate fell to the ground, causing her pain in the hip area," police said. The man then fled in a black older model Mercedes Benz sedan, which did not have license plates on it, according to police. patch.com
Man robs Sacramento Target store, assaults multiple women; Elue Palmer booked on theft, sexual assault charges A man was arrested after he assaulted multiple women while he robbed a Sacramento Target store, police said Thursday. Sacramento police said at about 4:50 p.m. Wednesday, Elue Palmer, 20, walked into the Target on 4th Avenue and began taking merchandise and hiding it with him as he walked around the store. Officers arrived and apprehended Palmer, who was being detained by store security. Further investigation revealed Palmer also assaulted multiple women while inside the store, police said. kcra.com

NYPD seeks public's help in solving jewelry store robbery The New York Police Department is asking for the public's help in finding the suspects in a jewelry store robbery that was caught on video. The robbers got merchandise worth an estimated $250,000 on Dec. 3 in Brooklyn. The security video shows two suspects entering the store on Coney Island Avenue. A man with his face covered and a hood on his head is seen pointing a gun. Another smashes a display case with a hammer and scoops jewelry into a bag. Glass is seen flying. Police also want to question a woman who had been looking at the display cases and let the men into the store. nbcnewyork.com

Ocala Shoplifting suspects laugh after arrests while on way to jail; Duo stole $300 worth of items from Walmart Ocala police arrested two women on Thursday they say were caught shoplifting at Walmart and then laughed in the back of a patrol car the whole way to jail. Cassandra Brown, 22, and Stephanie Brown, 23, were charged with retail grand theft after police say they were caught putting merchandise in purses and shopping bags at the Walmart on SW 19th Avenue Road, according to police. Police said when the duo tried to walk out of the grocery doors, a loss prevention officer stopped them and found they had stolen $313.30 worth of merchandise. While on the way to jail, police said the couple was laughing in the rear seat of the patrol car. According to the report, Cassandra Brown then spontaneously said that "they were not trying to be rude or come off as if they didn't care, but that they stole and now they were in trouble so there was nothing else to do other than laugh." clickorlando.com
Vienna, Austria: High-end Jewelry store Smash and Grab leaves guard severely injured A high-end jewelry shop in Vienna's 1st district was robbed on Thursday afternoon by two masked men who attacked and injured a security guard. The men got away with jewelry and some high-end watches. It's not yet clear how much their haul was worth. Two employees who were working in the Schullin shop on Kohlmarkt were threatened at gunpoint by one of the men, whilst the other smashed display cases with a home made hammer. The security guard was hit in the back of the neck. Christmas shoppers saw him lying motionless on the ground outside the shop and called the police but by the time they arrived the thieves, who were wearing balaclavas and scarves, had escaped. thelocal.at

Police Investigate Smash and Grab at NW D.C. Arc'teryx Store

Seattle police using data on car prowl 'hot spots' to combat the thefts

Two sought for questioning in Chapel Hill credit card fraud / thefts

Fayetteville Police Chief Medlock says pepper spray use on crowd at Cross Creek Mall inappropriate


Robberies and Burglaries
● AM/PM - Huntington Beach, CA - Armed Robbery
● Arc'teryx - Washington DC - Robbery
● Boost Mobile - Chicago, IL - Burglary
● Circle K - Macon, GA - Armed Robbery
● CVS - Martinsville, VA - Armed Robbery - customer leaving the store
● Deerpark Grocery - Deerpark, NY - Burglary
● Dollar General - Kingston, GA - Armed Robbery - suspect arrested
● El Globo - Camden, NJ - Armed Robbery
● Family Dollar - Houston, TX - Armed Robbery - 2 store 1 hr apart
● Fresno Firearms - Fresno, CA - Armed Robbery - suspect cleared
● Medicine Place - Phoenix, AZ - Armed Robbery - suspect arrested
● Metro PCS - Naples, FL- Armed Robbery
● Metro PCS - Redding, CA - Burglary
● Rexall - Arlington, VA -Armed Robbery
● Rodriguez Meat - Providence, RI - Shooting
● Steve's Gun and Archery - Columbia, TN - Burglary
● 7-Eleven - Bear, DE - Armed Robbery


Vendor Spotlight

IRG and Vector Security showcase
"One Stop for Complete IP Integration"
at the NRF 104th Annual Retail's Big Show
The company exhibits for eighth consecutive year and focuses on managed network services and network infrastructure to meet retailers' growing IP migration initiatives.
PITTSBURGH, PA - December 16, 2014 - Industry Retail Group (IRG), a leading provider of retail-centric broadband-based applications and services; along with Vector Security, a top 10 integrator for physical security and security-related applications, will be featured at booth number 1355 during the 2015 National Retail Federation (NRF) Retail's Big Show from January 11-14 at the Jacob K. Javits Convention Center in New York City.

IRG and Vector Security representatives will showcase their comprehensive managed and professional services and how these enable retail chains to move beyond broadband as a commodity, powering broadband applications to drive revenue and improve customer experience.

"This is an exciting time for retailers, and we look forward to presenting our full suite of offerings at NRF," said Mike Luzio, President of IRG. "From broadband infrastructure to retail-centric applications to unequaled managed network services, we truly have become retail's one stop for IP migration. Our multi-site solutions are driving real results for retailers' bottom lines, and we can't wait to share these results with NRF attendees."

Both companies will focus demonstrations on turnkey broadband design and deployment; proactive network alerts and performance insights; and centralized PCI management. They will also discuss how retailers can leverage their IT infrastructure for growth by connecting applications that drive business performance and scaling networks to meet omnichannel needs -- enabling broader in-store business intelligence.

Read the rest of the press release here.



Featured Job Listings
Sponsored by Cam Connections
Feature Your Job Here For 30 Days -
70% Aren't On the Boards
VP of Sales
Checkview
Chanhassen, MN
Checkview
Sr. Director, Field LP
Ross Stores
Dublin, CA
Ross Stores
Director of LP
Tourneau
New York, NY
LinkedIn
Director Market LP
Walgreens
Phoenix, AZ
Walgreens
Market AP Specialist
REI
Bay Area, CA
REI
National Account Executive
Checkview
Northeast Region
Checkview
National Account Executive
Checkview
United States
Checkview
Corporate Investigator
Confidential
San Francisco Bay, CA
Confidential
National Account Manager
Vector Security, Inc
TBD
Vector Security, Inc
AP Agent
Ralph Lauren
Sunrise, FL
Ralph Lauren
LP Agent
JONS Markets
Los Angeles, CA
JONS Markets
National Account Mgr
Confidential
Northeast
Downing & Downing

Limited Time Only - Post Your Multi-Unit LP jobs for FREE - Learn More Here

Daily Job Alerts


Sponsored by Cam Connections
Appearing One Day Only
View our Internet Jobs Archives here
Regional LP Manager
CVS Caremark
Raleigh, NC
CVS Caremark
Supervisor LP PBM Field
CVS Caremark
Northbrook, IL
CVS Caremark
Dept Mgr LP & Safety
Lowe's
Springfield, MO
Lowe's
Dir Div LP Safety & Hazmat
Lowe's
Mooresville, NC
Lowe's
AP Manager in Training
Walmart
Port Lavaca, TX
Wal-Mart
AP Manager in Training
Walmart
Overland Park, KS
Wal-Mart
AP Manager in Training
Walmart
Wiggins, MS
Wal-Mart
LP Manager Hrly
Kmart
Rochester, MN
Sears Holdings Corp
LP Manager Hrly
Kmart
Dubuque, IA
Sears Holdings Corp
LP Manager Hrly
Sears
Silverdale, WA
Sears Holdings Corp
LP Manager
Macy's
Glen Burnie, MD
Macy's



Home of the Industry's Original
On the Move

None to report.
Post Your New Job or Promotion!
See all the Industry Movement


Your Career
Sponsor this section of the Daily
10 Traits of Innovative Leaders
If you can be innovative, you will be able to stay ahead of the game and competition. How do you know if you can be an innovative leader? There are certain characteristics that set you apart from others like speed and communication. Here are some other qualities that set innovative leaders apart from the rest. Employees can see your vision

5 Everyday Actions that Help Leaders Grow Growing allows us to evolve our skill sets, see things in new ways, lets us be open to different ideas and change. Leadership is also developed over time and through obstacles one faces and gets over. Be a better leader today with these five steps. Encourage everyone

7 Things Great Leaders Do to Be Courageous Fear can get in the way of your leadership ability. People find themselves in a leadership position, try to be "perfect," then fear they will fail and be found out. This fear can then lead to problems or bad behaviors. Here are some ways you can lead in a way that minimizes fear. Focus on something bigger than yourself

In 2015, Be the Best at Getting Better
Even if you don't usually make New Year's resolutions, there is one you should set for yourself. Commit yourself to becoming the best. This long term goal only requires your ability to admit you're not perfect and a desire to learn on a daily basis. Set your sights high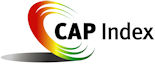 Tip of the Day
Sponsored by Vector Security
As we all rush thru our days, fighting to reach our objectives and dealing with a multitude of challenges each day, it's incredibly important that we remember that we're all a part of an industry, one team, one unified group dedicated and committed to helping our companies, our fellow employees, our customers, and our fellow colleagues. Easy to lose site of, bombarded with e-everything, and chained to our agendas each and every one of us is part of one industry and we all need to remember that from time to time. Take pride in what you do and how far we've come and remember we all have a long way to go and the only way we'll get there is if we do what's right for the industry each and every day. So the next time you're faced with that inevitable question of "What do I do" think about what's right for the industry, what's right for my company, for our customers, for our employees, and for our colleagues - and you just might find the answer you're looking for.

Just a Thought,
Gus







Upcoming Events
---
Recruiting?
Get your job e-mailed to everyone... everyday
Post on our Featured Jobs Board!
Reach your target audience in 2015 every day!
Request our 2015 Media Kit
update account / change e-mail
unsubscribe FEEDBACK
www.downing-downing.com

Advertise With The D&D Daily




36615 Vine Street, Suite 103
Willoughby, OH 44094
440.942.0671
copyright 2009-2019
all rights reserved globally