Presentation Spotlight: L. Wayne Hoover
"Using Data to Develop a Larger Confession"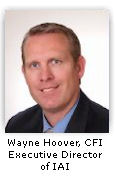 Verisk Retail is pleased to announce that L. Wayne Hoover, CFI will be a featured speaker at the upcoming InterACT 2013 conference.

Wayne will bring his unique perspective on how to utilize data from exception-based reporting and case management systems to conduct a successful general loss interview. Data, if used properly, can greatly enhance the interviewer's ability to obtain the optimal factual outcome. During this interactive session you will learn the best approach to use data to your advantage in the interview process.

A well-known member of the Loss Prevention community, Wayne started with Wicklander-Zulawski & Associates, Inc. as the Undercover Coordinator. One of their most requested speakers; he is Vice-President at W-Z, as well as Vice-President of CFI Programming for the Center for Interviewer Standards & Assessment Ltd. (CISA). CISA provides the certification process for qualified Interviewers and Interrogators to become a Certified Forensic Interviewer (CFI).

While working with Wicklander-Zulawski & Associates, Inc. Wayne has conducted thousands of interviews and interrogations for both the private and public sectors. He has taught hundreds of seminars on Interview and Interrogation Techniques, both domestically and internationally.

Interested in presenting too? Contact Kathleen or Cheryl

Kathleen Garner
952-912-9280
kathleen.garner@veriskretail.com

Cheryl Blake
952-912-9279
cheryl.blake@veriskretail.com

More Info and Registration
Early-bird pricing ends August 16, 2013 - ONLY 1 DAY REMAINING!