7th Annual New England Organized Retail Crime Symposium and Trade Show – DCU Center Worcester, MA, September 19, 2013

Recap by members of the Retailers Association of MA Loss Prevention Committee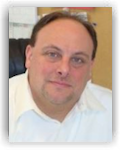 By Kevin Plante
Director, Loss Prevention Reporting and Analytics
CVS Caremark

Yesterday, the Daily published the speaking program recap of the New England ORC Symposium and Trade show that was held on September 19th. Here are the winners from the awards ceremony that was held after the speaking portion of the conference.

2013 AWARDS

1. Law Enforcement Officer of Year - CRITERIA
| | |
| --- | --- |
| ● | Outstanding ongoing support with investigations |
| ● | Drives Public/private partnerships |
| ● | Supports better understanding of ORC crime and activity |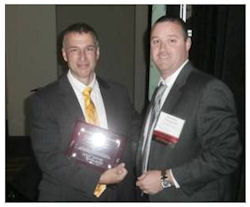 Reason for nomination: This agent has been instrumental in establishing partnerships between the retail sector and law enforcement in Massachusetts through driving communications, meetings and supporting investigations through the Massachusetts Fusion Center. He has hosted RAM LP Committee meetings and has assisted with setting up several Law Enforcement trainings over the past two years that have led to more than 150 officers going through ORC training sessions around the Commonwealth.

Award Winner: Trooper Kevin Coughlin, Massachusetts State Police

Accepting on His behalf: Lt. Bob Sojka

2. Loss Prevention Case of the Year
| | |
| --- | --- |
| ● | Successful completion of ORC investigation including prosecution |
| ● | Must contain multiple elements of ORC activity (booster, fence, additional criminal elements) |
Reason for nomination: This case was a multi-state operation which involved a level 2 fence and two level 3 fences and resulted in recovery of $3.7 million. The case includes documented booster activity from throughout New England, as far north as Bangor, ME. This activity was traced to a fencing operation in Queens, NY which ultimately pushed the product to a final location in Staten Island, NY where search and seizures were conducted. This case was built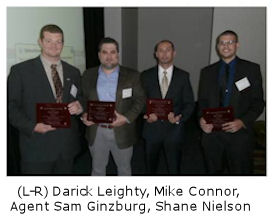 upon the hard work and cooperation of local and federal law enforcement and private loss prevention professionals. The magnitude of this activity combined with the type of cooperation that embodies the spirit of this event that makes case the 2013 case of the year.

Award Winning Case: Operation Neptune

Accepting Individuals:
Mike Connor, Global Investigator, Wal-Mart,
Darick Leighty, Global Investigator, Wal-Mart
Shane Nielsen, Special Investigator: AP Field Operations-Region 400 Target, Corporation
Agent Sam Ginzburg, Homeland Security

3. Loss Prevention Person of the Year
| | |
| --- | --- |
| ● | Individual that has gone above and beyond to assist a state association in the fight against ORC. |
| ● | Individual with continued support of the ORC Symposium and efforts in battling ORC. |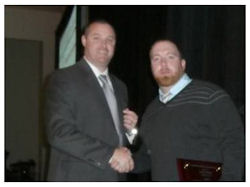 Reason for Nomination: As a board member of the RAM Loss Prevention Committee, this person has worked hard in organizing and conducting Law Enforcement training programs which aim to bring awareness to the issue of ORC to departments across Massachusetts and educate officers as to the key indicators of ORC activity. This person has also spearheaded the establishment of the NEORCA website which will provide the New England region with a tool that expands and coordinates the industry's information sharing capabilities with regards to ORC. Creation of NEORCA required partnerships to be built between public and private partners including all six New England state retail associations, a task that was seamlessly achieved by our winner.

Award Winner: Jason Adams, National Manager – Organized Retail Crime, Gap Inc.

CONGRATULATIONS TO ALL OF OUR WINNERS!

The day was wrapped up with "Thank You's" to all the New England state retail associations and our awesome sponsors, Target, RILA, BJ's Wholesale Club, Staples, NRF, Macy's, CVS, Rite Aid and Wegmans. We also held raffles sponsored by the RAM LP Committee, CEC and AC Radiocom!


Secret Service busts Israeli identity theft ORC ring stealing hundreds of thousands of dollars worth of cigarettes from Sam"s Club in Orange County with fraudulent credit cards Hoping to get hefty payments upon their return to the Middle East, these thieves were brazen: demanding substantial credit limit increases as soon as they received the cards and entering stores to steal massive quantities of cigarettes (apparently preferring Marlboro), according to the government's complaint. One of the suspects told the Secret Service that he'd been recruited for the job while in Israel and said he'd been promised $20,000 in compensation. The suspects had Israeli passports when they flew into California to steal hundreds of thousands of dollars worth of cigarettes from businesses like Sam's Club in Orange County with fraudulent credit cards. In a criminal complaint filed this month inside the Ronald Reagan Federal Courthouse, Special Agent James A. Mikkelson identified Khaled Kananbi, Yousef Khatib and Wisam Salti as active members of the organized crime con game that often used the social security numbers of children and young adults to get credit cards from G.E. Capital Retail Bank and Discover Card. "In my training and experience, individuals like Kananbi, Khatib and Salti--who are only in the country on limited VISAs--open up numerous credit accounts in a short amount of time and run high amounts of charges in that short amount of time because they intend to 'bust out' of the accounts--i.e., they have no intention of paying off the charges incurred on the accounts, causing a loss to the banks and credit card issuers," Mikkelson stated. (Source ocweekly.com)


ORC female duo busted at Town Center at Boca Raton, FL., with shoplifting tools Two Broward women were arrested Monday after police say they caught the duo driving away from the Town Center at Boca Raton mall with snips, tinfoil and a foil-wrapped security sensor — items all commonly associated with shoplifting. Driving a rental car the one suspect had been arrested 10 times for theft-related incidents. Video surveillance from Victoria's Secret showed Ferguson and Copeland entering separately and making returns individually. (Source sun-sentinel.com)



ORC suspect busted stealing thousands in baby formula from Wal-Mart stores in Johnson City, Tenn. Baby formula heist from two local Walmarts resulted in a man's arrest earlier this month, police said. On Sept. 4, Johnson City police were called to the Walmart at 2915 W. Market St. by loss prevention employees in response to a report that a man had taken around $1,000 in baby formula. Police retrieved the baby formula in the parking lot. As police were talking with Walmart's loss prevention employees, police received a call that a man who fit the same description fled on foot after he attempted to steal nearly $700 in baby formula from the Walmart at 3111 Browns Mill Rd. Police found Aaron Garland, 19, 200 Colordao St., at a nearby business. Garland was taken to the Washington County Detention Center. (Source johnsoncitypress.com)

ORC female duo hitting Wal-Mart in Easton, MD. - Busted
Police arrested an Easton woman accused of trying to steal less than $1,000 worth of merchandise from Walmart in Easton three times in the same way, police said. Walmart security said someone put merchandise, estimated at less than $1,000 in value, in a cart and walked out of the store without paying on Aug. 14. A security video showed a woman, identified as Syrinthia A. Foster, 40, of South Locust Lane in Easton, walking out of the store to a maroon car and loading the merchandise inside it while another woman, identified as Ashley I. Clark, 27, exited the car and helped Foster. Once the merchandise was loaded, Clark went into Walmart, and Foster, whose license was suspended at the time, drove the car away, according to charging documents. Walmart security later in the day on Aug. 15 that Foster was in the store again and stealing merchandise the same way she had the day before. Police waited for Foster in the parking lot and confronted her when she left the store. According to charging documents, Foster couldn't provide a receipt for the merchandise, valued at $876.45, and she was arrested. A month later on Sept. 15, police were notified that Foster was in Walmart again stealing merchandise the same way, and Foster was charged on a warrant, according to charging documents. (Source stardem.com)

"Protection 1 is proud to be sponsoring the D-D Daily ORC column to ensure the LP industry gets the information, education and critical data they need to fight this national epidemic."
Rex Gillette, VP Retail Sales, Protection 1.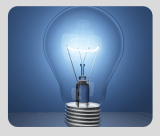 What's Happening?
Coming soon:

Mobile App's

LP Show Coverage

The Top 10