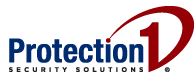 Protection 1 Provides Enterprise Solutions and Managed Services for National Accounts Customers
Protection 1 Provides Integrated Solutions Combined with its Award-Winning Customer Service
CHICAGO – September, 2013 – Protection 1, the largest full-service business and home security provider in the nation, today announced it has fully commercialized its Enterprise Solutions division – leveraging its national footprint to provide support for enterprises in financial services, data centers, energy, education, healthcare and other segments. Since its acquisition of Integration Logistics and Suntera Security last year, Protection 1 has focused on enhancing its integrated solutions for both its existing and new national account customers.

Protection 1 has fully commercialized its integrated solutions division and offers support for enterprise level access-control, IP video and integrated systems. By deploying virtual monitoring and maintenance (VMM) technology, Protection 1 is able configure, install and monitor whole enterprise solutions with the capability to address any issues often before the customer is even aware of a potential concern.

"We were aware that the integrated solutions and technological capacities of Suntera and Integration Logistics represented an opportunity to transform the industry once combined with our national footprint and support capabilities," said Timothy J. Whall, chief executive officer, Protection 1. "As enterprise security needs have become more sophisticated, the demand for video monitoring and access control features are increasing. Enterprises need solutions that surpass industry norms and Protection 1 is now uniquely positioned to meet and exceed the needs of the marketplace."

Recognizing an absence of solutions in the market that could both install and provide ongoing support at the enterprise level, Protection 1 has developed a specialized offering in the industry. With more than 70 brick and mortar locations across the country, Protection 1 Enterprise Solutions teams have a national presence yet are nimble enough to provide immediate support. Protection 1 provides services including system health-check monitoring, on-site repair, staffed technical support, and management of access control and video available 24 hours a day.

"Our first priority is to deliver unparalleled customer service," said Christopher BenVau, SVP of Enterprise Solutions at Protection 1. "We have developed our teams to be agile enough to provide the support and solutions our clients need. We can now track a problem, analyze it, and have it fixed before it ever becomes an issue and our enterprise level clients depend on that capability."

Protection 1 has been strategically growing its presence in this space, developing a comprehensive solution for Fortune 1,000 companies that is unparalleled in the industry. For more information about Protection 1, please visit us at www.protection1.com.