SONY LAUNCHES 360 DEGREE HEMISPHERIC-VIEW
MINI DOME IP CAMERA

Five megapixel indoor/outdoor camera offers a circular area of view that helps eliminate blind spots and enhances situational awareness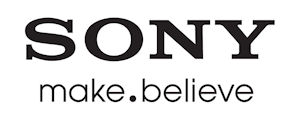 CHICAGO (ASIS 2013, Booth No. 635) – Sony's new 360 degree hemispheric-view dome IP camera (SNC-HM662) makes it possible for users to have five megapixel (MP), high-resolution video and a 360-degree view of an area with just one camera. Just announced at the ASIS 2013 security show, the SNC-HM662 is ideal for both indoor and outdoor environments such as retail outlets, campuses and commercial buildings. It helps users eliminate blind spots and enhance situational awareness.

The SNC-HM662 features a 360-degree panomorph lens and is certified as an ImmerVision Enables® solution. The ImmerVision technology generates clearer images and provides more pixels at the edge of a frame, as compared to traditional fisheye lenses. It also supports fast, responsive electronic pan/tilt/zoom (ePTZ) and 11 different viewing modes through the Sony Web viewer.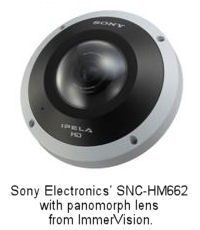 "As security needs have evolved, users expect an IP camera to provide usable video for multiple applications," said Mark Collett, general manager of Sony Electronics' Security Systems Division. "Sony has developed the SNC-HM662 for that very reason. The circular field of view and five megapixel resolution mean that the camera's images can be used on their own or used to complement any type of surveillance system and help make it more functional."

The SNC-HM662 corrects for the image distortion common with 360-degree lenses by de-warping the video with video management software (VMS), rather than at the camera level. This means higher video quality is maintained during the de-warping process, so more visual data is available for post-incident analysis. This is in contrast to 360-degree products that de-warp video at the camera level, which degrades image quality due to the camera's processing limitations.

The SNC-HM662 also supports two-way audio with an optional microphone and speaker, power over Ethernet (PoE), and edge storage capabilities.

Sony's SNC-HM662 security camera is expected to be available early in the first quarter of 2014. It will be supported by major VMS providers, including Aimetis Corp., DVTEL, INC., Envysion, Exacq Technologies, Genetec Inc., Milestone Systems, OnSSI, Salient Systems and Video Insight Inc.


Media Contacts