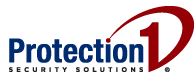 Protection 1 Teams up with ESPN's Mike and Mike to Launch New Marketing Campaign, #ProtectYourCookies

CHICAGO – October 29, 2013 – Protection 1, the largest full-service business and home security company in the U.S., today announced the launch of a new marketing campaign with ESPN's Mike and Mike featuring Mike Greenberg using his Protection 1 system to bar Mike Golic's ongoing attempts to steal cookies from his home. The new campaign will include television commercials, radio spots and social media components. In addition, Protection 1 will sponsor the 'Best Defensive Player' of the week, featured on Mike and Mike's morning radio show.

"There are so many elements of this partnership that are a perfect fit for what we want our customers and potential customers to understand about Protection 1," said Jamie Haenggi, Chief Marketing and Customer Experience Officer of Protection 1. "The 'Best Defensive Player' sponsorship speaks directly to what we do – we are our customers' best defensive player, we are there to protect your home and your business even when you're not. With the Mike and Mike spots we're able to bring out just enough of our fun side without losing view of the world-class protection we offer."

The new campaign builds on a successful six-month campaign in 2012 with Mike and Mike that generated a 100 percent lift in commercial brand awareness for the company, a 33 percent increase in consumer brand awareness and an 80 percent increase in search lead generation for the company. Protection 1 added to the positive impact of that campaign through Direct Response advertising that has resulted in lead flow increase of over 30 percent year over year.


"After working with Protection 1 the first time, we looked for ways to work together again, eventually landing on this concept of #ProtectYourCookies and it seemed like a great fit," said Mike Greenberg. "We even did the shoot at my house where we have Protection 1 installed to help us keep our home safe and secure."

The campaign will be launched under caption #ProtectYourCookies – highlighting some of the home defense capabilities of Protection 1's systems along with home automation features and video capabilities. The campaign will feature:


● The 'Best Defensive Player' of the Week on Mike and Mike's morning radio talk show
● An ESPN/Protection 1 sweepstakes that includes a trip to NYC and a behind-the-scenes tour of ESPN
● On-air live endorsements from Mike and Mike
● Pre-recorded radio spots with Mike & Mike
● TV Commercial starring Mike & Mike
● Social media campaigns tied to behind-the-scenes coverage and outtakes featured on YouTube
● Cookie give away among other contests
● Incorporated Twitter feeds from Protection 1, Mike Greenberg, Mike Golic and Stacy Greenberg, Mike's wife
● Facebook contests with prizes

The campaign will begin to air today on ESPN and ESPN radio. For more information on the capabilities shown, visit us at www.protection1.com or on Facebook at www.facebook.com/Protection1.