International credit card fraud syndicate operating in North Carolina - shipping product worldwide - identified with computer parts from Office Depot What started as a credit card fraud investigation in North Carolina has led to the seizure of $250,000 to $300,000 worth of computer equipment at a home in Fort Mitchell, Ala., Russell County Sheriff Heath Taylor said. Boxes containing Passport computer hard drives, overhead projectors and even a few Toyota car parts were displayed on a table during a 4:30 p.m. news conference. We found out that some of these items that came to the address in Fort Mitchell have already been sent on to some out of the country addresses," Taylor said. "These things here were probably headed for the same location or destination. We are certainly trying to work with the federal government in making some other arrests," Taylor said. "Those arrests are going to be linked to international syndicates that may or may not even be on U.S. soil." Taylor said there is a national syndicate working to obtain credit card information to fraudulent obtain computer equipment. The victims of the fraudulent purchase orders were ASI, a computer company in New York, and Office Depot, a national office products company. (Source ledger-enquirer.com)

Target shoplifter in Fridley, Minn. charged with felony theft; believed to have stolen over $5,000 in past four months A Blaine man has been accused in Anoka County District Court of stealing more than $5,000 worth of merchandise from multiple Target stores over a period of four months this past summer. When a Fridley Police investigator responded to a theft report from the Fridley Target store Sept. 19, he was told by a store loss prevention employee that two known people were suspected of 22 thefts from Target stores in Anoka County in the past four months. (Source abcnewspapers.com)

Seven Univ. of Wisconsin Platteville students face retail theft charges; $1,929 reported stolen from Walmart Seven of the eight are accused of stealing an estimated $1,929 in Walmart merchandise, including, according to police, sports gloves, cell phone cases, movie discs, Xbox and other computer games, computer flash drives, Lego sets, walkie-talkies, Airsoft guns, knives, clothing, deodorant and cologne. (Source swnews4u.com)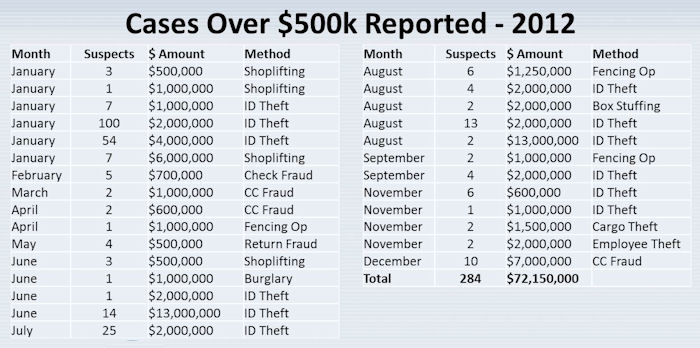 As reported by the D&D Daily.
See tomorrow's Daily for ORC cases over $500,000 reported for 2013 through October.

"Protection 1 is proud to be sponsoring the D-D Daily ORC column to ensure the LP industry gets the information, education and critical data they need to fight this national epidemic."
Rex Gillette, VP Retail Sales, Protection 1.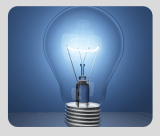 What's Happening?
Coming soon:

Mobile App's

LP Show Coverage

The Top 10