"Jugging" - The New Crime Trend - Two juggers busted hitting Ross store in Houston Police busted two people suspected of shoplifting purses and other items at a Ross store in Meyerland. Investigators say shoplifting is just their part-time job and that Tiffany Watt and Ashley Brewster are suspects in a bigger crime trend we first told you about called "jugging." That's when suspects follow people leaving banks and rob them, often in store parking lots. (Source click2houston.com)

Las Vegas Jewelry Store Fence Gets Two Years in Prison
A Las Vegas jewelry store owner Thursday received a two-year prison sentence for purchasing and selling luxury jewelry he knew was stolen, Nevada's U.S. Attorney Daniel Bogden said. According to court records, Sakkab was part-owner of Red Rock Jewelers From Sept, 20, 2011, to Feb. 3, 2012, he acted as a fence for stolen property by purchasing and selling luxury jewelry stolen by co-conspirator Jeffrey Cochran. Most of the stolen items sold by Sakkab were high-priced Rolex watches taken in other states and transported to Las Vegas. Sakkab resold the stolen jewelry at Red Rock Jewelers, and also made private sales to third parties for personal gain. (Source 8newsnow.com)

Female Internet ID Thief shipping the goods internationally - busted in Rincon, GA. A retailer's alert staff helped put a Rincon woman in jail on fraud, forgery and identity theft charges. The Rincon Police Department arrested Bettye Medders, 58, for making several purchases over the Internet with stolen credit card information. She was being supplied the information from an unknown source on the Internet," Scholl said. According to investigators, Medders used information from multiple credit card accounts, belonging to people from as far away as California. She bought laptop computers, flat-screen televisions, jewelry, furniture and other items with high re-sale value, Scholl said. Some of the items were scheduled to be delivered out of the country, he added, and were believed to be going to Ghana, Africa — where Medders' source for the credit card information is believed to be. The merchandise Medders bought from online retailers was often delivered to the chains' stores in and around Effingham for her to pick up, according to Scholl. The break in the case came when the Rincon Walmart's loss-prevention department called police. (Source effinghamherald.com)




Man hits Walmart store for $2k in Culpepper, Virginia Culpeper police said the man walked into the store around 5:40 a.m. on Nov. 5 and allegedly filled a shopping cart with a desktop computer, electronic devices, two vacuum cleaners and clothes before leaving the store without paying. (Source wtvr.com)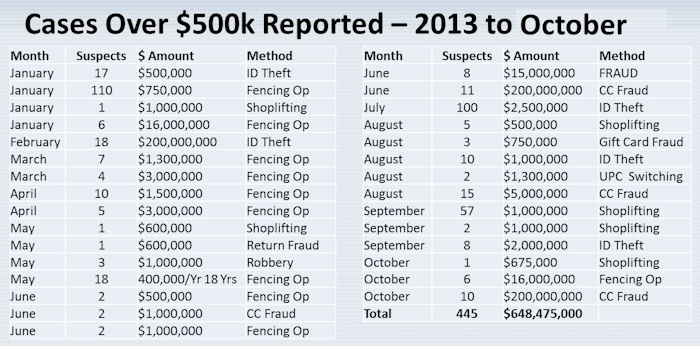 As reported by the D&D Daily.
See Monday's Daily for a comparison between 2012 and 2013
in the average dollar amount per ORC case.

"Protection 1 is proud to be sponsoring the D-D Daily ORC column to ensure the LP industry gets the information, education and critical data they need to fight this national epidemic."
Rex Gillette, VP Retail Sales, Protection 1.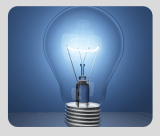 What's Happening?
Coming soon:

Mobile App's

LP Show Coverage

The Top 10