The 2014 LPRC Working Group Planning Summit
August 18th – August 19th
Gainesville, Florida
The 2014 LPRC Working Group Planning Summit is designed to address the objectives, leadership and productivity of each LPRC Working Group/Action Team.
The summit is headed by Walmart's Senior AP Director Mike Lamb, and Co-chaired by Target's CJ Rhein and Jim Kendall, as well as University of Florida's Dr. Read Hayes.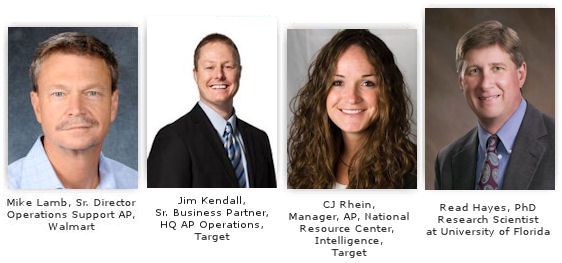 LPRC Working Group Summit Agenda:
August 18th
• 7:15pm -8:45pm - WG Summit Dinner: Join the networking dinner made possible by a grant from Digital Safety (DiSa) Monday at Ballyhoo Grill.
August 19th
• 8:30am -12:30pm - Working Group/Action Team Review and Improvement: Review LPRC's mission, research focus areas, and how the working groups and action teams make things happen.
• Reviewing each current working group and action team's objectives, leadership, membership,
process and productivity for improvement opportunities.

• 12:30pm -1:30pm – Networking Lunch

• 1:30pm -2:30pm - LPRC StoreLab innovation tour featuring Walmart's StoreLab
• Transportation will not be provided

• 3:00pm -5:00pm - Benefit Denial product protection planning roundtable
• Emerging trends in benefit denial
• Real-world application
• Potential pilot projects
• Next steps
Dress is business casual; lunch and refreshments will be provided.

We will also be making this summit distance-participatory via web conference for LPRC retail members who would like to be a part of the conversation, but can't be there in person. You can access the web meeting here starting at 8:30 on August 19th.

Please RSVP with your information and if you will be attending the LPRC Working Group Planning Summit by clicking here.

Please contact your organization or reach out to Jessi@lpresearch.org for any questions or comments.