Having trouble viewing this email?
Click here for web version
.

Are Your Legal, Government Relations &
Communications Teams Involved?

Today is Fight Retail Crime Day!

Tell Congress to Take Action to Fight the Retail Crime Surge

TODAY is Fight Retail Crime Day in Washington, D.C.! Join with the National Retail Federation (NRF) in pushing for congressional action this fall on the retail industry's top two priorities to address organized retail crime and theft.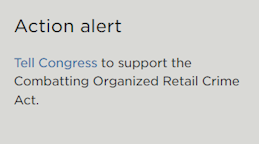 Taking action only takes one minute - add your voice along with thousands of retail professionals, and tell Congress to act on our top two priorities.

Click here to take action.

NRF's priorities include:

• INFORM Consumers Act (S.936/H.R. 5502): Requires online marketplaces to verify the identity of high-volume third-party sellers to help curb the sale of stolen and counterfeit merchandise. NRF supports inclusion of the INFORM Act in the pending Senate National Defense Authorization Act (NDAA) manager's amendment.

• Combatting Organized Retail Crime Act (S.5046/H.R. 9177): Establishes a new Organized Retail Crime Coordination Center that will help federal, state and local law enforcements agencies better coordinate to effectively combat criminal activities. Recently introduced in both chambers of Congress, NRF is advocating for additional cosponsors.

We invite you to share this information widely with your colleagues and networks. Every voice counts.

---

Get Your LP/AP Executives to Support This Effort

Reach Out to Your Member of Congress Directly

Find Your Representative Here