The D&D Daily Mobile Edition
LP, AP & IT Security's #1 News Source

---

---
Legislative Update
In Partnership with NRF LP Council's Legislative Committee

California Governor Signs Bill to Define Organized Retail Crime
Yesterday, California Governor, Jerry Brown signed AB 1065 into law. For the first time in California, the new law creates and recognizes the crime of organized retail theft and creates specific penalties for those who commit such crimes. Attached is a copy of the final bill and also attached is a legislative analysis that highlights what this bill will do.

Highlights of the bill include:

● Change the threshold for highest penalty from 3 or more convictions within 12 months to 2 or more convictions within 12 months
● Bolster misdemeanor arrest and bench warrant sections
● Mandate that courts consider issuing a stay away order for violators
● New CHP/State Taskforce
● New misdemeanor supervision program
● New deferred entry of judgement diversion program
● 2021 sunset

Here is an LA Times article from earlier this year that reported about this bill as it was being considered.

Governor Brown Helps Keep CA Retail Workers Safe
by Cracking Down on Organized Theft
The United Food and Commercial Workers (UFCW) Western States Council today applauded Governor Jerry Brown for signing AB 1065 (Jones-Sawyer) to make organized retail theft a crime and strengthening local law enforcement's ability to arrest and prosecute perpetrators. The following statement may be attributed to James Araby, Executive Director, United Food and Commercial Workers Western States Council:

"A National Retail Federation survey found that 95% of merchants were the victim of coordinated theft, resulting in $30 billion in estimated losses per year. These sophisticated criminal enterprises put retail workers represented by UFCW in dangerous situations on a daily basis. AB 1065 will improve safety in California's retail stores.

"In addition to strengthening local law enforcement's ability to hold criminals accountable, AB 1065 also creates risk-based rehabilitation programs to minimize recidivism and incarceration. UFCW applauds Governor Brown for embracing AB 1065's holistic approach to the pervasive problem of organized retail theft and approve this common-sense criminal justice reform." ufcwwest.org
---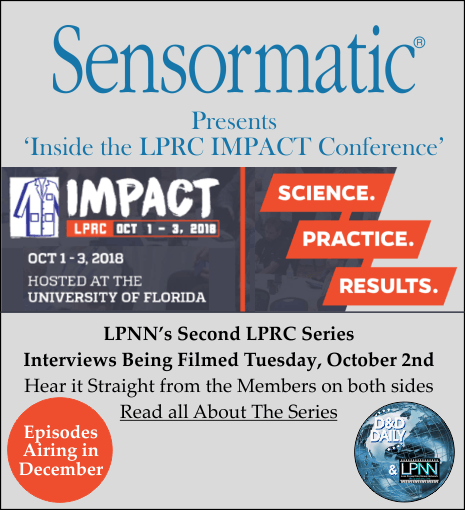 ---
Top Industry News

High-Grade Pot Jobs Have Arrived, Marijuana Industry
LP's Next Growth Sector - Considered Criminal Activity By Feds
No Armored Truck Service or Big Banks Allowed by Feds

Sales $8B to $10B in 2017 - Up 50% Over 2017 - $22B by 2022
160,000 Jobs - Adding 340,000 in 5 Yrs.

Of course grow house and budtending jobs are on the rise. But as the legal marijuana industry continues to professionalize, jobs in finance, compliance, and operations are also opening up, with a staggering 690% increase in overall marijuana industry job listings between January 1, 2017 and August 1, 2018. Many of those jobs listed were offered under titles such as director of cultivation or director of extraction. And, average salaries in the industry grew 16.8% between 2017 and 2018. That's a lot of green.

It's worth pointing out that many director-level jobs require complex training and knowledge that is fairly common in other industries. Consider compliance managers, tasked with maintaining an understanding of complex state and federal laws. And finance directors in the cannabis industry have a problem unique to few other legal industries: most marijuana growers and sellers are still not allowed to bank with most major financial institutions, which fear running afoul of guidelines about aiding what is still considered criminal activity on the federal level. fortune.com

Editor's Note: A high risk industry is going to need an exhaustive LP/AP program, and Canada is already preparing a unified LP national model and just had a half day seminar, "Cannabis in Retail Forum", for LP executives at their annual Retail Council of Canada Secure Conference, Canada's version of the NRF. It would be wise to follow their developments. As this will be a boom market for every retail discipline, especially LP/AP.
---
Former AP Exec - Lowe's new CEO - plans to 'replicate Home Depot playbook'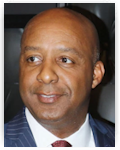 If you can't beat 'em, copy 'em.

Marvin Ellison, the new chief executive at Lowe's, says his plan to fix the floundering home-improvement chain includes a few tricks he learned from his days as an executive at Home Depot, according to analysts to whom he's spoken.

"He's going to replicate the Home Depot playbook where he can," Gordon Haskett analyst Chuck Grom told The Post. "Ellison thinks there's a lot of market share up for grabs."

A 12-year veteran of Home Depot who got passed over for the top job there in 2014, Ellison has already tapped two former Home Depot executives to head up stores and merchandising since he arrived three months ago.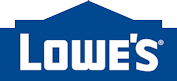 Cutting labor costs — a relentless tactic at Home Depot that has earned its stores a reputation for forcing customers to walk across multiple aisles in search of help — also could be a key part of Ellison's playbook.

In recent conversations with Wall Street analysts and investors, Ellison signaled that he will cut hours for store workers while expanding the use of in-store technology, including self-checkout lanes. nypost.com

Article Published Sep. 25th - By Gus Downing:
Lowe's Ellison's New Challenge & Focus - Closing the Gap With Home Depot

J.C. Penney loses third top executive in five months as CFO departs


J. C. Penney Co.'s chief financial officer is leaving the Plano-based department store chain to pursue another job. Penney announced Jeffrey Davis' departure after Thursday's market close. His resignation is effective Monday, though the Penney announcement didn't specify where Davis is going.

Davis is the third C-suite executive to leave the 114-year-old retailer this year. CEO Marvin Ellison quit in May to take the top job at home improvement chain Lowe's. Two months later, chief customer officer Joe McFarland left Penney to reunite with Ellison at Lowe's. dallasnews.com

---
Fraud victims ask judge to forgive former Pilot Flying J President Mark Hazelwood
With Pilot Flying J cash tucked in their back pockets, a handful of trucking company owners are urging a federal judge to forgive the former president of the truck stop giant for his plot to defraud them and forget prison as punishment.

At least four trucking company owners have filed letters of support in U.S. District Court in Chattanooga on behalf of former Pilot Flying J President Mark Hazelwood.

Pilot Flying J has paid $56.5 million in criminally ordered restitution to the more than 70 trucking companies federal prosecutors Trey Hamilton and David Lewen say were verifiably defrauded. The firm has shelled out another $85 million to those companies and more to either settle or avoid lawsuits. knoxnews.com

Defense for Mark Hazelwood to appeal sentence in Pilot Flying J case
On Wednesday afternoon, former Pilot Flying J president Mark Hazelwood was sentenced to over 12 years in prison. On Thursday, Hazelwood's legal team announced they would file an appeal. wvlt.tv
---
UK's Pret chain vows 'meaningful change' after allergy death
The chief executive of British restaurant chain Pret A Manger has apologized to the family of a 15-year-old girl who died after suffering an allergic reaction to a sandwich she bought at London's Heathrow Airport.

Natasha Ednan-Laperouse collapsed on a British Airways flight from London to Nice in July 2016. She was allergic to sesame, which her baguette sandwich contained.

A coroner told an inquest into Natasha's death that the absence of specific allergen information on the sandwich packaging and airport display reassured the teen.

Her family says she died because of "inadequate food labelling laws."

Pret A Manger CEO Clive Schlee said Friday that the company was deeply sorry and "all of us at Pret want meaningful change to come from this tragedy. We will ensure that it does." yahoo.com bbc.com

Pembroke Pines, FL: Woman Claims Racial Profiling After Being Falsely Accused Of Stealing From Pines H&M Store
A woman who says she was falsely accused of shoplifting at the H&M store at Pembroke Lakes Mall is still in tears over an incident she calls racial profiling.

"It was a black thing. Period. I wasn't the only person in there. Why me?" asked Daniela Taylor, who says she was shopping at the store on Tuesday. Daniela says she went to H&M to return some earrings and decided to buy another pair. When she walked out, she said two loss prevention officers approached her, accused of her stealing the earrings and embarrassed her in front of people.

"He's like, 'That's it. You're going to jail.' I'm like, 'but for what?'" asked Daniela. Daniela says she was very upset by a comment made by one of the loss prevention officers — a black male.

"I'm cursing because obviously I have already told him I didn't do anything. I said, 'you should understand where I'm coming from. If you were on the other end of the table, you should understand how they do us these days.' He said, 'Don't pull the race card on me,'" said Taylor.

Daniela says after reviewing security footage, the loss prevention officer realized Daniela had not stolen anything.

H&M released the following statement:
"We are aware of the incident that took place in our Pembroke Lakes Mall location. Unfortunately this was a misunderstanding and we are sorry. We have since let go of the third party security company that was involved and we are reviewing our internal procedures to make sure this type of incident does not happen again and that our routines are properly followed. We will be getting in touch with the customer to follow up on the steps we have taken." cbslocal.com

President Of Park Avenue Art Gallery Sentenced To 18 Months In Prison For Defrauding Art Dealers And Collectors Of Millions Of Dollars Of Artwork
A Manhattan art dealer who admitted to playing fast and loose with works by Pablo Picasso and Edgar Degas to rip off collectors and hide his financial failure was sentenced to 18 months behind bars.

Ezra Chowaiki, who was the face of Chowaiki & Co. Fine Art Ltd. on Park Avenue before its bankruptcy last year, was sentenced Thursday by U.S. District Judge Jed Rakoff in Manhattan. The disgraced dealer pleaded guilty in May and agreed to forfeit $16 million and 25 works of art. He was also ordered to pay $12.9 million in restitution Wednesday.

Between 2015 and 2017, through the Gallery, Chowaiki engaged in a scheme to deceive other dealers and collectors of fine artwork into sending him money or valuable artwork under the false pretenses that he would engage in legitimate transactions such as the purchase, sale, or consignment of artworks. In truth, however, Chowaiki did not, and often could not, conduct the transactions as promised, and instead kept funds and artwork for himself and the Gallery, or sold or consigned them to others both in and outside the United States, without authorization. Through these fraudulent transactions, Chowaiki fraudulently transferred millions of dollars' worth of artwork. bloomberg.com justice.gov

Protests coming to your retailer next?
'Rise Up Retail' group aims to protect workers' rights
Moving from Walmart to the rest of the retail sector
A new campaign, dubbed Rise Up Retail, has launched to fight for decent pay, predictable schedules, and stability for the country's million-strong retail workforce. The Rise Up Retail campaign is a melding of the Center for Popular Democracy, which is a nonprofit that advocates for a variety of workplace issues, and OUR (Organization United for Respect) Walmart, which is now going by OUR and branching out beyond the original retail behemoth. Most of the work consists of retail workers reaching out to other retail workers to organize and mobilize them, much of it done through social media.

OUR Walmart's decision to expand came out of its original theory of how to change the retail sector: by changing things within Walmart, industry standards were likely to shift, thanks to how large the company is. (Walmart is the single biggest private sector employer in the country.) It also notched some important victories: after workers started going on strike, it increased starting pay to $10 an hour and expanded paid family leave. "Every win we've had at Walmart has rippled across the industry and others have followed suit," Dehlendorf said. Both Target and the owner of T.J. Maxx and Marshalls raised base pay to $9 an hour shortly after Walmart said it would raise its wages.

It's also part of a wave of worker-focused organizations that have cropped up outside of the traditional labor movement at a time of declining unionization. vox.com

New California Law Holds Retailers Liable for Truck Driver Misclassification
California Governor Jerry Brown (D) has signed into law a bill that aims to hold retailers partly accountable for working with trucking companies that have a record of labor violations.

The bill, SB 1402, makes retailers jointly liable for violations of state labor and employment laws when they hire trucking companies with unpaid final judgements for failure to pay truck driver wages, imposing unlawful expenses on employees, failure to remit payroll taxes or to provide worker's compensation insurance, misclassifying employees as independent contractors, and other labor law violations. truckinginfo.com

Here's the Latest New Retail Sector - "In-Car Commerce"
Uber-partner Cargo raises $22.5M to scale its in-car commerce service globally
Founded out of New York in 2016, Cargo partners with brands across confectionery, electronics, cosmetics, and more to offer ride-hailing passengers access to goods — including chocolate bars and USB cables — during their trip. venturebeat.com

Publix to Create 700 New Jobs by Expanding Lakeland Corporate Office
Governor Rick Scott and Publix CEO & President Todd Jones announced today that Publix will expand its headquarters in Lakeland and add 700 additional jobs by the end of 2027. Since construction on Publix's current corporate office was announced in 2001, Publix has entered three additional states, more than doubled its annual sales, opened more than 500 new stores and added about 70,000 associates. businesswire.com

Bed Bath & Beyond stock sinks more than 20%, a casualty of Trump's trade war with China

What would the nation's strictest plastic ban mean for New Jersey's retailers?

Infographic: How consumers will spend $9 billion on Halloween

The last Blockbuster in America created a beer to celebrate its lonely status


Quarterly Results
Rite Aid Q2 Retail Pharmacy comp's up 1%, front-end up 0.1%, revenue Retail Pharmacy Segment up 0.2%, reported net loss of $352.3M
Don't Miss Out! Registration Ends Monday!
LPRC Impact 2018 - Science. Practice. Results.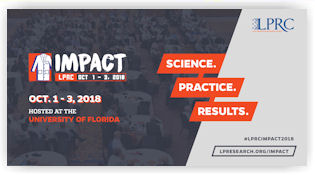 The LPRC has developed the IMPACT Conference to help retailers and their solutions partners better employ research tools to assess the real-world impact their LP efforts have on sales, crime, and loss levels. This year's theme is Science. Practice. Results. Our aim for this year's conference is to deliver practical research, rooted in rigorous scientific research methods, to help your team succeed.

Attendees will also be able to collect credits towards certifications - certificate of attendance available upon request. Earn up to 13 credits - Loss Prevention Certified (LPC) Program - Loss Prevention Foundation; 4 credits - Certified Forensic Interviewer (CFI) Program - Wicklander-Zulawski and CPE credits - ASIS International.

View the full research agenda. Register here for LPRC Impact 2018.

For more information, please visit lpresearch.org/IMPACT
All the News - One Place - One Source - One Time
The D&D Daily respects your time
and doesn't filter retail's reality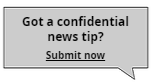 ---

---

---
---
Spotlight on Auror
New Tech Hitting U.S. Impacting the U.K.
Auror Presents at Finals of International Loss Prevention Startup Competition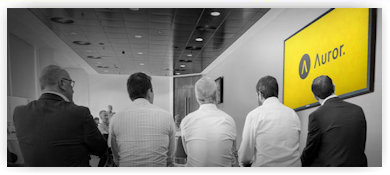 Auror, a retail crime intelligence platform, was a finalist in the 2018 ECR Shrink Group Retail Loss Challenge for startup businesses. Auror's Co-CEOs Phil Thomson and Tom Batterbury traveled to London to present Auror as an anti-shoplifting solution to a panel of judges and retail industry leaders.

The international competition selected five finalists companies from more than 200 entries, inviting the winners to pitch their solution to a panel of five judges from Europe's largest retail companies.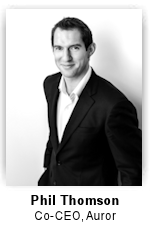 Judges have the option to arrange pilot solutions from the finalists in their stores.

"This was an incredible opportunity for us to present our capabilities and results to major retailers and build awareness for our solution in another market," says Phil Thomson, Co-CEO of Auror. "It was humbling to be selected from such a large pool of other companies, and we're thrilled that there was so much interest in our platform."

In evaluating the entries, judges looked for solutions to five retail loss prevention challenges across the industry. Auror was the only Finalist to address Challenge 5, which sought to find ways for retailers and law enforcement to collaborate and reduce crime and violence.

A panel of industry experts then evaluated the entries, looking for particularly innovative and scalable solutions with real potential to tackle retail loss.

Competition organisers were pleased to have such a diverse range of solutions and entrants, and Auror proved a great example of this breadth.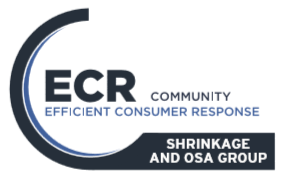 "We congratulate Auror on their selection as a finalist, and thank them for travelling such a distance to take part in the competition," says Colin Peacock, Group Strategy Coordinator, ECR Shrink Group. "As their presentation showed, retail loss prevention is an area prime for disruption, and we've been pleased to see so many exciting new technologies offering promising solutions in this field."

Auror was also recently named as a Finalist in two categories of the 2018 Australian Fraud Awards: Best Newcomer and Best Collaborative Solution.

They have also won several other awards previously, including the New Zealand Innovator Awards.
---

---

Justice Department Hosts Cybersecurity Industry Roundtable With Private Sector
Revised Guidance Released:
Best Practices for Victim Response & Reporting of Cyber Incidents
In February of this year, Attorney General Jeff Sessions established a Cyber-Digital Task Force, which published its first report in July. The report provides a comprehensive assessment of the cyber-enabled threats confronting the nation, and catalogs ways in which the Justice Department combats those threats, including by partnering with the private sector.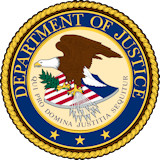 The Justice Department's Criminal Division hosted a cybersecurity roundtable discussion yesterday on the challenges in handling data breach investigations. Assistant Attorney General Brian A. Benczkowski of the Criminal Division delivered opening remarks and served as moderator for the event. Deputy Attorney General Rod J. Rosenstein, Assistant Attorney General John C. Demers of the Department's National Security Division and officials from the FBI, U.S. Secret Service, the White House's National Security Council and U.S. Department of Homeland Security also delivered remarks at the event. The audience included many of the nation's leading private-sector practitioners in the field of data breach response and representatives from premier cybersecurity and incident response firms in the country.

The Department continues to exchange ideas with and look to the private sector's expertise and insight about how to improve cooperation between law enforcement agencies and data breach victims.

"Public-private partnerships addressing cybercrime play a critical role in our efforts to hold criminals accountable for data breaches," said Deputy Attorney General Rosenstein. "We depend on the private sector to help us maintain the rule of law in cyberspace at every stage of our work. That includes working together to obtain critical evidence for investigations and trials, and collaborating on developing the legal authorities needed to protect our 21st century economy. Today's discussion aims to share best practices, common challenges, and emerging threats, and identify how the Department of Justice and our law enforcement partners can help private industry to protect Americans from harm while safeguarding privacy. Through roundtables like this and the continuing collaboration they fuel, we will meet emerging threats, protect America's technological innovations, and preserve public safety and security."

As part of Thursday's event, the Cybersecurity Unit released a new document providing even more comprehensive guidance that reflects input the Unit received during its outreach efforts. The revised guidance addresses new issues like working with incident response firms, cloud computing, ransomware, and information sharing. It is an example of the type of assistance that the Cybersecurity Unit was designed to provide—to help elevate cybersecurity efforts and build better channels of communication between law enforcement and industry. justice.gov

Cybercriminals Spend Ten Times More Than Companies on Security Battle
$1 Trillion vs. $96 Billion
In a stunning new report by Carbon Black, "Hacking, Escalating Attacks and The Role of Threat Hunting" the company revealed that 92 percent of UK companies surveyed have been breached in the last 12 months and almost half (44 percent) have been breached between three and five times.

Perhaps the most dramatic data point shared by Carbon Black is that cybercriminals are currently spending approximately $1 trillion on developing cyberattack weapons, annually (according to the World Economic Forum), while the "defenders" (enterprises, governments, organizations) are spending about $96 billion (according to Gartner).

That's a 10:1 ratio.

"The stats clearly show that defenders are not keeping up with attackers' spending," said Tom Kellermann, Chief Cybersecurity Officer, Carbon Black. "The fact that 92 percent of UK companies have experienced a breach in the last year and nearly half have been breached multiple times is sobering. It's critical to educate UK businesses on the threats they face and how these threats can be mitigated." iotevolutionworld.com

Facebook Network Breach Affects Up to 50 Million Users
Facebook on Friday said an attack on its computer network led to the exposure of information from nearly 50 million of its users.

The company discovered the breach earlier this week, finding that attackers had exploited a feature in Facebook's code that allowed them to take over user accounts. Facebook fixed the vulnerability and notified law enforcement officials.

More than 90 million of Facebook's users were forced to log out of their accounts Friday morning, a common safety measure for compromised accounts.

Facebook said it did not know the origin or identity of the attackers, nor had it fully assessed the scope of the attack. The company is in the beginning stages of its investigation. nytimes.com

6.42 million shoppers hit by online fashion shopping giant's massive data breach
Women's online fashion store SHEIN has announced that its servers were recently breached with a sophisticated criminal cyberattack that leaked the confidential information of around 6.42 million customers.

The company confirmed the hackers managed to snag personal information including email addresses and the encrypted passwords of customers who visited its website between June 2018 and early August 2018.

However, SHEIN claims that they haven't seen evidence that credit card information was taken from their systems during the breach since it doesn't store that type of data on its servers. komando.com

Russia's Sednit Deploys First Firmware-Level Rootkit in the Wild
The advanced persistent threat group's LoJax can install malware capable of surviving both OS reinstallation and hard disk replacement. Advanced persistent threat (APT) group Sednit has deployed a rootkit capable of modifying a computer's Unified Extensible Firmware Interface (UEFI) to install malware that can survive both an OS reinstallation and hard disk replacement. darkreading.com
---

---

---

---
e-commerce
Sponsored by The Zellman Group

Explosion in fake data-stealing shopping sites


Cyber attackers are ramping up efforts to steal personal data by setting up look-alike domains that pose a phishing risk to online shoppers, researchers warn



There are more than 6,400 digital certificates for look-alike domains, which is 168% greater than the number of certificates for valid UK retail domains, research by security firm Venafi has revealed.

This puts online shoppers at risk of unwittingly handing over their username, password and even credit card details to threat actors, the researchers warn.

The research analysed suspicious domains targeting the top 20 retailers in the UK, US, France, Germany and Australia. The total number of certificates for look-alike domains across all five regions is more than 200% greater than the number of authentic retail domains, with one of the top 20 US retailers found to have more than 12,000 look-alike domains targeting its customers.

As the rate of online shopping increases, the researchers said customers are being targeted through look-alike domains which cyber attackers create by substituting a few characters in the URLs.

Because they point to malicious online shopping sites that mimic legitimate, well-known retail websites, it makes it increasingly difficult for customers to detect the fake domains. Additionally, given that many of these malicious pages use a trusted SSL/TLS certificate, they appear to be safe for online shoppers who unknowingly provide sensitive account information and payment data. computerweekly.com

The newest factor impacting chargeback losses is...
E-retailers are finding themselves being victimized by chargeback policy abuse, a form of cyber-shoplifting — even more so than their brick-and-mortar counterparts, according to "The State of Chargebacks: 2018 Report," a study from dispute mitigation and loss prevention firm, Chargebacks911.

Chargeback policy abuse, or "friendly fraud," occurs when a consumer makes an online shopping purchase with their own credit card, and then requests a chargeback from the issuing bank after receiving — and keeping — their order. Increasingly gaining momentum, friendly fraud was three times more prevalent in 2017. It also "increased notably in terms of the sophistication of attack methods," according to the study. chainstoreage.com

Etailers' sales growth 24 times that of bricks-and-mortar retailers

The Bon-Ton department store chain is revived as an online retailer

Gap pulls the plug on subscription clothing boxes

"Fraud is not a person - it is a dynamic grouping of statistics that deviate from the norm."
Stuart B. Levine, CFI, CFCI
CEO, The Zellman Group & Zelligent
---
---
ORC News
Sponsored by Auror

Bonneville County, ID: Organized Retail Crime Association of Idaho honor Deputy for fighting Retail Crime
The Organized Retail Crime Association of Idaho has honored Bonneville County Sheriff's Sergeant Jeff Edwards for his work in "ORCAID." Edwards helped develop and coordinate the network, which communicates crucial information to both law enforcement and retail partners about potential illegal activity that might affect them. In July, Edwards responded to an ORCAID alert about an optics ring based in Atlanta, Georgia. Due to Edwards' quick response, the Utah Organized Retail Crime Association was able to apprehend the suspects and recover over $40,000 in merchandise from one retailer alone. Multiple other merchants were also affected. localnews8.com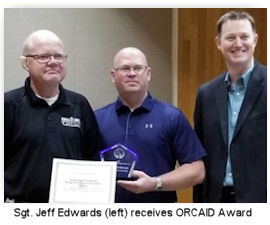 17 charged in Apple store thefts across California
Officials have charged 17 people with stealing more than $1 million in electronics from Apple stores across California, state Atty. Gen. Xavier Becerra's office announced Thursday. Seven people were arrested Tuesday and booked in the Alameda County jail, and one is in custody in Sonoma County. Arrest warrants have been issued for nine others. The announcement comes after a series of thefts over several months across 19 counties.

The San Luis Obispo Police Department began an investigation following a series of thefts, and several agencies — including those from Butte, Los Angeles, Orange and San Diego counties — assisted. "Organized retail thefts cost California business owners millions and expose them to copycat criminals," Becerra said in a statement. "Ultimately, consumers pay the cost of this merchandise hijacking." Oakland Police Chief Anne Kirkpatrick said law enforcement collaboration led to "dismantling a large criminal ring." sandiegotribune.com

Jacksonville, FL: $20,000 worth of clothes for local business stolen from unlocked car
$20,000 worth of handmade merchandise was stolen from a local business owner. Mark Braddock, owner of 8103 Clothing makes Duval County themed clothing and accessories. Months worth of income was stolen from his unlocked car overnight, so he is trying to restore his inventory in time for his next pop up shop on Sunday. firstcoastnews.com

Myrtle Beach, SC: Over $4,000 of items stolen from Victoria's Secret at Coastal Grand Mall
Several suspects allegedly shoplifted more than $4,200 worth of items from Victoria's Secret this week, according to a Myrtle Beach police report. No suspects have been identified, authorities said. Myrtle Beach police went to the Victoria's Secret at Coastal Grand Mall after 9 p.m. Wednesday due to reports of shoplifting. Police were told 110 items, valued at $4,224, were stolen, a report said. The incident report lists T-shirts and leggings as missing merchandise. myrtlebeachonline.com

Riverside County, CA: Here's how thieves stealing Baby Formula from Coachella Valley stores will affect you
Baby formula was a hot commodity for a trio of suspected thieves who targeted Stater Bros. stores across the Inland Empire earlier this year. And because of thefts like these, stores are altering the way parents can buy formula. Investigators say the group stole about $3,360 worth of baby formula from at least five Coachella Valley stores, according to documents recently filed in Riverside County Superior Court. A Calimesa theft also is linked to the suspects, who are from the Los Angeles area.

Two of them are identified as Robert Jesus Dominguez and Natalie Ann Noriega, both 28, but the third is only described as a woman in her 20s. Although charges have been filed against Dominguez and Noriega, it wasn't clear if they were in custody for the local thefts, which are detailed in declarations in support of arrest warrants for the pair. In each theft, two people entered a store with a stroller covered in a blanket and they pushed a shopping cart to appear inconspicuous. After filling the stroller with baby formula, they left the store and fled in a black Toyota Camry. desertsun.com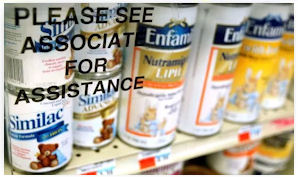 Johnson City, IN; Police have arrested a man they say had shoplifted Baby Formula
It started in Greenwood with a call near US-31 and Worthsville Road. A Johnson County Sheriff Deputy said he pulled Crawford over a little ways away. When he got up to the car, he could see containers of baby formula on the passenger floorboard. The deputy says he then ordered Crawford out of the car, but he refused and sped off. Another deputy blew out Crawford's tires with stop sticks. Deputies say Crawford then began throwing the baby formula out of the car, before finally pulling over and being arrested. wthr.com
Manatee County, FL: TJ Maxx female shoplifter crashes car fleeing from Sheriff's Deputies
A Sheriff's Office report said Rochelle McCaskill, 31, was suspected of stealing more than $300 in merchandise from the T.J. Maxx on Cooper Creek Blvd. McCaskill will be charged with grand theft, use of an anti-shoplifting device countermeasure and use of a motor vehicle in commission of a felony. yourobserver.com

Sugar Land, TX: Lenscrafter Ray-Ban thief steal over $1,000 in sunglasses

Florence, AL: Two female suspects wanted in $850 Walmart theft

Submit your ORC Association News

Visit the ORC Resource Center

---
Retail Crime News

Shootings & Deaths
Enid, OK: Famous Footwear Armed robbery suspect dead after officer-involved shooting
According to the Enid Police Department, it happened at a residential neighborhood near Washington and Frantz. Just before 10:30 a.m. Thursday, police responded to an armed robbery at the Famous Footwear retail store on Owen K. Garriott Road in Enid. Captain Tim Jacobi with Enid police said they were able to quickly obtain information about the suspect and vehicle when they learned he was armed with a handgun and knife. Soon after, police said the car was spotted, the suspect led officers through several southside neighborhoods before coming to a stop. In a press release, Jacobi said "The suspect exited the car brandishing a weapon. He ignored numerous commands to drop the weapon before pointing it directly at the officers. The officers shot the suspect, and he was pronounced dead at the scene." kfor.com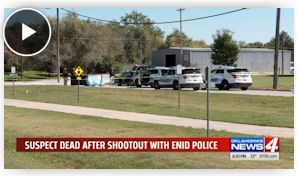 ---
Robberies, Incidents & Thefts
Columbus, OH: Pickpocket steals a customer's wallet inside TJ Maxx
A woman stole a wallet from Laurie's purse while she was shopping at TJ Maxx on Polaris Parkway. Store security cameras captured the woman on August 20th walking up to Laurie's shopping cart and quietly sneak the wallet from inside the purse. abc6onyourside.com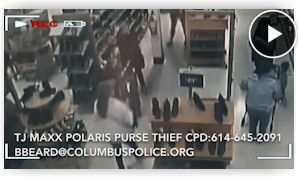 Pharmacist in Ireland takes a Proactive Approach to Burglary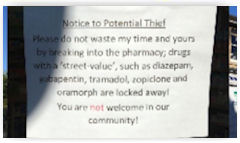 Pharmacy owner Helen Darvill says the thieves clearly knew where the drugs were stored and may have visited the shop previously. She warns that all drugs on open shelves with a potential street value are now locked away every night, while controlled medicines are always kept securely. itv.com
Colorado Springs, CO: Smash-and-grab Burglary at a marijuana dispensary, 'owner gets the last laugh'

Cambellsport, WI: Mosquitoes Forced $500 Liquor Bandit to Surrender to Police Outside Cornfield
Guam: Duo wanted for robbing Jewelry Store caught...at Courthouse

Helzberg Diamonds in the Maplewood Mall, St Paul, MN reported a Grab & Run on 9/26, item valued at $5,999

Helzberg Diamonds in the Aurora Mall, Aurora, CO reported a Grab & Run on 9/26, item valued at $4,299

Jared in the Concord Mills, Concord, SC reported a Grab & Run on 9/27, item valued at $5,900

Jared in the Woodland Corner Shops, Grand Rapids, MI reported a Glass Lift Theft on 9/26, items valued at $7,049

---
Skimming Thefts
Secret Service Alerts Banks About ATM 'Wiretapping' Attacks, Skimming
According to a non-public alert distributed to banks this week and shared with KrebsOnSecurity by another source, the Secret Service has received multiple reports about a form of skimming often called ATM "wiretapping" or "eavesdropping."

The attack involves thieves using a drill to make a large hole in the front of a cash machine, which is then hidden by using a metal faceplate, or a decal featuring the bank's logo or boilerplate instructions on how to use the ATM. Thieves will then fish the card skimming device through the hole and attach it to the internal card reader via a magnet. Once the skimmer is in place, thieves often need to wait a day or two before attaching the pinhole camera.

The hidden camera is usually a false fascia directly in front of or above the PIN pad, recording victims as they enter their PIN in a time-stamped video.

Another method involves thieves replacing the PIN pad security shield on the ATM with a replica that includes a hidden pinhole camera, hiding the camera components behind the cut hole and fishing the camera wiring and battery through the hole drilled in the front of the machine.

While it's getting harder to spot skimming devices, Krebs noted that one of the most important steps a consumer can take to protect their accounts is to simply cover the PIN pad with your hand when entering the PIN. "You'd be amazed at how many people fail to take this basic precaution," he added. pymnts.com

---
Sentencings, Indictments & Charges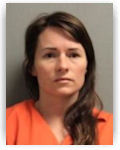 Alexandria, LA: Woman indicted for shooting man in Walmart parking lot
A grand jury has indicted a Louisiana woman on a charge of first-degree murder for killing her soon-to-be ex-husband. Kayla Giles, 33, was initially arrested for second-degree murder in the shooting death of 30-year-old Thomas Coutee, according to KATC. On September 8, Giles shot Coutee in the chest in a Walmart parking lot. Reports say there were three children at the scene at the time of the shooting. wbrz.com

Omaha, NE: Man sentenced to 12 years Armed Robbery of Walgreen's with a machete

Robberies and Burglaries
Sponsored by Scarsdale Security Systems
• C-Store – Topeka, KS – Robbery
• C-Store – Sandusky, OH - Burglary
• C-Store – Waitsfield, VT – Burglary
• C-Store – Columbus, GA – Armed Robbery
• C-Store – Carson City, NV – Armed Robbery
• C-Store – Reno, NV – Burglary
• Check Cashing – Lemoore, CA – Armed Robbery
• Coffee Shop – Indianapolis, IN – Burglary
• CVS – Edinboro, PA – Armed Robbery
• Dollar General - Troup County, GA – Armed Robbery
• Grocery – New Haven, CT – Armed Robbery
• Home Depot – Seattle, WA – Robbery
• Jewelry – Cullman, AL – Burglary
• Liquor Store – Macon, GA – Armed Robbery
• Pharmacy – Teague, TX – Armed Robbery
• T-Mobile – Oakland, CA - Armed Robbery
• Trade Centre Robots – Phoenix, AZ – Robbery
Daily Totals:
• 12 robberies
• 5 burglaries
• 0 shootings
• 0 killings
Weekly Totals:
• 82 robberies
• 22 burglaries
• 6 shootings
• 0 killings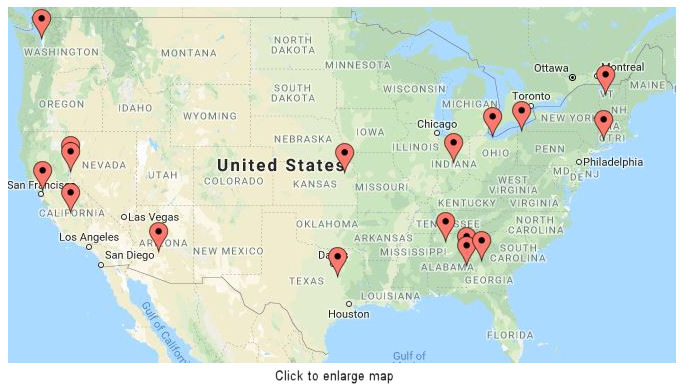 ---

---
Home of the Industry's Original
On the Move



Denis Prose promoted to Regional Loss Prevention Manager for Amazon


Sami Shaikh promoted to Loss Prevention Manager for DFS Group Limited
Submit Your New Hires/Promotions
or New Position
See all the Industry Movement
---

---

---

---
Featured Job Listings
Sponsored by Delta Lock
Feature Your Job Here For 30 Days -
70% Aren't On the Boards

Featured Job Spotlights
---

Director Loss Prevention
Irvine, CA
The Director of Loss Prevention at Tillys builds and implements policies, programs, and procedures that control risk, reduce shrink and protect the employees and assets. The director is responsible for leading and developing LP team members in the corporate, retail, and distribution centers...


Vice President, Chief Information Security Officer
Grapevine, TX
The Chief Information Security Officer (CISO) is the GameStop executive responsible for leading our global information security organization and will have officer level fiduciary responsibility...


Vice President, Asset Protection
Columbus, OH
Oversees and directs all Asset Protection related functions for a Corporate Office, multi-state distribution centers and large retail store network. Responsible for enterprise direction and strategy as it pertains to Asset Protection with a goal of minimizing shrink, reducing loss and maximizing security and associate safety...


Vice President, Loss Prevention
Houston, TX
This pyramid head position is responsible for developing and leading this company's shrinkage reduction efforts and integrating these efforts throughout the entire organization...


Project Coordinator (LP Technology)
Dublin, CA
Provides support for all types of LP technology installation projects, (e.g. new stores, upgrades, remodels, maintenance/repair, etc.). Serves as the point of contact on all projects as assigned, interfacing with vendors, field management, and various corporate teams...


Project Lead (LP Technology)
Dublin, CA
The Lead, Project Coordinator facilitates the development, implementation, and ongoing execution of multiple Loss Prevention technology projects, programs and systems. This is accomplished by leading projects from concept to completion, acting as a subject matter expert, and working effectively with internal partners (i.e. Store Operations, Store Planning, IT, HR, Logistics, Purchasing, etc.) and external resources (i.e. vendors, service providers, etc.) to drive results, and monitoring to ensure all projects meet scope, timeline, and budget needs...


Regional Asset Protection Manager
Harrisburg/State College, PA
The Regional Asset Protection Manager will lead their region in Shrink Reduction, Asset Protection and Safety efforts through an in-depth understanding of the overall business, effective partnerships and by directing the region with integrity and professionalism...

Loss Prevention Market Specialist
Jacksonville, FL
To monitor store locations to detect, investigate and resolve internal and external situations and circumstances that could lead to or result in losses to the company. All actions and conduct within the scope of the position must be performed according to performance standards set by Burke's policies, procedures and Code of Ethics...


Loss Prevention/Asset Protection Investigator
Boston, MA
Responsibilities will include but are not limited to:
● Protect the assets of the store as well as the associates and visitors.
● Maintain surveillance of the store via CCTV and conduct physical inspections including perimeter checks...




Asset Protection Analyst
Norcross, GA
AP Analyst based in Norcross, GA reporting to the Director of Asset Protection. This high-visibility role will be responsible for business-wide security administration, multiple fraud detection programs and functional communication...



Regional Loss Prevention Manager
Sacramento, CA
● Develops and implements shrink reduction strategies and action plans for their coverage region and for individual stores as needed
● Creates and conducts training sessions at the regional, district, and store level to educate and bring awareness to loss prevention and shrink related topics...



Regional Loss Prevention Manager
Atlanta, GA
● Develops and implements shrink reduction strategies and action plans for their coverage region and for individual stores as needed
● Creates and conducts training sessions at the regional, district, and store level to educate and bring awareness to loss prevention and shrink related topics...

Featured Jobs
---
• Domino's - Director, Information Systems Security, Ann Arbor, MI
• Associated Grocers - Director of Risk Management, Baton Rouge, LA
• American Express - Dir-Global Security Operations Center, Phoenix, AZ
• rue21 - Director of Loss Prevention, Warrendale, PA
• Michaels - Director - DC and Artistree LP & Safety, Irving, TX
• MedMen - Associate Director of Security and Safety, Culver City, CA
• MedMen - Associate Director of Investigations, Culver City, CA
• Nike - Senior Director - Nike Direct Retail Operations & Risk Control, Beaverton, OR
• Domino's - Director, Safety Supply Chain Services, Ann Arbor, MI
• Conn's Home Plus - Director of LP, Inventory Control & Fraud, Spring, TX
• Gulfstream Goodwill Industries - Director of Safety, West Palm Beach, FL
• Clarins - Director Security, Loss Prevention and Safety, Orangeburg, NY
• Guess - Director, Risk Management and Safety, Los Angeles, CA
• Netflix - Director of Data Privacy and Security, Legal - Los Angeles, CA
• DSW Inc. - Director, Loss Prevention, Columbus, OH
• Food Lion - Director of Asset Protection, Salisbury, NC
• Whataburger - Director Risk Management, San Antonio, TX
• Ahold Delhaize USA - Manager | Corporate Investigations - Retail Business Service, Salisbury, NC
• T-Mobile Express Stores - LP Operations Manager, East Brunswick, NJ
• belk - Director of IT Security, Charlotte, NC
• Gymboree - Director, Inventory Control, Dixon, CA
• Living Spaces - Director of Safety, California
• Kings - LP Investigator - Northern New Jersey

---

---

---
Daily Jobs
Appearing One Day Only
View our Internet Jobs Archives here


Sponsor this section of the Daily
---

---

---
Submit Your Group LP Selfie and
Group Vendor Selfie Today!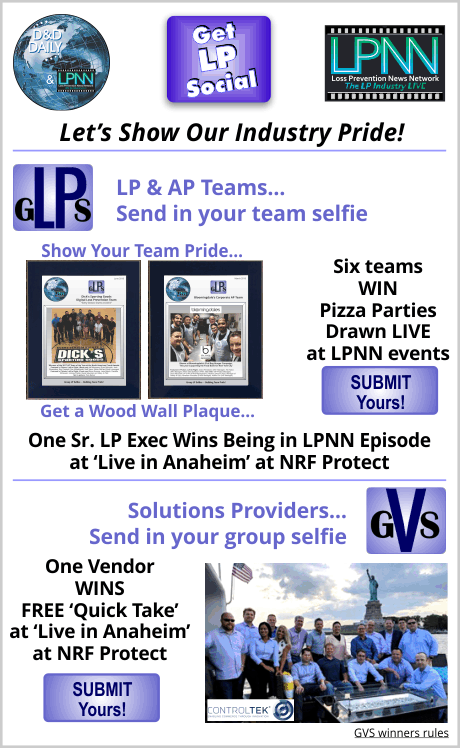 ---
Your Career

The Best Leaders Don't Worry About Being Right,
Use the Power of Laughter, and Practice Their Leadership

Leadership Lessons from Jeff Bezos and Steve Jobs: Stop Worrying About Being Right, and Focus on This Instead
Nobody can be right all the time, not even leaders. The best leaders don't want to be right all the time, they want to get it right, and that requires being challenged and proven wrong by others so the best ideas and strategies can rise to the top. Here's how leaders can check ego at the door. Speak last

Great Leadership Begins In Your Mind: How to Master Your Manager Mindset
Your mind is a powerful place, especially for a leader. It's the place where promises and failures are planted, where you can formulate successes or dwell on what went wrong in the past. So many pressures and responsibilities lie on a leader's shoulders, here's how to make sure you get yourself in the correct state of mind. See the results

Are you Leveraging the Power of Laughter in Leadership?
We all know the adage "Laughter is the best medicine" but did you know it can also benefit your leadership skills? Not only can it boost employee engagement but laughter reduces stress and spurs collaboration and productivity. Here's how you can use the power of laughter as a leader. Take a leap and try improv like this leader

6 Things the World's Best Bosses Have in Common
Have you ever been called the "World's Best Boss" by someone or maybe you have a coffee mug with that exact saying? Do you wish you could really be the "World's Best Boss"? Luckily for you, all it takes is to follow these six tips to achieve this superstar status, and improve your leadership skills. Practice always makes perfect
---

---

---

---
Tip of the Day
Sponsored by Vector Security Networks

Are you going beyond your job appraisal? Every year, executives face that one moment in time when corporate America tells you how you've done and most live within its boundaries all year long. Exceeding at your job is, by definition, going beyond it and the only way to move up is by doing just that. With increased job scopes and responsibilities, it may seem almost impossible to do except for those who believe anything is possible. Are you going beyond?


Just a Thought,
Gus



(content subject to approval)
---
---
Upcoming Events
---
Recruiting?
Get your job e-mailed to everyone... everyday
Post on our Featured Jobs Board!
---
Reach your target audience in 2018 every day!
Request our 2018 Media Kit
---
Not getting the Daily?
Is it ending up in your spam folder?
Please make sure to add d-ddaily@downing-downing.com to your contact list, address book, trusted sender list, and/or company whitelist to ensure you receive our newsletter.
Want to know how? Read Here


36615 Vine Street, Suite 103
Willoughby, OH 44094
440.942.0671
copyright 2009-2019
all rights reserved globally