The D&D Daily Mobile Edition
LP, AP & IT Security's #1 News Source

---

Q3 2018 LP/AP Internet Jobs Report

Q3 2018 LP/AP Internet Job Postings Up 12% from Q3 2017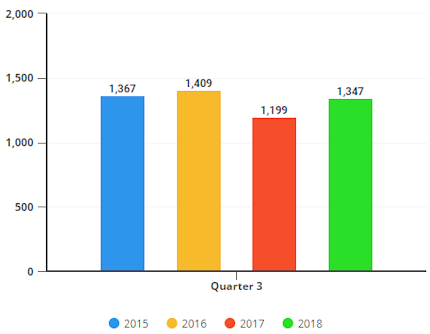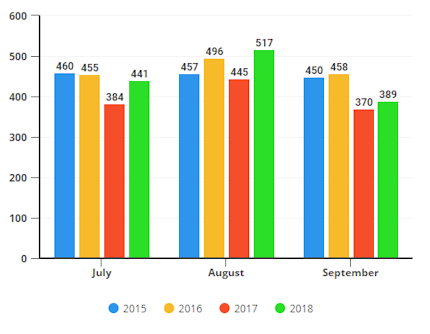 Quarterly Comparison
Down 1.5%
20 jobs from 2015
● 2018 - 1,347 jobs
Up 12% from '17

● 2017 - 1,199 jobs
Down 15% from '16

● 2016 - 1,409 jobs
Down 3% from '15

● 2015 - 1,367 jobs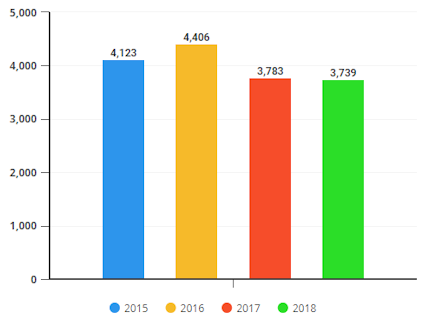 Year to Date Comparison
Down 9%
384 jobs from 2015
● 2018 - 3,739
Down 1% from '17
● 2017 - 3,783
Down 6% from '16
● 2016 - 4,046
Down 2% from '15
● 2015 - 4,123

Click here to read the full report
---
Delta Lock


Sponsor of the D&D Daily's Featured Jobs Columns
Thanks Delta Lock for making these columns and report possible.
Hey LP and AP Execs - Thank Delta Lock!

---
Top Industry News

Nedap will join The Foot Locker Foundation together with members of the athletic industry for its 18th annual "On Our Feet" fundraising gala



The event, which will take place on Tuesday, October 23 at New York City's Pier Sixty at Chelsea Piers, will benefit educational and other youth initiatives supported by the Foot Locker Foundation.

Read more in today's Vendor Spotlight below.

---
The Loss Prevention Foundation (LPF) Announces Newest Associate Level Partner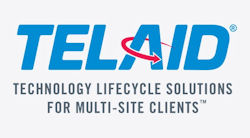 The Loss Prevention Foundation (LPF) announced its newest Associate Level Partner, Telaid. The Associate level partnership secures numerous LPQ and LPC certification course scholarships for Telaid to distribute to industry professionals. Headquartered in Niantic, CT and founded in 1981, Telaid has been providing technology lifecycle solutions for multi-site clients for over 35 years. Their mission is: Driving positive business outcomes by accelerating technology adoption through people, proven processes and value alignment. yourlpf.org

---
Tariffs on China Imports Will Impact EAS Product Costs
By Jim Wyatt, EAS Strategy and Product Consultant

Over the past 20 years, U.S. anti-shoplifting (EAS) equipment manufacturers have moved most of their production to China. This has been a windfall for retailers with the average price paid for AM or RF labels and tags dropping by about 50% over this time.

In September, the U.S. government announced a new round of tariffs would be placed on goods shipped from China to the U.S. The list of products exceeded 3,000 with a retail value of over $200 billion which included all EAS labels and tags. This 10% tariff was imposed in September, and the tariff will rise to 25% at the end of 2018.

Non-Chinese made EAS products will not be affected by these tariffs. A few EAS product manufacturers have retained production capacity in North America. For example, Sensormatic produces AM products in Mexico, and ALL-TAG Corporation produced RF Labels in Florida.

U.S. retailers might encounter a bit of "sticker shock" – especially when the 25% tariff rate kicks in.

---
Black Friday - Active Shooter - Tornados
Walmart's New Nationwide VR Training - AP's Modules
On Sept. 20th Walmart, as reported in the Daily on the 21st, announced the biggest VR (virtual reality) training roll-out in history in the retail industry. Where they're sending four headsets to every Walmart supercenter and two units to every Neighborhood Market and discount store. With more than 17,000 Oculus Go headsets in stores by the end of the year, every associate, including those on the floor who interact with customers the most - more than 1 million associates, will have access to the same training that their managers and department managers do at the Academies.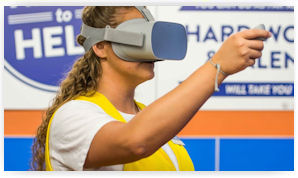 Walmart plans to use VR to train associates in three main areas: new technology, soft skills like empathy and customer service, and compliance.

With AP's compliance modules focused on Black Friday, Active Shooter, and Tornado response.

Obviously such a massive new roll-out limits the subject contents organizations can initially cover, especially when considering the depth and wide array of subjects that 1 million associates need to be trained on. So obviously any organization would be logically focused on the three listed above, given the risk factors and priority of promoting store safeness for both the associates and consumers.
"The great thing about VR is its ability to make learning experiential," said Andy Trainor, Walmart's senior director of Walmart U.S. Academies. "When you watch a module through the headset, your brain feels like you actually experienced a situation."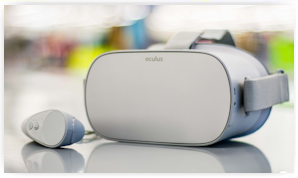 This represents a milestone for retail training and the entire industry will benefit from Walmart's program, given retail's normal turnover rates and the fact that other retailers will adopt the same training, the impact of which will be significant and covering these three topics alone will save lives, undoubtedly.

So this is a great development for the AP industry and retail as a whole. Let's hope it continues to develop and evolve as we see more retailers adopt it.

Our only question is what are the next three topics? Gus Downing d-ddaily.com

SSN News Poll: Is 2018 the year of acquisitions for Security Integrators?
It's been a busy year for M&A, according to 69%
It seems as though 2018 is a hot year for financial transactions in the security industry. At the time of writing, Security Systems News covered more than 65 mergers and acquisitions this year.

"As the decision to sell is such a personal one for a business owner there is no universal 'right time to sell.' For someone who decides to sell today, the market is robust and will reward a well run company owner with a good price," John Cerasuolo, president and CEO of ADS Security, wrote in a News Poll response.

Sixty-nine percent of respondents noticed that it has been a busier year for mergers and acquisitions in the security space. 2018 is not much different in terms of M&A activity as compared to previous years, according to 22 percent or responses.

It has been a good year to sell? Half of all respondents have noticed that companies that have sold recently have gotten good multiples for their business.

"With all of the new entrants into the monitoring space, with newer, better technology, I believe that the value of existing monitored accounts will begin to fall rapidly," one respondent wrote. "Add the required CDMA radio sunset to LTE, and this will compound the issue. Existing customers have taken notice of the new technology, and want to incorporate these features into their systems. This will make acquired customers more vulnerable to attrition and more expensive to maintain. Believe the cost of acquisitions will begin to fall when the market recognizes these industry shifts." securitysystemsnews.com

The Convergence of LP & Cyber Security is Speeding Up
'The Impact of Drones on Security and Public Safety'
Unfortunately, away from all the headlines of cybersecurity lies a new, but equally concerning threat: rogue actors with easy access to inexpensive drones that can violate individual privacy, menace citizenry in public spaces, and deliver contraband or even lethal payloads.

Physical security and cybersecurity are different sides of the same security coin. As the cities of tomorrow emerge with more complex networks and connected and autonomous technologies of all kinds, city planners must consider physical security as an integral component of smart city security.

In a Washington Post July OpEd, Secretary of Homeland Security Kirstjen M. Nielsen, wrote: "Drone technology offers the potential to change our world - from enabling historic transformations in e-commerce to faster emergency response. But the technology also has a dark side. It can be used to spy on us, to threaten our critical infrastructure, or to attack crowds and public places."

The good news is that comprehensive cyber and physical security is possible, but it does require extending smart city security beyond its current 2D paradigm and digital emphasis.

Now is the time for smart city leaders to expand their concepts of security. Cyber is a well-documented new threat matrix which has received a lot of deserved attention. But the other very real new threat is the physical one posed by drones, which also needs to be addressed. To counter the growing drone-based threat, industry is moving quickly to design and manufacture sensors augmented with AI that enable comprehensive 3D security architectures at commercial price points.

As these physical security sensors are deployed and integrated along with cyber assets, smart city leaders will be on a path to creating a robust, multi-layered cyber-physical security solution that offers full-time situational awareness and protection for all residents. securitymagazine.com

Setting the Corporate Culture
Begins With the Senior Leader & Driven By the Field Team
Yesterday's article 79% of the Board Sees Middle MGT Setting Cultural Tone, published in cfo.com, clearly puts the responsibility of developing and setting the corporate culture squarely on every senior leaders shoulders regardless of what group you're leading.

With the most important step being integrating it throughout your teams entire program and ensuring that every team member clearly understands how to convey it and build it at the store level. Which quite frankly is easier said then done for most.

Because it requires constant vigilance, daily adherence, and translating it into human action and behavior. Which is the hardest thing to modify and or control long term remotely. Especially if the individual personality's don't necessarily fit the desired cultural blueprint so to speak. Therefore, long term, this expectation has to be incorporated in your staffing model and new hires have to be as close to that culture naturally in order to reduce risk and avoid conflict down the road. Because inevitably if an executive doesn't fit a particular culture there's really very little one can do to remold an executive.

However at the end of the day it's also the responsibility of the field executives to understand the culture before walking into it and be able to not just fit in, but to be able to expand on it if one is expected to help develop it throughout the stores and ultimately set the perfect example of what it should be.

But with the board expecting middle management to set the actual corporate culture the entire team has to be able live it, especially in today's viral community. As there's never been a time like this before in retail and having a positive well defined culture is is absolutely critical if the organization and or team expects to be successful. Just a thought - Gus Downing

lllinois Supreme Court ruling to clarify legal harm of biometric collection procedure violations
A suit against Six Flags Entertainment Corp. for violating the consent requirements of Illinois' Biometric Information Privacy Act (BIPA) is heading to the state's Supreme Court to determine the threshold for "harm" under the regulation, Bloomberg Law reports.

The definition of "aggrieved" under BIPA has been contented in various legal venues for a number of cases, and several privacy groups urged the Illinois Supreme Court to accept the plaintiff's definition earlier this year. biometricupate.com

Using data to prepare for extreme weather
Weather can be a primary driver of consumer demand and behavior. Now there's a service spearheaded by IBM that integrates geographically precise weather-related data and analytics with retailers' point-of-sale and marketing/operating data to offer the potential of delivering operational savings and revenue growth.

That potential was demonstrated in a survey of 1,000 C-level executives representing 13 industries in 15 countries, "How Weather Insights Can Grow Your Bottom Line," conducted by the IBM Institute for Business Value and Oxford Economics.

Several of the organizations surveyed are early users of IBM's Watson system and IBM's Weather Company division, a 35-year-old business acquired three years ago and expanded to integrate weather data with Watson analytics.

The Weather Company's services can be customized to provide weather-related insights on ways to enhance marketing, merchandising, operations, finance, administration and the supply chain, says Paul Walsh, director of weather strategy and business meteorologist for IBM's Global Business Services.

HR, LP BENEFITS

Store managers can use the service to determine staffing requirements, allocating fewer hours to staff on days when the weather is projected to be bad. Loss prevention also benefits, gaining insights into when the weather is projected to be nice, which would drive more traffic into stores, potentially creating a greater likelihood of higher theft. stores.org

450 anonymous Amazon employees demand Jeff Bezos to stop selling facial recognition software to police
An anonymous Amazon employee has written an op-ed for Medium demanding that Amazon cease selling facial recognition software to police forces. The employee, the authenticity of whom was verified by Medium's editorial staff, says that more than 450 Amazon workers wrote to CEO Jeff Bezos a few weeks ago to demand the company stop selling its facial recognition software Rekognition to police.

The letter also demanded that software company Palantir be kicked off Amazon Web Services for its links to ICE's deportation and tracking program. businessinsider.com

Bernie Sanders & Elizabeth Warren Asking Amazon About
"potentially illegal anti-union behavior"
challenging the corporate giant's labor practices shortly after it agreed to raise its minimum wage. The senators have sent a letter to Amazon CEO Jeff Bezos over a video that warns managers at Amazon's Whole Food Markets about the dangers of union organizing, and ask him to respond to recently surfaced worker allegations that voicing their concerns led to retaliation from company management.

The move comes shortly after Amazon agreed to raise its minimum wage to $15 an hour earlier this month, following a campaign by Sanders and organizers to shame the company over low pay.

"We write to express our alarm at recent reports that your company is distributing anti-union materials to Whole Foods managers that directs and encourages potentially illegal interference with the rights of thousands of workers," Sanders and Warren write. "It is important to recognize that workers' rights do not stop at the minimum wage, and raising the pay of your lowest-paid workers, while important, does not give you a free pass to engage in potentially illegal anti-union behavior."

In late September, the tech news site Gizmodo published a story detailing a video produced by Amazon and sent to managers of the grocery chain Whole Foods Market, which was acquired by Amazon last year. The video, which has also been obtained by The Washington Post, lists "Warning Signs" of union organizing, such as using words like "living wage" and "steward," handing out fliers, and wearing union T-shirts.

"We do not believe unions are in the best interest of our customers, our shareholders, or most importantly, our associates," the video says. "When we lose sight of those critical focus areas we jeopardize everyone's job security: yours, mine, and the associates."

Legal experts said it was not clear if the video represents a violation of the law. washingtonpost.com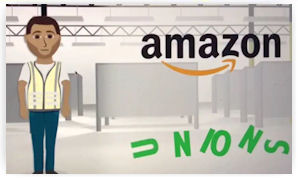 Heading Off Risks With Predictive Risk Intelligence
Across industries, stakeholders expect risk monitoring to provide intelligence that supports strategic decision-making. Predictive risk intelligence could help solve many of the more complex challenges.

Boards, shareholders, regulators, customers, and business partners increasingly expect organizations to provide a view into what could go wrong in the future and a real-time view of issues they currently face - not just insights on what went wrong in the past. Moreover, they demand organizations demonstrate that they can execute quickly on risk-management decisions.

Organizations can get an early warning system on emerging risks, potential loss and risk exposures, and external threats by using predictive risk intelligence (PRI). With PRI, organizations can enhance their ability to detect and monitor risks and make more informed decisions faster.

Advances in PRI are increasingly recognized as cornerstones to effective risk-monitoring programs. Respondents to the Deloitte and Forbes Insight Survey reported that risk-management programs help them increase operational resiliency; realize the value of new technologies; improve cost effectiveness and accelerate time to market, among other benefits. That only half of survey respondents acknowledged that they leverage comprehensive risk analytics to make strategic business decisions suggests a need for a more holistic risk-monitoring methodology. Continued on page two wsj.com

StarKist Co. Agrees to Plead Guilty to Price Fixing in US
StarKist and its co-conspirators agreed to fix the prices of canned tuna fish from as early as November 2011, through at least as late as December 2013. In addition to pleading guilty, StarKist has agreed to cooperate in the investigation. StarKist faces a criminal fine of up to $100 million. The amount of StarKist's fine will be determined at a sentencing hearing and the plea agreement is subject to court approval. justice.gov

Sears - One for the History Books
'Eddie Lampert is the worst'
Eddie Lampert is no longer the chief executive of Sears Holdings. He is, however, still the company's chairman and largest single stockholder. He is also, based on comments he has made over the years - including a speech given to 1,000 employees at a company townhall meeting yesterday - either a liar or someone who is so divorced from reality that he is unable to accept that he has single-handedly destroyed the retailer.

Most industry experts agreed with the assessment of Mark Cohen, the former chairman and CEO of Sears Canada, who called Mr. Lampert a "ruthless, methodical asset-stripper."

Eddie Lampert is the worst _____. We'll leave it to others to fill in the blank. retailwire.com

Editor's Note: Over 10 years ago walking stores with the Associate Member Advisory Council, one of the industry's leading consultants predicted the end of Sears because of two factors: one was Lampert's move to silo the business units and form internal competition, and the other was that he simply wasn't a merchant and had no idea of how to run a retailer and grow customers.

Macy's & Marxent Partner on Largest VR Rollout In Retail History - 90 Stores
Virtual reality experience reduces return rates to less than 2 percent
Macy's and Marxent today announced that the companies' partnership is the largest virtual reality rollout in retail history, with approximately 70 Macy's VR installations in stores nationwide. The companies expect to add another 20 locations by January 2019. In partnership with Marxent, Macy's is enabling customers to discover products and make informed buying decisions using the Macy's VR furniture experience.

In the three pilot stores, VR-influenced furniture sales have increased by more than 60 percent versus non-VR furniture sales and decreased returns to less than 2 percent. Customers are more accurately visualizing their spaces and adding multiple furnishings with confidence. The program also allows Macy's to offer a full range of furniture in a dramatically smaller space. macysinc.com

Can You Require That Employees Attend Social Functions?
The holiday season is coming, and many employers will be hosting social events at the workplace and offsite.
"Under most circumstances, an employer can require an employee to attend a social function during or even outside of normal work hours," said Christopher Anderson, an attorney with Littler in Nashville. But there are a host of legal issues that employers should consider before requiring attendance at a social or team-building event.

For example, employees may have religious beliefs that prohibit them from attending an event that falls on a religious holiday or where alcohol is served. In these cases, an employee cannot be compelled to attend, Anderson said.

Make Exceptions If employees resist attending, evaluate their reasons on a case-by-case basis. In addition to faith-based reasons, some workers may prefer to avoid social functions due to mental or physical impairments or other legally protected reasons, he added. Event sites should be accessible to workers with disabilities, and employees should be excused if they can't participate in a meaningful way because of a disability. "It's a balancing act," Galbally said. "The critical point is to understand why the employee doesn't want to go."

Compensate Employees Nonexempt employees must be paid for all hours worked in accordance with the federal Fair Labor Standards Act and state wage and hour laws. So when attendance is mandatory, employees need to be paid for that time at their regular rate of pay and must receive overtime pay, if applicable. "Also, employers may not deduct hours spent at a required social function from exempt employees' salaries." shrm.org

Kriser's Natural Pet Stores - Asset Protection Manager Corporate posted in New York, New York
The role of the Asset Protection manager is to improve company profitability by developing and maintaining effective AP programs to reduce exposure to theft and increase associate awareness. This position is also responsible for developing programs that increase store security and reduce overall liability. Reporting to the Director of Store Operations, the Asset Protection Manager will participate in the design of and ensure adherence to the operational policies and procedures that impact profitability through research and investigation. jobvite.com

Since opening in Chicago in 2006, Kriser's has grown and now has 45 locations spanning across Chicagoland, Southern California, Denver, Fort Collins, Houston, San Antonio, Austin, and with the acquisition of Wylie Wagg stores has moved into Washington D.C. and Virginia! krisers.com

Holiday hiring to top 700,000 - Target Leading the Fight For New Hires at 120,000

Tractor Supply to open 500 stores over next decade

Mattress Firm to close another 99 stores

Starbucks is restructuring it's European Operations with Layoffs

Walgreens to Open 600 LabCorp Medical Testing Locations in U.S.


Quarterly Results
Sally Beauty Q4 comp's flat
---
---

---

---
Spotlight on
Nedap
Nedap will join The Foot Locker Foundation together with members of the athletic industry for its 18th annual "On Our Feet" fundraising gala.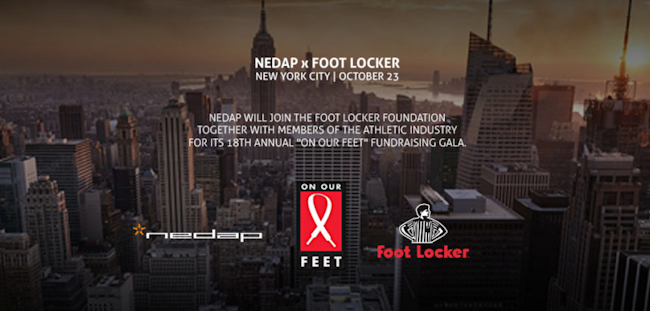 The event, which will take place on Tuesday, October 23 at New York City's Pier Sixty at Chelsea Piers, will benefit educational and other youth initiatives supported by the Foot Locker Foundation.
About The Foot Locker Foundation
The Foot Locker Foundation, Inc. has always been firmly committed to giving back to the communities we are a part of and serve. Our mission is to promote a better world for today's youth by creating, developing and supporting innovative educational programs and encouraging health and well-being through physical activity. Through our contributions, leadership and efforts, we strive to empower young people to achieve their goals and be successful in life.

About Nedap
Since the company's founding in 1929, Nederlandsche Apparatenfabriek 'Nedap' N.V. has been manufacturing smart technical applications for the challenges of today and tomorrow, and selling them all over the world. Headquartered in the Netherlands, Nedap boasts a workforce of approx. 680 employees and operates on a global scale, while the company has been listed on Euronext Amsterdam since 1947.

Nedap helps retailers permanently prevent losses, optimize stock levels and simplify the multi-store retail management. Visit www.nedap-retail.com to learn more.
---

---

The Cybersecurity Imperative
A Benchmarking Study of the Cybersecurity Practices and Initiatives of Global Organizations – Produced in partnership with ESI ThoughtLab and WSJ Pro Cybersecurity

A comprehensive study about cybersecurity from leading research firm ESI ThoughtLab, together with research partner the Wall Street Journal's WSJ Pro Cybersecurity and a cross-industry coalition made up of the Security Industry Association (SIA) and other organizations, including Baker McKenzie, CyberCube, HP Inc., KnowBe4, Opus, Protiviti and Willis Towers Watson, shows that digital transformation is exposing companies to higher and more costly cyber risks. According to a global benchmarking study of 1,300 companies, those whose cybersecurity practices do not keep pace with their digital transformation initiatives are more likely to see $1 million or more in losses from cyberattacks.

The research shows that cyber risks rise dramatically as companies embrace new technologies, adopt open platforms and tap ecosystems of partners and suppliers. While firms now report the biggest impacts from malware (81%), phishing (64%) and ransomware (63%), in two years they expect massive growth in attacks through partners, customers and vendors (247% growth); supply chains (+146%); denial of service (+144%); apps (+85%); and embedded systems (84%).

Surveyed companies see high risks from external threat actors, such as unsophisticated hackers (cited by 59 percent of firms), cybercriminals (57%) and social engineers (44%), but the greatest threat lies with untrained general staff (87%). Another 57 percent of firms see data sharing with partners and vendors as their main IT vulnerability. Nonetheless, only 17 percent of companies have made significant progress in training staff and partners on cybersecurity awareness.

To cope with rising cyber risks, surveyed companies are increasing their cybersecurity investment 7 percent this year and 14 percent next year. The biggest upsurge will come from platform companies, which are hiking their spending 59 percent this year and 64 percent next year. On average, companies with revenue between $250 million and $1 billion will spend $2.9 million next year, $1-5 billion ($5.7 million), $5-$20 billion ($10.7 million) and $20+ billion ($16.8 million).

Next year, these firms plan to allocate 39.3 percent of their cybersecurity budgets to technology, 30.7 percent to process and 30 percent to people. Companies now use a variety of technologies to improve cybersecurity, such as multi- factor authentication (90%), blockchain (68%), the Internet of Things (62%) and artificial intelligence (44%). Over the next two years, they plan to greatly expand their use of behavioral analytics (+1,735%), smart grid technologies (+831%), deception technology (+684%) and hardware security and resilience (+114%).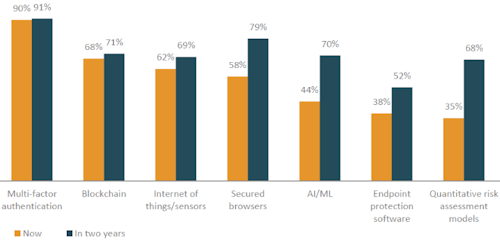 "As validated by SIA's just-released 2019 Security Megatrends – highlighting the top factors influencing both short- and long-term change in the global security industry – security companies see cybersecurity as the dominant trend shaping the industry," said SIA's CEO, Don Erickson. "Having these clear benchmarks around cybersecurity not only facilitates the advancement of cybersecurity within our members' own organizations, but it also allows the overall industry to deliver appropriate solutions for their customers." securityindustry.org

Global Cybersecurity Workforce Short 3 Million People
China Needs 2.14M & US Needs Half a Million
Talk About A Balance of Power - Not Good
The global shortage of cybersecurity experts has reached 2.93 million, posing a growing risk to businesses worldwide struggling to find, hire, and retain skilled employees to maximize their defenses.

According to the new (ISC)² 2018 Cybersecurity Workforce Study published today, the shortage is greatest in Asia Pacific, which lacks 2.14M security workers, followed by North America (498K), Europe, the Middle East, and Africa (142K), and Latin America (136K). darkreading.com

Cybercrime-as-a-Service: $1 Trillion Industry & No End in Sight
Another Balance of Power Problem - The Scales Are Tipped
Cybercrime is easy and rewarding, making it a perfect arena for criminals everywhere.

Over the past 20 years, cybercrime has become a mature industry estimated to produce more than $1 trillion in annual revenues. From products like exploit kits and custom malware to services like botnet rentals and ransomware distribution, the breadth of cybercrime offerings has never been greater. The result: more, and more serious, forms of cybercrime. New tools and platforms are more accessible than ever before to those who lack advanced technical skills, enabling scores of new actors to hop aboard the cybercrime bandwagon. Meanwhile, more experienced criminals can develop more specialized skills in the knowledge that they can locate others on the darknet who can complement their services and work together with them to come up with new and better criminal tools and techniques.

Line Between Illicit and Legitimate E-Commerce Is Blurring
The cybercrime ecosystem has evolved to welcome both new actors and new scrutiny. The threat of prosecution has pushed most cybercrime activities onto the darknet, where the anonymity of Tor and Bitcoin protects the bad guys from being easily identified. Trust is rare in these communities, so some markets are implementing escrow payments to make high-risk transactions easier; some sellers even offer support services and money-back guarantees on their work and products.

From Niche to Mass Market
In 2015, the UK National Cyber Crime Unit's deputy director stated during a panel discussion that investigators believed that the bulk of the cybercrime-as-a-service economy was based on the efforts of only 100 to 200 people who profit handsomely from their involvement. Carbon Black's research discovered that the darknet's marketplace for ransomware is growing at a staggering 2,500% per annum, and that some of the criminals can generate over $100,000 a year selling ransomware kits alone. That's more than twice the annual salary of a software developer in Eastern Europe, where many of these criminals operate.

Cybercrime Infrastructure-as-a-Service
The third way hackers can profit from more sophisticated cybercrime is by providing cybercrime infrastructure-as-a-service. Those in this field are provide the services and infrastructure — including bulletproof hosting and botnet rentals — on which other bad actors rely to do their dirty work. The former helps cybercriminals to put web pages and servers on the Internet without having to worry about takedowns by law enforcement. And cybercriminals can pay for botnet rentals that give them temporary access to a network of infected computers they can use for spam distribution or DDoS attacks, for example.

The New Reality
The danger posed by Internet of Things (IoT) botnets was shown in 2016 when the massive Mirai IoT botnet attacked the domain name provider Dyn and took down websites like Twitter, Netflix, and CNN in the largest such attack ever seen. Botnet use will probably expand in the coming years as cybercriminals continue to exploit vulnerabilities in IoT devices to create even larger networks. Get used to it: Cybercrime is here to stay. darkreading.com

How blockchain will allow for fewer counterfeit goods and faster product recalls
The technology behind bitcoin is coming for retail, and you probably won't even notice.

De Beers is putting diamonds on the blockchain. Walmart is putting lettuce on the blockchain. Startups are putting skin care and liquor and fancy watches on the blockchain. By now, it may be safe to say that if someone, somewhere is selling something, someone else is thinking about how a distributed ledger with a buzzy name might help them do it better.

Comb through the hype and the headlines, though, and there are some promising use cases for how blockchain could help solve some of the problems plaguing retail, and even a few initiatives that are already well underway. vox.com
---

---

---

---

---
e-commerce
Sponsored by The Zellman Group

HSN to cut hundreds of workers as it merges with QVC
under new 'QXH' business unit
Hundreds of HSN employees are losing their jobs as their parent company combines the local shopping network with long-time rival QVC under one operation with shared resources.

HSN and QVC will maintain their brand identities, but are now under a business unit called "QXH," owner Qurate Retail Group announced on Wednesday. Qurate said it will lay off 350 employees by the end of the year. The bulk of those positions will be between HSN's St. Petersburg headquarters and offices in Long Island, N.Y.

Qurate did not specify how many local positions will be affected. Before this week's announcement, roughly 2,500 people worked at the St. Petersburg office, which will be upgraded and still operate as HSN's headquarters. tampabay.com

eBay Sues Amazon For Allegedly Poaching Marketplace Sellers
It seems eBay.com is going after Amazon, filing a lawsuit Wednesday (October 17) in which it contends Amazon illegally stole sellers from its own marketplace.

The Wall Street Journal, citing the lawsuit which was filed in Santa Clara County in California, reported eBay alleges Amazon has over the past several years "perpetrated a scheme to infiltrate and exploit eBay's internal member email system." eBay contends the scheme was employed by a slew of sales reps at Amazon both in the U.S. and overseas in an effort to bring eBay sellers over to Amazon. "For years, and unbeknownst to eBay, Amazon has been engaged in a systematic, coordinated effort to infiltrate and exploit eBay's proprietary M2M system on eBay's platform to lure top eBay sellers to Amazon," eBay contends in the lawsuit, according to the Wall Street Journal. pymnts.com

"Alexa, process all my sales orders for the day":
Why voice is the future of eCommerce
There is huge opportunity for businesses that can quickly implement voice technology in to part of their overall strategy and offer customers a buying process that is as simple and effortless as possible. For businesses, voice technology will present a new set of challenges. The need for accurate and up to date stock control will become even more important. If companies sell across multiple channels and over sell an item as a result of voice sales they will disappoint customers and leave them frustrated, which can damage a businesses reputation. The safety of user data will also be a top priority. Businesses will need to ensure they have adequate systems in place to protect user data accumulated from voice technology. netimperative.com

WHITE PAPER - The State of CNP False Positives: 2018 Report
Also known as sales insults or false declines, false positives offend customers and hurt profits. However, due to the lack of understanding, many organizations underestimate or ignore false positives. The inaugural State of False Positives survey was designed to gain insight into challenges that merchant respondents have with understanding, tracking and managing false positives. The report also uncovers what initiatives the 330 respondents have planned to better understand and reduce false positives, what tools are most effective at reducing false positives and the top pitfalls that increase false positive rates. kount.com

Ahold Delhaize announces joint online initiatives for key brands

Domino's in-house technology push has helped increase online orders

Online menswear retailer Huckberry jumps into physical retail

Asos Surges as Online Clothing Retailer Beats Summer Heat

Delivery options abound ahead of holiday shopping season

"Fraud is not a person - it is a dynamic grouping of statistics that deviate from the norm."
Stuart B. Levine, CFI, CFCI
CEO, The Zellman Group & Zelligent
---
ORC News
Sponsored by Auror

Cincinnati OROCC Monthly Chapter Meeting - Oct. 19


The meeting will be held on Friday, October 19th at 0930 am at the West Chester Police Department (9577 Beckett Rd, West Chester OH). As always, our goal is to get at least one representative from each law enforcement agency and major retail establishment to these meetings to share intel, network, and help each other with our investigations. The meeting is extended to cover the southwestern territory of Ohio. Please try to bring your recent apprehensions and open cases (w/photos) for group discussion on a thumb drive. We have a laptop connected to the projector to present your investigations. Click here to learn more about the Ohio Regional Organized Crime Coalition (OROCC)

Darin Fredrickson & AZORCA's ORC Basic Surveillance Training
October 23-24, 2018 in Phoenix, AZ (Limited Spots Available)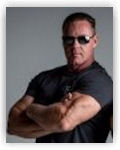 This course is specific to ORC investigations, yet provides the fundamentals of physical surveillance that can be applied to any criminal or civil investigation in the U.S., and subject to U.S. laws. This course follows the surveillance principles and strategies outlined in Darin Fredrickson's best-selling book the "Fundamentals of Physical Surveillance" written with Raymond Siljander, and published by Charles C. Thomas Publisher.

Darin has conducted surveillance for over two decades in the public and private sector, and has investigated ORC for the past 12 years. At the completion of this 2-day classroom and field course students will: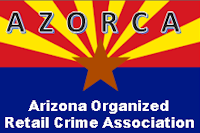 1) Learn how to implement covert physical and electronic surveillance (mobile and foot)
2) Understand how a retail or law enforcement investigator may use physical surveillance to further an ORC investigation
3) Understand the legal aspects of physical and electronic surveillance
4) Understand the uses of visual aids and photographic equipment in a covert surveillance investigation

The 2-day course is offered at $975 and limited to 12 students. AZORCA members can save $300 by using coupon "AZORCA".

Law Enforcement personnel are encouraged to sign up. If you have questions email me at darin@teamguardian.us or call me at 602-908-7447. Register for the class here: Master Surveillance Live 3-Day Course.

---
Fairmont, WV: Delivery Driver arrested for theft of 25 cartons of cigarettes from Super America; valued at $2,200
Christopher Hill, 41, has been charged with theft, which carries a maximum penalty of five years in prison and a $10,000 fine. Fairmont Police were dispatched to the Super America in Fairmont. An officer spoke with the regional manager and store manager. They explained that they caught the "Valley News" delivery man taking a carton of Marlboro red cigarettes from behind the counter.

A carton of Marlboro cigarettes retails at $88.39. Super America has documented that 25 cartons of cigarettes have been taken by the male from January to present. The total amount of loss would be about $2,210. Fairmont police set up a sting operation. An officer observed that Hill noticed him and quickly took an object from underneath his shirt and threw it to the rear of the van. The officer told Hill he knew what he was doing and Hill handed the carton to the officer. Hill was placed under arrest. Hill then admitted he began stealing the cartons in January. fairmontsentinel.com

Knoxville, TN: Two women arrested for $1,800 theft at Dick's Sporting Goods
Officers were called to Dick's Sporting Goods at 1:37 p.m. Sunday. Two Knoxville women who allegedly made off with over $1,800 worth of clothing from Dick's were arrested after officers stopped the vehicle. Alcoa Police arrested Madaisia O. Duncan, 22, and Shabazz T. Magwood, 21, on a charge each of theft by shoplifting over $1,000. thedailytimes.com

Mentone, Australia: Van's secret floor hides $900 of stolen tools
A tricky tradesperson tried to steal tools and equipment from a Bunnings store by secreting them in a hidden floor of his van. But the plumber's attempt to steal 17 items worth close to $900 from the Mentone hardware store was foiled by a loss prevention officer. *Registration required heraldsun.com.au

Update: Wilmington, DE: Photos released of 2 females wanted in Target theft; pepper spray Target employees

Boardman, OH: A man and two women reportedly stole about $3,025 worth of blue jeans, T-shirts and other clothing items from Toba, a clothing store in Southern Park Mall

Submit your ORC Association News

Visit the ORC Resource Center

---
Retail Crime News

Shootings & Deaths
St Louis, MO: Police officer shoots robbery suspect in south St. Louis Advance Auto Parts store
A man in his 30s was shot by a police officer inside a south St. Louis auto parts store after a struggle with officers Wednesday evening. The man was in critical condition when he was rushed to the hospital. The officers were not injured. Officers were called to the Advance Auto Parts store on Gravois at around 6:35 in connection with a stolen credit card investigation out of St. Louis County. When the two police officers tried to arrest the man, he fought back and they tumbled to the ground. During the struggle, the officers saw what they believed was a gun in the man's waistband, Police Chief John Hayden said. While trying to wrestle the gun away from him, one of the officers fired one shot, striking the man in the chest. ksdk.com
---
Robberies, Incidents & Thefts
Union, NJ: Home Depot Armed Robbery Leads To Wild Chase Into Swamp, 1 Arrest
One person was arrested and another is at large following an armed robbery at a Home Depot in Union and wild chase across Route 22 and into a swamp. Home Depot workers called Union Police on Tuesday at about 5:49 p.m. about a shoplifting incident. One of two people pulled a knife on the store loss prevention worker and then they fled with the stolen merchandise in a shopping cart and pushed it through the lot towards Route 22, the worker told police. patch.com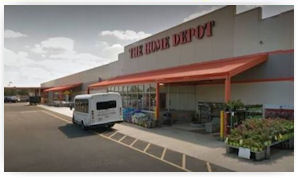 Cocoa, FL: Handcuffed man flees police at Walmart— twice
Cocoa Police said they dealt with a slippery man at Walmart who escaped custody twice after being questioned about shoplifting Sunday. Ryan Prebor, 38, was charged with escape, battery on a Law Enforcement Officer, resisting arrest with violence, two counts of petty theft and possession of drug paraphernalia. The homeless man pocketed about $65 worth of clothing at Walmart on Sunday afternoon.

Two Cocoa officers arrived, took Prebor into custody and placed him in a security room at the store, police said. Prebor was handcuffed, but fled out of the office and through the store. One of the officers used a Taser stun gun on Prebor as he ran outside Walmart. The officers placed Prebor in the back of a patrol car. When paramedics arrived to treat him, he ran again. Officers apprehended him again, though Prebor bit one of them on his knee, they said. floridatoday.com

Philadelphia, PA: Massive brawl breaks out at Hunting Park McDonald's
Police say a massive brawl that started in the McDonald's on Broad Street in the city's Hunting Park neighborhood and poured into the street ended in the arrest of 14 teens. It happened around 4 p.m. Tuesday and was brought under control about an hour later. Multiple "Assist Officer" calls were activated by Philadelphia police and SEPTA police. Police say there were approximately 150-200 school students fighting and instigating the incident. Three Police Officers suffered minor injuries. fox29.com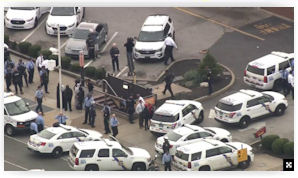 Macon, GA: After spate of robberies, one Dollar General manager makes sure employees stay safe
After robberies and burglaries at dollar stores across Macon, one store has found a way to stay safe. Joe Brown, store manager at the Dollar General on Martin Luther King, Jr. Blvd., said people ask him if he's scared to work there - but Brown says he's not. As store manager, Brown said it falls on him to make sure employees know he has their back and that they're safe. "What I usually do now since the whole robbery situation, if two females are closing I come to the store around 9:00 p.m. or 9:30 p.m. and just sit outside in my car and just monitor the parking lot. To make sure any unusual traffic doesn't come in the store," said Brown. "And we have a lot of good people still that make sure all of our employees are safe in the area." wgxa.tv

Jeanerette, LA: 12 year old boy arrested for C-Store Armed Robbery

Breezewood, PA: Female C-Store Robber gets stuck in a traffic jam on the PA Turnpike

Braintree, MA: Woman pulled replica gun while shoplifting at Macy's

Fishers, IN: Woman stole from Target, then bit and urinated on employees

College Station, TX: Employee at Maroon U apparel shop arrested for theft of $1,600 from store registers
---
Arson & Fire
Melbourne, FL: Police Seek Arson Suspect Who Set Three Fires Inside Old Time Pottery Store
According to Melbourne Fire Division Chief Tom Pownall, when units arrived they found that 3 small fires were set by an unknown white male had been extinguished by the store staff prior to their arrival. fox35orlando.com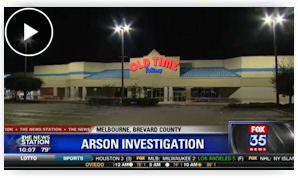 Okotoks, AB, Canada: Possible Arson at Taco Del Mar restaurant leaves significant damage
---
Sentencings & Charges
Fauquier County, VA: Former employee gets Life Sentence For Murder Of CVS Manager

A judge sentenced a Fairfax County man to life in prison for the murder of a CVS manager in Warrenton last year. The judge added three more years for a firearm charge and six years of suspended time. Bernard C. Duse, Jr. was convicted in August 2017 of first degree murder and use of a firearm in the commission of murder for the July 26, 2017 murder of his boss at the CVS. Rex Olsen, 64, of Reva was a manager at the Blackwell Road CVS Store was shot and killed while taking out the trash near a dumpster behind the store. Duse was a former assistant manager who lost a claim against CVS for age discrimination and retalation when he did not get a store manager position. According to evidence provided in court, Duse believed Olsen had had given him a low assessment score and was conspiring with CVS management against him. patch.com

New Zealand: Head of $428,000 Identity Theft Ring sentenced to 3 years
David Pasene, 51, was jailed for three years and two months for his part in an organized criminal enterprise which illegally obtained about $428,000 in 2015. Pasene sat in the middle of an identity theft and fraud ring like a spider, sending others to do his bidding and reaping nearly half-a-million-dollars in cash.

Pasene, whose list of criminal convictions included multiple frauds - recruited others, sent them out to try their luck in banks with forged and stolen identities taken from cars or in burglaries. Police mounted a six-month operation to put an end to the 14 months of offending that spanned the country after seeing a large number of similar frauds being committed. In all, 33 people appeared before the courts charged with their small parts in the organized criminal enterprise. stuff.co.nz

South Bend, IN: Police Officer charged with theft for switching tags on Walmart merchandise

Lewistown, PA: Man charged with Theft and Theft by deception for $6,200 of electronics stolen while under contract from rent-to own store

Beaumont, TX: 4 plead guilty to armed robbery

Robberies and Burglaries
Sponsored by Scarsdale Security Systems
• Advance Auto – St Louis, MO – Robbery/Suspect shot
• Antique store – Angels Camp, CA – Burglary
• Burger King – Orange, CA – Burglary
• C-Store – Jeanerette, LA – Armed Robbery
• C-Store – Nyack, NY – Armed Robbery
• C-Store – College Point, TX – Armed Robbery
• C-Store - Sumter, SC – Armed Robbery
• Cake Store – Macon, GA – Robbery
• Circle K – Sumter, SC – Armed Robbery
• Family Dollar – Macon, GA – Armed Robbery
• Family Dollar – Youngstown, OH – Robbery
• Gas Station – Redding, CA – Burglary
• Gun Shop – Lancaster, SC – Armed Robbery
• Gun Shop – Lancaster, SC – Armed Robbery
• Home Depot – Union, NJ – Armed Robbery
• Macy's – Braintree, MA – Armed Robbery
• Pawn Shop – Clearfield, UT – Robbery
• Restaurant – Wyoming, MI – Armed Robbery
• Sheetz – Breezewood, PA - Robbery
• Verizon – Auburn, CA – Robbery
• 7-Eleven – Mishawaka, IN – Armed Robbery

Daily Totals:
• 18 robberies
• 3 burglaries
• 1 shooting
• 0 killings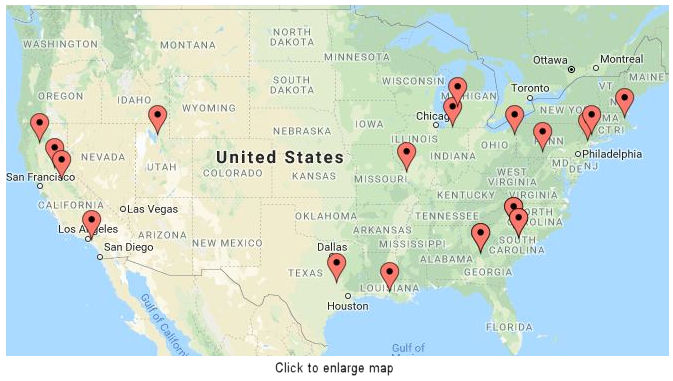 ---

---
Home of the Industry's Original
On the Move




Efrhayn Caballero named Regional Loss Prevention Manager for AutoZone
Submit Your New Hires/Promotions
or New Position
See all the Industry Movement
---

---

---

---
Featured Job Listings
Sponsored by Delta Lock
Feature Your Job Here For 30 Days -
70% Aren't On the Boards
Post your job listing

Featured Job Spotlights
---

Divisional Loss Prevention Director
Florida
Provides strategic loss prevention management for a division of 2,000+ stores with sales volumes totaling +/- $4B. Maximizes profits by developing and executing programs to reduce and prevent the loss of company inventory/assets and managing Regional Loss Prevention Managers within an assigned geographical area...

Director Loss Prevention
Irvine, CA
The Director of Loss Prevention at Tillys builds and implements policies, programs, and procedures that control risk, reduce shrink and protect the employees and assets. The director is responsible for leading and developing LP team members in the corporate, retail, and distribution centers...


Global Manager of Environmental Health and Safety
Austin, TX
● Establish goals for EHS performance and implement effective EHS systems to ensure continuous improvement
● Provide oversite to Regional Environmental Health and Safety Administrators and Global Risk Leadership on EHS matters with a focus on environmental issues...



Regional Asset Protection & Safety Manager
Emeryville, CA
The Regional Asset Protection and Safety Manager will lead the Region in shrink reduction and profit maximization efforts. The position will proactively seek to bring economic value to the company, promoting profitable sales and world class customer service while ensuring a safe place to work and shop...

Regional Loss Prevention Manager
Baltimore MD
This position is responsible for managing all aspects of loss prevention for a geographic area to reduce and control shortage and other financial losses in 120 to 140 company stores. The coverage areas average $550 million in sales revenue and $3.5 million in shrink losses annually...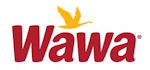 Loss Prevention Investigator
Wawa, PA
The Loss Prevention Investigator is responsible for utilizing proper investigative techniques and act as the primary liaison with field operations management. Conducts investigations into cash losses, deposit shortages, associate theft, overall shrinkage, and other matters...

Regional Asset Protection Manager
Harrisburg/State College, PA
The Regional Asset Protection Manager will lead their region in Shrink Reduction, Asset Protection and Safety efforts through an in-depth understanding of the overall business, effective partnerships and by directing the region with integrity and professionalism...

Loss Prevention Market Specialist
Jacksonville, FL
To monitor store locations to detect, investigate and resolve internal and external situations and circumstances that could lead to or result in losses to the company. All actions and conduct within the scope of the position must be performed according to performance standards set by Burke's policies, procedures and Code of Ethics...


Loss Prevention/Asset Protection Investigator
Boston, MA
Responsibilities will include but are not limited to:
● Protect the assets of the store as well as the associates and visitors.
● Maintain surveillance of the store via CCTV and conduct physical inspections including perimeter checks...




Asset Protection Analyst
Norcross, GA
AP Analyst based in Norcross, GA reporting to the Director of Asset Protection. This high-visibility role will be responsible for business-wide security administration, multiple fraud detection programs and functional communication...

Featured Jobs
---
• TBC Corporation - Sr Director of Enterprise Security, Palm Beach County, FL
• Sears Holdings Corporation - Director, Security Operations, Hoffman Estates, IL
• Fred's Pharmacy - VP Loss Prevention, Memphis, TN
• Pay-O-Matic - Director of Security, Springfield Gardens, NY
• BJ's Wholesale Club - Vice President Asset Protection, Westborough, MA
• GameStop - Vice President, Chief Information Security Officer, Grapevine, TX
• JC Penney - VP Asset Protection, Dallas, TX
• Hyatt - Director, Loss Prevention and Claims, Chicago, IL
• Domino's - Director, Information Systems Security, Ann Arbor, MI
• Associated Grocers - Director of Risk Management, Baton Rouge, LA
• rue21 - Director of Loss Prevention, Warrendale, PA
• MedMen - Director of Safety, Culver City, CA
• Domino's - Director, Safety Supply Chain Services, Ann Arbor, MI
• Conn's Home Plus - Director of LP, Inventory Control & Fraud, Spring, TX
• Gulfstream Goodwill Industries - Director of Safety, West Palm Beach, FL
• Netflix - Director of Data Privacy and Security, Legal - Los Angeles, CA
• Food Lion - Director of Asset Protection, Salisbury, NC
• Ahold Delhaize USA - Manager | Corporate Investigations - Retail Business Service, Salisbury, NC
• T-Mobile Express Stores - LP Operations Manager, East Brunswick, NJ
• Living Spaces - Director of Safety, California
• Kings - LP Investigator - Northern New Jersey

---

---

---
Daily Jobs
Appearing One Day Only
View our Internet Jobs Archives here


Sponsor this section of the Daily
---
---

---

---
Your Career

Give Feedback Like a Traffic Light, Be a "Mirror Holder" and Spot & Freeze

How to Give Feedback Like a Traffic Light
Getting feedback can be difficult for so many of us. We may get defensive or brace ourselves for what we're about to hear, but there's a simple model to help give feedback in a way that encourages people to listen and follow your advice. Red, Yellow, Green

This Common Feedback Technique is Hurting Your Best Employees. Here's What to Do Instead
Pointing out an employees flaws and what they could improve upon can wear down a talented team member and may lead to poor performance and self-doubt. Instead of pointing out areas of improvement, use the spot and freeze method. Spot growth, freeze victories

Want Others to Take Your Feedback Seriously? Try This Simple Approach
Getting others to accept our feedback is a challenge. If you want your feedback to produce a positive and meaningful results, change your mindset and become a "mirror holder". Let them see it for themselves

Your Feedback Isn't Working. Try These 3 Strategies to Boost Your Team's Morale and Performance
Motivating your team can be an uphill battle for many companies. While not everyone can be inspired or motivated in the same ways, you can help your staff reach their full potential just by framing your feedback and phrase in a certain way. Growth mindset cultures
---

---

---
Submit Your Group LP Selfie and
Group Vendor Selfie Today!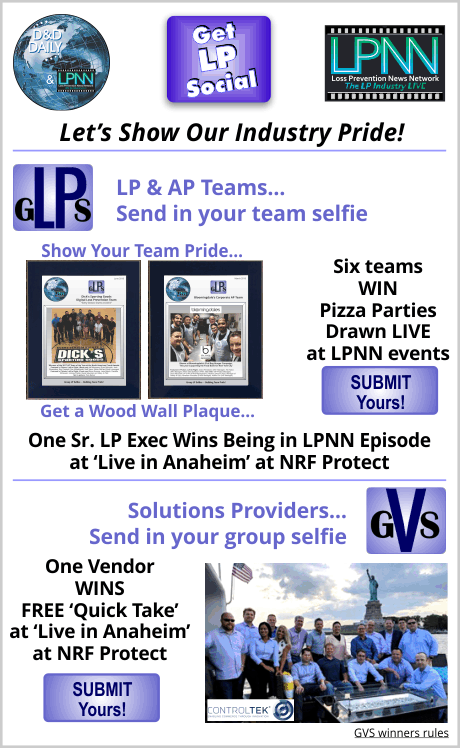 ---
Tip of the Day
Sponsored by Vector Security Networks

While most people try to avoid risk and corporate America actually labels it to be avoided at all cost, ultimately life is filled with it. Risk taking is something everyone is faced with and, without it, life would become somewhat stagnate. Taking a risk once in awhile is a healthy thing. It pushes people to do sometimes their most creative work and reach new levels. The problem becomes the fear of risk and hesitation. It seems like our society has become so risk avoidance driven that people are applauded for not taking it. When in actuality it is those who take risk that pave the road for all others to travel. As Joseph Campbell, a famous American mythologist once said, it is the darkest path in the woods that holds the most treasure. Next time you're faced with taking a risk, give it some thought. Who knows – your career may take off!

Just a Thought,
Gus



(content subject to approval)
---
---
Upcoming Events
---
Recruiting?
Get your job e-mailed to everyone... everyday
Post on our Featured Jobs Board!
---
Reach your target audience in 2018 every day!
Request our 2018 Media Kit
---
Not getting the Daily?
Is it ending up in your spam folder?
Please make sure to add d-ddaily@downing-downing.com to your contact list, address book, trusted sender list, and/or company whitelist to ensure you receive our newsletter.
Want to know how? Read Here


36615 Vine Street, Suite 103
Willoughby, OH 44094
440.942.0671
copyright 2009-2019
all rights reserved globally