Having trouble viewing this email?
Click here for web version
.
OpenEye Adds Point-of-Sale Solution
to OpenEye Web Services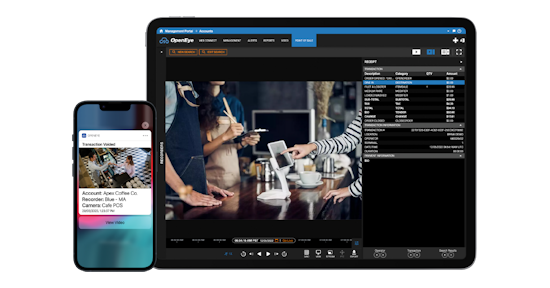 OpenEye has launched POS Connect, a new solution within OpenEye Web Services (OWS) that marries transactional data from a retail operation's point-of-sale system with video verification to help reduce shrink and gain insights into operations.

"By combining point-of-sale data with the power of video, POS Connect enables users to streamline their operations, improve customer service and reduce shrink," said Ian Siemer, OpenEye VP of Product. "Adding POS data to the power of OWS alerts creates a more complete picture of operations as well as loss prevention - transforming video surveillance cameras into a tool that drives the whole business forward."

Features:
Reduce shrink and fraud by marrying POS data with video verification.

Create customizable reports for individual locations or regions.

Improve productivity by evaluating employee performance, training procedures and personnel needs.

Get transaction alerts through both email and push notifications with a thumbnail image and video synced with the transaction time from the associated camera.

Simplify management of multiple locations with remote system and user management in the cloud.

POS Connect supports integrations with both local (LAN) and cloud-based point-of-sale solutions and is available on all OWS license types.

Visit openeye.net/solutions/point-of-sale
for more information.