ADT Commercial enters guarding space with
launch of EvoGuard brand at CES 2023

ADT Commercial officially enters the guarding space with a new brand for its suite of intelligent autonomous guarding solutions targeted to hit the commercial market in 2023, including humanoid robots and indoor drones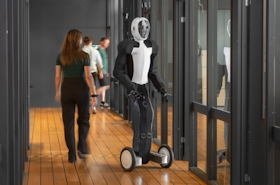 January 5, 2023 -- ADT Commercial, a leading security integrator and premier provider of commercial security, fire and life safety services in the U.S., today unveiled its new EvoGuard intelligent autonomous guarding solutions brand at CES 2023 in Las Vegas.

EvoGuard by ADT Commercial is a new suite of intelligent autonomous guarding solutions and services aimed at helping to cost-effectively enhance corporate security programs, while responding to high turnover rates and ongoing labor shortages in the guarding market.

EvoGuard will use artificial intelligence and augmented reality in combination with a fleet of autonomous humanoid robots and drones for comprehensive security surveillance in a wide variety of commercial areas.

"The launch of the EvoGuard brand marks a significant milestone in ADT Commercial's expansion into the guarding market. We've long kept a finger to the pulse of the industry and we're focused on identifying opportunities to innovate in ways that are meaningful and totally customer-driven," said Dan Bresingham, President, Commercial at ADT. "Given the trends we've seen in recent years and the challenges our customers are facing in keeping their guard forces adequately staffed, we recognized an incredible opportunity to usher in a new era in guarding through technology."

With EvoGuard by ADT Commercial, the goal is for organizations to be able to effectively enhance their security programs by deploying intelligent autonomous guarding solutions at their facilities. Capabilities currently in development1 would allow organizations to:

• Efficiently automate routine tasks, including 24/7 patrols with constant alertness

• Capture evidence of disturbances or unauthorized personnel for faster alarm verification

• Quickly respond to high-risk or hazardous scenarios without risking human life

• Cost-effectively increase surveillance while reducing labor costs and overcoming staffing shortages

The solutions are targeted for commercialization in 2023 and will be specifically tailored for enterprise-level and high-security environments.