OROCC, MAORCA, CCROC join the growing Auror community to address ORC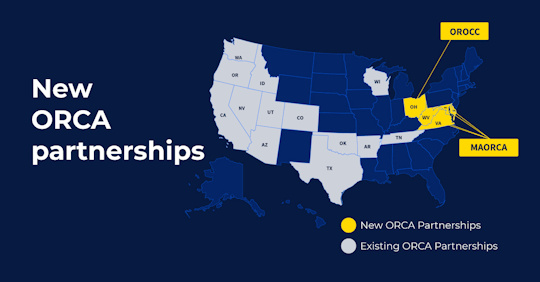 Ohio Regional Organized Crime Coalition (OROCC), Mid-Atlantic ORCA (MAORCA), and Cook County State's Regional Organized Crime Task Force (CCROC) have announced a new partnership with Crime Intelligence Platform Auror to address the impact of Organized Retail Crime (ORC) groups in their regions. This partnership provides the ORCAs with the ability to record, investigate and collaborate on retail crime events and help them solve ORC cases faster.

OROCC Vice President - Retail Bryan Lindsay says they're looking forward to seeing this new partnership in action.

"OROCC is very excited for our partnership with Auror. Their platform will be an effective tool to keep our 1000+ members of law enforcement and retail better connected and prepared as we work together to combat Organized Retail Crime across the state."

MAORCA President Kyle Graser says his organization is looking forward to the outcomes this partnership will bring.

"We are thrilled to join several other ORCAs across the country and partner with Auror. The platform promises an intuitive, well-integrated and user-friendly experience for all of our members. We look forward to the positive impact the platform will have in combating ORC"

CCROC President David Williams says a platform like Auror is indispensable to their efforts against ORC.

"We are excited to be partnering with Auror to provide a clear, user-friendly platform for all of Illinois to share information and make analytical connections. Organized Retail Crime groups are not bound by law enforcement's geographical jurisdictions so we must follow them where they go and we must work together to defeat them. Utilizing Auror, each region of Illinois will be able to easily share information within their region, all over the state, or nationally. This will help tie in crime groups that also operate in Wisconsin and Indiana."

Data from Auror's Crime Intelligence Platform shows that just 10% of people who offend are responsible for perpetrating 50% of reported loss from retail crimes worldwide. Serious incidents such as robberies and assaults doubled in 2021, with ORC groups and those who offend repeatedly accounting for a significant proportion of this.

Auror VP Retail Partnerships - North America Bobby Haskins says stopping retail crime, in particular ORC and repeat offending, requires a community effort where ORCAs, law enforcement agencies and retailers work together and support each other.

"We're excited to partner with OROCC and Mid-Atlantic ORCA and welcome them into our growing Auror for ORCAs community. This connected community of 18 ORCAs working together against ORC means more repeat people identified, more cases closed, and safer stores for the communities retailers serve."

The ORCA version of the Auror platform is free for all ORCAs in an effort to support the industry's response to this large and complex issue. If your ORCA is interested in the national ORCA movement, contact us at orca@auror.co.


About OROCC

The Ohio Regional Organized Crime Coalition was formed in 2012 after law enforcement and corporate retail partners throughout Ohio realized the need to combine efforts to combat the growing problem of Organized Retail Crime (ORC). This group was developed to allow OROCC members to share intelligence relating to the businesses and communities it serves.

About MAORCA

The mission of MAORCA is to provide a forum to align Private Sector & Law Enforcement professionals throughout the Mid-Atlantic Region & jointly develop awareness of crime trends impacting our communities. The organization was established in 2016.

About CCROC

Cook County Regional Organized Crime Task Force (CCROC) was created in 2010 and it was the first prosecutorial led task force of its kind in the nation. It has more than 1,500 members representing more than 100 private sector companies and over 100 local, state, and federal law enforcement partners.

About Auror

Auror is the retail crime intelligence platform empowering enterprise retailers to stop crime, for good. They do this by making it easy to report actionable intel, connect the dots on repeat offenders, and distribute actionable intelligence to teams to prevent crime in real time. Auror has offices in Denver (Colorado), Auckland (New Zealand), and Melbourne (Australia) to support its growing retail base, which includes some of the largest retailers in the world. Learn more at www.auror.co.