2021-2022, ORC was rising in alarming numbers. The US Government finally took notice. Retailers were searching to increase security for their high-end products, keep the brazen ORC mobs from stripping their stores and asked the Solution Providers to help them. Some called CIS Security Solutions. We acted immediately and started modifying the Gen6 alarming tethers. We needed solutions that would give a good Customer Experience, yet still stop the gangs from sweeping departments of expensive handbags and other merchandise.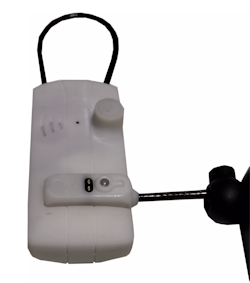 We created two new Gen6 versions at the request of our clients, modifying those in 2023 to integrate with our other alarming products. This larger alarming recoiler has 98 dBl alarm, IR protection, 49-strand flexible steel cable with 120 lb. pull strength, and a thick poly sleeve making it harder to cut, and it is visually deterring. It has ALL the benefits of sustainability with replaceable parts, batteries, ease of use, and it WORKS!

In 2022 Gen6 had two Smart versions - Smart Padlock (SP) and Smart Release (SR). These allowed you to deactivate and release the merchandise with one push of a button on the decoder. Innovative, time saving, labor saving and now in 2023 we are finding ways to integrate the Gen6 with the CIS Tick-R-Tape Tag and a brand new Smart Padlock.

Our latest Gen6 SP will enable you to secure and tether outer wear and boxed goods, etc. Attaching the Gen6 SP to the Tick-R-Tape Tag will allow you to tether larger items in boxes like vacuums and tools, still protecting from theft even when the box is detached from the tether. The Tick-R-Tape Tag can be used by itself, with one or two pieces of tape to secure it to the packaging and will activate if the tape is cut, tampered with, or lifted from the box, and it will also activate the EAS pedestals. The Gen6 will alert if the tether is cut or the recoiler is lifted from the fixture. Both the Gen6 and Tick-R-Tape Tag will alert if an unauthorized detacher is used.

Let's fight ORC together! CIS's line of Gen6 alarming tethers can accommodate your needs: Make it harder to steal items protected by Gen6, a tether strong enough to pull a Jeep, a detachable EAS Padlock Tag, and disarm and release from the Smart Release lock.
Call 772-287-7999 for more information
or visit www.cisssinc.com.