InVue Unveils Latest Innovation to Help Retailers Improve On-Shelf Availability and Increase Sales
T1000 protects and promotes high-value hanging merchandise
Charlotte, N.C. - InVue, the leading global provider of merchandising and security solutions for brands and retailers, unveiled their latest innovation for helping retailers both protect and promote high-value hanging merchandise. Part of InVue's vast portfolio of products that empower retailers to balance inventory security with dynamic merchandising requirements, the new T1000 is a unique inventory dispenser designed to be easy for customers to use while simultaneously improving on-shelf availability of merchandise. Already in place at retail stores across pharmacy and home improvement categories, the T1000 is the only self-service fixture that can increase sales and prevent theft while ensuring planogram compliance.

QUICK LINKS:
● Watch our video to see how T1000 works.
● Read our product Fact Sheet for all the features and benefits.
● Download the Loss Prevention Research Council's report.
● Contact us to see a hands-on demonstration of T1000.

Until now, retailers have historically had only two choices with their hanging merchandise: lock up high value merchandise to reduce shrink, or hang merchandise with no security, giving customers easy access to merchandise, but risking more theft. T1000 is the first product to allow retailers to be able to protect hanging merchandise while still making it readily available for customers.

According to research conducted by Salesforce on the state of today's empowered shopper, 75% of consumers noted that it is "absolutely critical" or "very important" to interact with a salesperson exactly when assistance is needed. Additional industry studies suggest that in just two years' time customer experience will eclipse both price and product as the key brand differentiator. Consumers are no longer content to wait for store associates to unlock merchandise or check inventory in a backroom before they purchase; they will simply find somewhere else to buy the items. By ensuring on-shelf availability and an intuitive dispensing design, InVue 's T1000 minimizes the need for employee assistance and improves sales lift without sacrificing shrink.
"Our merchandisers were looking for a solution to address challenges with fast moving consumer goods -- specifically razor blades. These high theft items require an on-shelf display mechanism that can achieve some level of crime prevention without inhibiting sales. While our existing solution was effective from a security perspective, we ran into issues with on-shelf availability, which was further compounded by a cumbersome restock process for our store associates," noted Tony Hunt, GM of Loss Prevention for London Drugs. "With InVue's new T1000 product we have been able to better manage merchandise for these high-value items and have already seen an impact across both sales and shrink. The product's unique design has helped us to not only enhance the overall look of the merchandise in store but improve the customer and employee experience."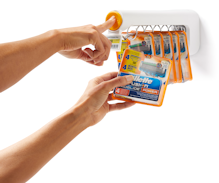 InVue's T1000 intuitive dispensing enables retailers to sell more merchandise without associate assistance. Unlike traditional metal hooks or crank-style solutions, the T1000 uses a simple push button to help customers dispense one inventory package at a time. A five second time delay between dispenses also deters thieves and prevents a "sweep" of the entire product line. Featuring a small footprint and an integrated price tag display, the T1000 works with any planogram to maximize display space without committing to an expensive shelf segment.

According to a recent test conducted by the Loss Prevention Research Council, the T1000 was cited for its ability to provide a value to shoppers, store associates, retailers, and loss prevention efforts. Over six weeks, the T1000 was tested at two store locations for two high loss items - wet shave razor handles and printer ink cartridges. Preliminary results found that the T1000 created a sharp sales increase across both product categories. Click here to download the full report.

"All retailers have a single challenge - provide what busy, demanding customers want. For brick and mortar retailers to thrive or even survive against the incredible convenience of online click-buying, the store must have in stock, desired merchandise when and where the shopper goes to buy it and provide a pleasant, low hassle checkout experience in a safe environment," noted Dr. Read Hayes, Director, Loss Prevention Research Council and lead author on the study. "We believe tactics and innovative technology from companies such as InVue that make it easier for employees to maintain profitable stocking levels, while making theft harder, riskier, and less rewarding for offenders are the keys to success."

"In today's dynamic retail environment, retailers need to capitalize on every opportunity to make a sale but achieving the right balance between promoting and protecting high-value inventory is no easy task," noted Chris Gibson, Chief Marketing Officer at InVue. "By leveraging our unique products that allow consumers access to merchandise without sacrificing security, retailers can improve on-shelf availability to increase sales and improve the overall customer experience."

About InVue


Headquartered in Charlotte, North Carolina, InVue is a technology company that provides global brands, retailers and businesses with innovative merchandising, software and security solutions. InVue products promote and protect retail merchandise seamlessly to help customers improve their profits. To learn more visit www.invue.com.