Protests & Violence

NYC Protests Flare Up Over Easter Holiday Weekend For Various Causes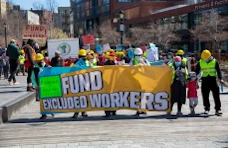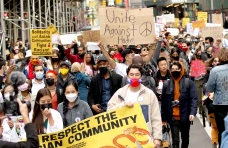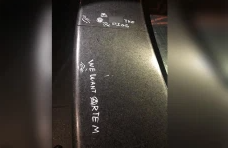 Easter protesters demand Cuomo OK aid to 'excluded workers'
Dozens of New Yorkers and politicians gathered outside Gov. Andrew Cuomo's Midtown Manhattan office Sunday for an Easter "service" to demand he approve a $3.5 billion fund for excluded workers not reached by benefits during the pandemic. nypost.com

'Times Square Take Over' rally decries anti-Asian violence
Dozens of protesters gathered in Times Square Sunday to condemn the recent spike in attacks targeting Asian-Americans in the Big Apple - including the shocking assault of a woman in Midtown last week. nypost.com

BLM protesters leave trail of anti-cop graffiti after Manhattan demonstration
Demonstrators demanding that the NYPD fire a cop accused of pulling out his gun during a Black Lives Matter protest in January left a trail of graffiti in Lower Manhattan on Saturday night. Members of the 40-person protest group first marched across the Brooklyn-bound side of the Brooklyn Bridge into Brooklyn's 84th Precinct, where the officer they were calling on to be fired, Artem Prusayev, is allegedly stationed. nypost.com

BLM Protesters pound on windows at Balthazar's outdoor dining area in NYC
A crowd of protesters pounded on the windows of the outdoor dining area at upscale Soho French restaurant Balthazar as people dined there Thursday night, video shows. Dozens of demonstrators crowded the restaurant's outdoor space - some repeatedly banging on the windows in support - as one of them, identified as Qween Jean, delivered a speech, video originally tweeted by the Protest_NYC page shows.

"So many black and brown indigenous community members are often left out," Qween Jean can be heard saying. "They are often neglected, left out, unhoused, without food, without medication, without medical care, without mental health access. And we're here with the message because we believe that black lives matter." nypost.com

---

2021 Storming of the United States Capitol

The DOJ's U.S. Capital Mob Investigation
Jan 6, 2021

'One of the Largest Investigations in American History'
Number of Defendants Prosecuted & Volume of Evidence

How America's surveillance networks helped the FBI catch the Capitol mob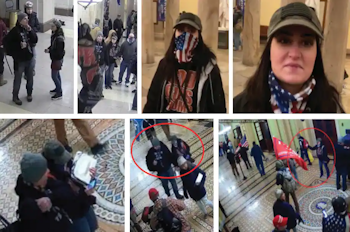 Federal documents detailing the attacks at the U.S. Capitol show a mix of FBI techniques, from license plate readers to facial recognition, that helped identify rioters. Digital rights activists say the invasive technology can infringe on our privacy.

One couple's case is among the more than 1,000 pages of arrest records, FBI affidavits and search warrants reviewed by The Washington Post detailing one of the biggest criminal investigations in American history. More than 320 suspects have been charged in the melee that shook the nation's capital and left five people dead.

The federal documents provide a rare view of the ways investigators exploit the digital fingerprints nearly everyone leaves behind in an era of pervasive surveillance and constant online connection. They illustrate the power law enforcement now has to hunt down suspects by studying the contours of faces, the movements of vehicles and even conversations with friends and spouses.

The cache of federal documents lays out a sprawling mix of FBI techniques: license plate readers that captured suspects' cars on the way to Washington; cell-tower location records that chronicled their movements through the Capitol complex; facial recognition searches that matched images to suspects' driver's licenses or social media profiles; and a remarkably deep catalogue of video from surveillance systems, live streams, news reports and cameras worn by the police who swarmed the Capitol that day.

56 FBI Field Offices - 900+ Search Warrants - All 50 States - Social Media Services - Telecommunications Giants - Geofencing - License plate readers - Facial Recognition - Crowd Sourcing

All of these played vital roles in identifying hundreds of rioters that led to the 320 suspects beiug charged to date. Read the rest of this massive case: Continue Reading
'Most Complex Investigation Ever Prosecuted by Department of Justice."
Over 270,000 Digital Media Tips - With More Cases Still to Come

What we know about the "unprecedented" Capitol riot arrests
Prosecutors have called the case "unprecedented" in scale, and the government said in a court filing March 12, "The Capitol Attack is likely the most complex investigation ever prosecuted by the Department of Justice."

FBI Director Christopher Wray said in March that citizens from around the country had sent the FBI more than 270,000 digital media tips. Wray said, "With their help, we've identified hundreds of suspects and opened hundreds of investigations in all but one of our 56 field offices."

As of Friday, CBS News has reviewed court documents for 353 cases that have been unsealed. Of those, at least 158 defendants were also indicted by grand juries. cbsnews.com

---

Derek Chauvin Trial

NAACP: "Not-Guilty Would Electrify a New Wave of Activists"
AZ NAACP College Leader: "Protesting This Summer Regardless of Outcome"

Washington Post Article - The Build Up To - Will There Be Blood
Floyd's Killing - Another Call to Action For Gen Z'ers With Sense of Urgency

Shaped by Black Lives Matter, Gen Z watches Chauvin trial with cynicism and urgency: 'What's next?'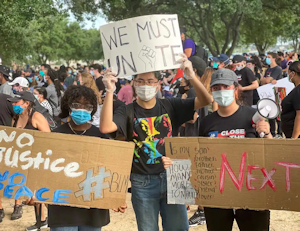 From the acquittal in Trayvon Martin's death, eight years ago, which launched the Black Lives Matter movement, teenagers across the nation watched nationally televised justice.

Many high school and college-age members of Gen Z, their formative years brought gut punch after gut punch to their faith in the American criminal justice system. Other widely protested deaths of Black Americans followed Martin's, spawning hashtags and headlines but either no charges or no convictions: Eric Garner. Michael Brown. Tamir Rice. Freddie Gray. Breonna Taylor.

Now, the generation that grew up with Black Lives Matter - increasingly activist, attuned to inequity, more likely than their elders to see far-reaching problems behind George Floyd's killing last May - is watching another case in which they have been anguished bystanders but also key witnesses and drivers of change. A White ex-police officer is in the hands of a court system that near-majorities of young adults have long viewed as unlikely to deliver justice free from racial bias.

For Gen Z, Floyd's case is "an orienting point for all their political values coming to life," said John Della Volpe, who directs polling at the Harvard Kennedy School Institute of Politics and is writing a book on the "Zoomer" generation, often defined as those born from 1997 to 2012. "It's like Floyd being suffocated is almost a metaphor for millions of other vulnerable people not having the opportunity that White people have had in this country."

Jolt to a generation - Another Call-to-Action for Gen Z's - NAACP AZ youth & college division leader "expects to be out there protesting this summer regardless" of outcome

Read the rest of the first national article calling for a call-to-action with a college NAACP leader saying she's going to protest this summer. Continue Reading

6 Takeaways From the First Week of the Derek Chauvin Trial
The first week of the murder trial of Derek Chauvin in Minneapolis was marked by emotional accounts from bystanders who watched Mr. Chauvin pin George Floyd to the ground for more than nine minutes in May.

The prosecution presented testimony, often accompanied by tears and shaking voices, from people who were there during the fatal arrest of Mr. Floyd, along with hours of video evidence and additional testimony from paramedics and law enforcement officials who said that Mr. Chauvin's use of force was unnecessary.

Prosecutors also introduced the issue of Mr. Floyd's drug use, which is expected to be a crucial part of Mr. Chauvin's defense; Mr. Chauvin's lawyers are expected to argue that Mr. Floyd's death was a result of his drug use. The trial, one of the most viewed in decades, comes with the memory of last summer's protests for racial justice fresh in people's minds.

Here are six key points from the first week of the trial.

Lawyers outlined their opposing strategies.

Witnesses revealed a sense of shared trauma.

The fateful arrest was replayed from every angle.

The pivotal issue of drug use is directly addressed.

At the scene, there were no signs of life.

A tactic that was called 'deadly force.' startribune.com

4/3/21: 'Totally Unnecessary': Veteran Police Officer Rebukes Derek Chauvin's Conduct
The longest-serving officer on the Minneapolis police force said Mr. Chauvin had violated department policy when he knelt on George Floyd for more than nine minutes.

Only a day earlier, another police official, who had directly supervised Mr. Chauvin, testified that Mr. Chauvin and two other officers should have stopped restraining Mr. Floyd sooner. And in the coming week the city's police chief, Medaria Arradondo, who has called Mr. Floyd's death a "murder," is also expected to condemn Mr. Chauvin's actions from the witness stand. nytimes.com

4/5/21: In Derek Chauvin Trial, ER Doctor Says George Floyd Likely Died From Lack of Oxygen
The emergency-room doctor who treated George Floyd said that a lack of oxygen was the most likely cause of Mr. Floyd's death based on evidence gathered that night.

On cross examination, Dr. Langenfeld said that certain drugs including fentanyl could cause a lack of oxygen to the heart. Fentanyl is one of the drugs found in Mr. Floyd's blood that night. wsj.com

Editor's Note: ER doctor didn't perform the autopsy, used the phrase "most likely," and said fentanyl could have caused lack of oxygen as well. Key points to remember later in the closing.

4/6/21: Chauvin used excessive force, unsanctioned technique,
police chief testifies
Minneapolis Police Chief Medaria Arradondo testified Monday that fired officer Derek Chauvin used excessive force and defied his own training and the department's mission of compassion when he knelt on George Floyd's neck as Floyd pleaded for his life.

"Once Mr. Floyd had stopped resisting - and certainly once he was in distress and trying to verbalize that - that should have stopped," Arradondo said after recounting department policy on when to use force vs. de-escalation tactics." startribune.com

Superiors Aware of Chauvin's "Questionable Decision-Making"
Chauvin trial again casts spotlight on MPD's training program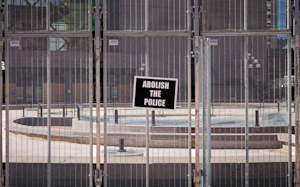 "Salty" training officers can quickly set a rogue example for rookies.

Over his 19 years with the Minneapolis Police Department, Derek Chauvin, the now-fired officer on trial in the death of George Floyd, racked up 17 misconduct complaints and was involved in four on-duty shootings or other fatal encounters.

Yet despite an ever-thickening personnel file, Chauvin continued to serve as a field training officer, or FTO, even mentoring one of the two rookie cops who first interacted with Floyd outside of a South Side convenience store last May. In body camera footage, some of which was played during testimony last week, that officer, J. Alexander Kueng, referred to Chauvin as "sir." The other officer, Thomas Lane, followed Chauvin's direction to stay put after he asked whether Floyd should be repositioned as they pinned him to the ground before he lost consciousness and died.

Revelations about Chauvin's history and his conduct on the day Floyd died have drawn further scrutiny of his training role even though his superiors were aware of his at-times questionable decision-making.

Critics have blamed the training program for fostering a culture of aggressive policing that stretches back decades.

"Duty to Intervene" - Questioning a senior officer - Ethical Policing Is Courageous, or EPIC - St. Paul Trained MPD Not Trained - 1st Ban on "Warrior-Style"

Chauvin Trial All on One Page: Continue Reading

Here's the entire case - Floyd died of cardiac arrest - Not asphyzia or lack of oxygen - But ruled a homicide
In the writer's opinion - if that stands Chuavin could walk free

Cause of death at issue in Chauvin trial as prosecution questions
medical examiner's findings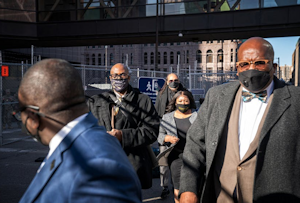 Prosecutors trying the former Minneapolis police officer charged with murder in George Floyd's death appeared to distance themselves last week from the medical findings on his cause of death, issued by the only doctor who performed an autopsy.

Special Prosecutor Jerry Blackwell told jurors last Monday that while Hennepin County Chief Medical Examiner Dr. Andrew Baker ruled Floyd's cause of death cardiac arrest, prosecutors would prove he died of asphyxia, or, lack of oxygen, while Chauvin knelt on his neck for more than nine minutes.

"This was ... not a fatal heart event," Blackwell said in his opening statement. "He died one breath at a time over an extended period of time."

In a PowerPoint presentation during his opening statement, Blackwell displayed the names of six outside medical experts hired to help their case, including a forensic pathologist - Baker's job - whom Blackwell spoke about at length while mentioning Baker as an aside.

"What is unusual is that, to some extent, the battle of the experts is within the state's case instead of between the state and the defense."

Chauvin's attorney, Eric Nelson, seized on the issue. To raise reasonable doubt, he told jurors in his opening statement, "The state was not satisfied with Dr. Baker's work so they have contracted with numerous physicians to contradict Dr. Baker's findings, and this will ultimately be another significant battle in this trial: What was Mr. Floyd's actual cause of death?"

He noted that Baker was the only person to perform an autopsy on Floyd.

"Dr. Baker found none of what are referred to as the telltale signs of asphyxiation," said Nelson.

Read more on how both sides may be depending to heavily on the medical side and the pros and cons for the prosecution.

Chauvin Trial All on One Page: Continue Reading

Floyd's Counterfeit $20 at Cup Foods
Cup Foods Clerk Offered to Cover the Counterfeit $20
Testimony at Derek Chauvin trial triggers talk of expectations for retail workers to stopping theft
Trial observers took to social media to voice their sympathy for Cup Foods clerk, saying he shouldn't have been put in that situation.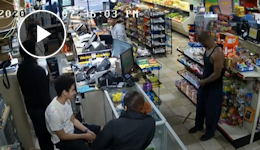 Cashier Christopher Martin thought something was off with the $20 bill a customer used to pay for cigarettes last May at the south Minneapolis convenience store where he worked. The bill was just a little too blue, and Martin decided to flag a manager.

Before long, Martin saw the customer, later known to the world as George Floyd, handcuffed on the pavement and pleading for breath under the restraint of Minneapolis police, the life draining from his body.

Martin, 19, paced outside anxiously looking on in "disbelief and guilt," he testified Wednesday in former police officer Derek Chauvin's murder trial. "If I would have just not taken the bill, this could have been avoided."

Martin's gripping testimony triggered community discussions about retailers' expectations of employees to prevent theft. It also garnered sympathy for the young clerk who was thrust into an unenviable situation leading to Floyd's arrest.

Chauvin Trial All on One Page: Continue Reading

---

COVID Update

167M Vaccinations Given
US: 31.4M Cases - 569.2K Dead - 24M Recovered
Worldwide: 132.5M Cases - 2.8M Dead - 106.8M Recovered

Former Senior Loss Prevention Executive
Know of any fallen LP exec? Let's remember & recognize.

Private Industry Security Guard Deaths: 279 Law Enforcement Officer Deaths: 282
*Red indicates change in total deaths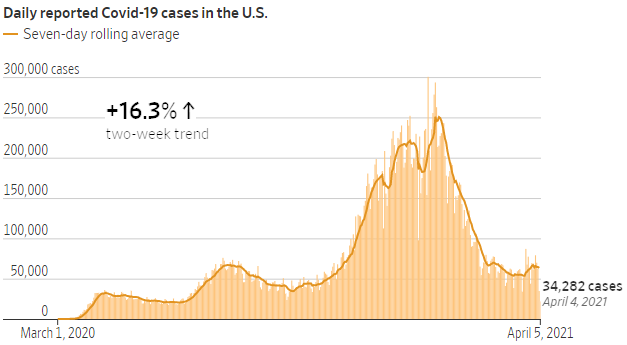 Get 1st Dose in as many as possible NOW - Surge is Coming
Just Confirmed: COVID-19 variant spreads to all 50 US states, experts warn of vaccine shortages
The highly-contagious variant that first emerged in the United Kingdom has now spread to all 50 states - as experts warn that there are not enough vaccines on hand to prevent it from causing another surge in cases.

More than 15,000 cases have already been detected across the US of the B117 variant, which is believed to be more transmissible and deadlier than previous versions, CNN reported.

"We are not going to have enough vaccines, the way we are going, into the arms of enough Americans over the course of the next six to 10 weeks with this surge that we are going to stop it," Osterholm said. "It's just simply not going to happen."

"America appears to be done with the pandemic. The virus is not done with us."

"Right now with the surge that's about to occur, this is what we want to do right now is get as many people protected if only with the first dose, as we can so they don't get severe illnesses, hospitalizations and death," Osterholm said. nypost.com

Florida's Rising UK Variant - 4th Wave Hits MI, NY, New England
An apparent fourth wave of COVID-19 is centered in the East. Will it hit California?
What appears to be a fourth wave of the COVID-19 pandemic has struck Michigan, the New York region and New England, and experts are uncertain whether it will remain contained.

"The United States has entered a fourth wave of transmission, and there's no disputing this. Whether it remains as small regional outbreaks, or whether it generalizes nationwide remains to be seen," Dr. George Rutherford, a UC San Francisco epidemiologist, said Friday at a campus town hall meeting.

Nationally, there has been an 8% week-over-week increase in the average daily number of newly diagnosed coronavirus cases, rising to about 62,000 for the seven-day period that ended Wednesday, federal officials said Friday. The average daily number of new hospital admissions for COVID-19 patients rose 5% over the same period.

California, where case numbers have dipped to levels not seen since the end of last spring, is in a much better situation. California has had a coronavirus test positivity rate of 1%-2% over the last week - compared with 16% in Michigan and 9% in New Jersey.

He and others have expressed concern about Florida, the state with the largest concentration of confirmed cases of the U.K. coronavirus variant, B.1.1.7, which is more transmissible and possibly more deadly than the conventional strain. Florida has no statewide mask mandate, and crowds of spring break revelers are prompting fears that travelers will further spread the U.K. variant around the nation. Florida over the last week had a positivity rate of 9%, and it is climbing.

"We're heading into the fourth surge. Cases are increasing. Variants are increasing. Variants are more deadly," Dr. Tom Frieden, a former director of the U.S. Centers for Disease Control and Prevention, said Saturday on ABC's "Good Morning America." latimes.com

Minnesota COVID-19 hospitalizations have nearly doubled since late Feb.
Many patients under 65; some instances of U.K. COVID variant detected.
Minnesota hospitals are caring for nearly twice as many COVID-19 patients as they did at the end of February following an increase in new coronavirus infections.

While still below the crisis levels of last fall, hospitals this time around are mostly treating COVID-19 patients who are younger than 65 now that 82.5% of the state's elderly have been vaccinated.

Some evidence suggests that highly infectious and possibly more serious COVID-19 variants are also responsible, sickening those at younger ages who would have otherwise not needed medical care. startribune.com

The Race Between the Vaccines & The Variants
CDC director walks tightrope on pandemic messaging
Centers for Disease Control and Prevention (CDC) Director Rochelle Walensky finds herself in a delicate position as she seeks to balance the optimism of increasing vaccinations with the reality that the U.S. is still very much in the grip of a deadly pandemic.

After weeks of decline and then stagnation, the rate of coronavirus infections has once again started to climb across much of the country. Cases are up about 12 percent nationally compared with the previous week, averaging around 62,000 cases per day, according to the CDC.

At the same time, nearly 100 million Americans have received at least one dose of a coronavirus vaccine. Many states are expanding vaccine eligibility, in some instances to all adults, and federal health officials say there will be enough supply for everyone to be vaccinated by the end of May.

Walensky tried to emphasize both aspects this week when she issued an emotional appeal to the public.

"We have so much to look forward to, so much promise and potential of where we are, and so much reason for hope. But right now I'm scared," Walensky said, adding that she had a "sense of impending doom" if people continued to ignore public health precautions.

"Whiplash is a true reflection of how we're all experiencing the epidemic and the response to it. So I'd rather she be honest about that and others be honest about that than give people something that they want ... to make them feel better," said Judith Auerbach, a professor in the University of California San Francisco School of Medicine.

Auerbach said. "The science that says we all still need to be, in fact, quite scared because we're in this race between the vaccines ... versus the emergence of these variants, and she felt it at a visceral level, and she conveyed that in a way that I thought was quite telling." thehill.com

Regular Rounds of Booster Shots or Even New Vaccines?
The world is caught in a sprint between vaccines and variants

Virus Variants Threaten to Draw Out the Pandemic, Scientists Say
Declining infection rates overall masked a rise in more contagious forms of the coronavirus. Vaccines will stop the spread, if Americans postpone celebration just a bit longer.

In measurable ways, Americans are winning the war against the coronavirus. Powerful vaccines and an accelerating rollout all but guarantee an eventual return to normalcy - to backyard barbecues, summer camps and sleepovers.

But it is increasingly clear that the next few months will be painful. So-called variants are spreading, carrying mutations that make the coronavirus both more contagious and in some cases more deadly.

New variants have continued to pop up - in California one week, in New York and Oregon the next. As they take root, these new versions of the coronavirus threaten to postpone an end to the pandemic.


At the moment, most vaccines appear to be effective against the variants. But public health officials are deeply worried that future iterations of the virus may be more resistant to the immune response, requiring Americans to queue up for regular rounds of booster shots or even new vaccines.

Limited genetic testing has turned up more than 12,500 cases, many in Florida and Michigan. As of March 13, the variant accounted for about 27 percent of new cases nationwide, up from just 1 percent in early February.

The world is caught in a sprint between vaccines and variants, and the shots eventually will win, scientists say. But because each infection gives the coronavirus a chance to evolve still further, vaccinations in the United States and elsewhere must proceed as fast as possible. nytimes.com

McKinsey and Company
Innovation: Your launchpad out of the COVID-19 crisis
Crises are adrenaline for innovation. You must make decisions quickly under extremely uncertain conditions, and you never have enough time or information to fully weigh difficult choices that may affect both employee livelihoods and the survival of the business. Yet these very constraints can unleash waves of creativity. Necessity and urgency spur ideas and dissipate inertia. Leading innovators seize such conditions to reshape mindsets and behaviors, embracing the opportunity to uncover fresh solutions and make bold bets that can reignite growth.

While the COVID-19 crisis has not affected all sectors or geographies equally, the major discontinuities it has introduced across markets, customer behaviors, and ways of working and living mark an inflection point in history. Our research suggests organizations that innovate through crises by focusing on generating new growth versus simply weathering the storm outperform significantly over time. But leading your organization to a successful COVID-19 exit requires making fundamental shifts in mindsets-starting at the top.

Being a bold innovator is a choice that must be backed by a commitment. To put the organization on a new growth trajectory requires three actions:

● Reallocating toward the future-place bets, backed by sufficient funds and people, on emerging profit pools while reassessing legacy decisions.

● Embedding flexibility-reorganize around new, crisis-inspired ways of working.

● Hacking processes-focus on outcomes rather than activities to increase speed.

Driving change of this magnitude has to be deliberate. To spearhead transformation-related initiatives and impose accountability that ensures the changes stick, organizations should create "reimagination teams" staffed with top emerging talent. Ultimately, however, it is the business leaders' responsibility to set the course, speed, and tone of the pivot that will deliver innovation-led growth. mckinsey.com

Editor's Note: This is exactly why and how the Daily was created in the middle of the Great Recession in February 2009. Shifted the small group 360 degrees and innovated. Now the trick is applying that to a Asset Protection, Loss Prevention, Cybersecurity function and or business. Just a thought - Gus Downing

SCOTUS: Post-Shift Security Checks Not Paid Ruling - Will This Pre-Shift Safety Requirement Get Paid?
Walmart Employees Want Back Pay for Covid Screening
A group of Walmart employees have alleged that the company failed to pay them for time spent in mandatory COVID-19 screenings before each shift, in violation of Arizona law (Arrison, et al. v. Walmart, Inc. and Wal-Mart Associates, Inc., No. 2:21-cv-00481 (D. Ariz, March 22, 2021)).

The workers claimed that it took about 10 to 15 minutes to wait in line and undergo the screening and that they were not permitted to clock in during that time. The plaintiffs alleged that Walmart has shown that the time should have been compensated because in November 2020, it began adding five minutes to each employee's daily recorded time to partially compensate for the screening.

Workers had to arrive before their scheduled shift to complete a questionnaire, screening and body temperature scan.

Last summer that a 2014 U.S. Supreme Court case, Integrity Staffing Solutions v. Busk, may prove useful: The court held that post-shift security checks for warehouse workers were not "principle activities" and, as a result, are not compensable under the Fair Labor Standards Act. hrdive.com

Europe Locks Down Again

Much of Europe, beset by variants, is also back under lockdowns
Though less stringent ones than during the first round of global shutdowns in March and April of last year.

France, Germany, Ireland, Spain and Italy, among others, have all issued increased restrictions on movement and meetings with Easter events in mind. (Orthodox Christians celebrate Easter on May 2.)

In France, people cannot travel more than six miles from their home except in certain exempted cases under rules that took effect Saturday. Yet President Emmanuel Macron said the restrictions would be less strictly enforced over the Easter weekend.

Belgium has barred nonessential travel from outside the country, though it has allowed movement to continue within.

In Italy, the country has been classed as a high-risk "red zone," which means people are banned from traveling beyond their home regions for Easter celebrations.

Authorities in Britain just eased restrictions after a three-month-long lockdown. washingtonpost.com


Canada's Locked Down Again

Ontario Canada Emergency Lock Down for 4 Weeks
'This is a new pandemic. We are now fighting a new enemy.'
Ontario declared a four-week state of emergency after hitting a record for the number of Covid-19 patients in intensive care, driven by virus strains that are more contagious and dangerous. Supermarkets and pharmacies will operate at 50%$ capacity and other retailers at 25%. No in-house dining only takeout and delivery starting April 3rd. bloomberg.com

Spring Break Super Spreader Hit B.C. Canada
B.C. is implementing a three-week "circuit breaker"-style lockdown
Introducing sweeping new restrictions on indoor dining in restaurants, group fitness and worship services. B.C. is tightening restrictions for the first time since November. "We have seen the start of exponential growth," said Provincial Health Officer Dr. Bonnie Henry. "We have seen increased cases because of spring break travel - that has meant a rapid rise in cases," said Henry. cbc.ca

Canada Urged Against In-Person Easter Gatherings Outside of One's household, Particularly Indoors


Smart PPE & Mesh Communication Networks
Health & Safety Technology

The Role of Technology in a Post-Pandemic World
A look back at how technology has helped worker health and safety during COVID-19 and imagining its role in the future.

Health and safety professionals have had to adapt almost overnight, with the federal and local government creating COVID-19 workplace safety guidelines in a matter of weeks, many of which that have continued to evolve and are still in place today.

Some of these changes are temporary, such as the need for social distancing. Others may be more fundamental and long term, such as the need for better air filtration systems in office buildings or the use of contactless cards to gain entry. These long-term adaptations will improve worker safety and help us in the event of future pandemics.

One demand that is shared by virtually all workplaces-particularly those on the frontline-is the need for safe communication. Typically, these industries might have relied on push-to-talk radios or intercom systems to relay critical information, but in a post-COVID-19 world, these technologies come with associated risk. Continue Reading

Not So Fast - Don't Fly For 2 Weeks After Last Shot
Doctors advise against traveling immediately after your vaccination. Here's why.
Vaccinated individuals should wait at least two weeks after their last shot, according to doctors and the Centers for Disease Control and Prevention. In addition, some countries and cruise lines are echoing the call for vaccinated travelers to delay their visits.

Medical experts say the two-week time frame allows the vaccine to do its job. "Our bodies need that time to develop both antibody and cellular immune responses, which are critical for protection," washingtonpost.com

As businesses think about the pandemic's end, a new job is emerging:
director of remote work

Kroger to shut down three more Southern California stores over 'Hero Pay' ordinance
Pico Blvd Ralphs & Beverwill Drive Ralphs & Food 4 Less in East Hollywood

---

Cartels Retail Store

Third Time in Southern California
Operating in Plain View for 2 or 3 Years

Strip Center Store - 'Private Vaults' For Drugs, Guns & Money
Advertised for Criminals - Biometrically Secure - Hidden From Authorities

Beverly Hills store let criminals stash guns, drugs and cash in vault at strip mall, prosecutors say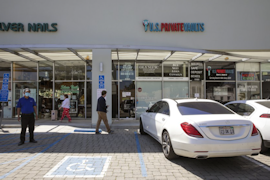 When federal agents descended on a Beverly Hills strip mall last month, it took them five days to seize the contents of hundreds of safe deposit boxes inside a store called U.S. Private Vaults.

On Friday, the government revealed why it was so interested in the seemingly mundane business wedged between a nail salon and a spa: It was laundering money for drug dealers and letting them stash guns, fentanyl and stacks of $100 bills in security boxes that were rented anonymously, prosecutors alleged.

In an indictment against U.S. Private Vaults, Inc., the U.S. attorney for Los Angeles accused the company of marketing itself deliberately to attract criminals, saying it brazenly promoted itself as a place customers could store valuables with confidence that tax authorities would be hard-pressed to learn their identities or what was stored in their locked boxes. To access the facility, customers needed no identification; it took just an eye and hand scan to unlock the door.

"The government seized the nests of safety deposit boxes because there was overwhelming evidence that USPV was a criminal business that conspired with its criminal clients to distribute drugs, launder money, and structure transactions to avoid currency reporting requirements, among other offenses," they said in papers filed in Los Angeles federal court.

The search, prosecutors claimed, turned up an unspecified number of weapons, along with fentanyl, OxyContin and "huge stacks of $100 bills" sniffed out by drug dogs. One box allegedly contained $1 million in cash.

U.S. Private Vaults shared its storefront with Gold Business, a jewelry and precious metals dealer that was named as a co-conspirator.

"But the majority of the box holders are criminals who used USPV's anonymity to hide their ill-gotten wealth," he wrote. latimes.com

Talk about a store going 'dark' - Micro-fulfillment for the drug industry
What a distribution system. Load them up from the back and they all come running to pick up their orders. Wonder if they were thinking about curb-side pic-up?

Virtually every year we see the cartels operating in LA. So tell me this wasn't Cartel approved, supplied, operated and supported. Right there in their backyard.

Usually in the fashion district but this time in a strip center obviously as a distribution center with all the security benefits any other retailer enjoys

An informant led them to it after 2 or 3 years. But it also means they had set it up shortly after The DEA and FBI shut down the fashion district apparel stores.

But this one had all the bells and whistles with safety deposit boxes. Total security for the traffickers. Wow

And regretfully the bust won't make a dent. As they relocate and pop up some where else. As there's just to much money involved.

But you've got to give them credit on this one. A complete secured distribution network with 100% security for the drugs the cash and the guns. -Gus Downing

The Daily Previous Coverage of Cartels Operating in Retail in Southern Calif.

From 2014 to today - Thousands of law enforcement have been involved. With the one Fashion District case in 2014 still ongoing.

Sept. 11, 2014:
Nearly 1,000 federal & local officers raided over 70 shops in LA's Fashion District for money laundering Mexican drug cartel money - $65M seized Wed. morning

Oct. 24, 2014
U.S. agents scrambling to figure out how retail stores & businesses in LA's Fashion District laundered millions for drug cartels

Jan. 3, 2018
LA Fashion District Textile Co. & 2 Owners Plead Guilty - Laundering Drug Cartel $$
Case Started When 1,000 Officers Raided Fashion District Businesses in Sept. 2014

Dec. 15, 2020
2014 LA Fashion District Raids & Investigation Continues: Cartel Drug Money Laundering & Undervaluing $62 Million in Goods - Continued After 2014 Raids

---

Two Miami Owners of 15 Retail Pharmacies Arrested for Their Alleged Role in $8 Million Scheme to Defraud Prescription Drug Coupon Programs
William Clero, 44 and Cesar Armando Perez Amador, 51, residents of Miami, Florida, were arrested today for their alleged participation in a scheme to defraud prescription drug cost savings (coupon) programs offered by pharmaceutical manufacturers to reduce the cost of prescription drugs for consumers.

Clero and Perez were the beneficial owners of 15 retail pharmacies located in Miami, Florida, and concealed their ownership and control of the pharmacies by enlisting "nominee" owners. It is alleged that from approximately December 2014 through February 2021, Clero and Perez submitted and caused the submission of fraudulent claims for reimbursement to prescription drug coupon programs that falsely and fraudulently represented that prescription drugs had been prescribed by physicians and were being dispensed to patients by the pharmacies. As a result of the scheme, prescription drug coupon programs paid more than $8 million to the pharmacies. justice.gov

New Illinois Law Protects Workers with Criminal Records
Multistate employers should take note, review their adverse action notices
"The law amends the Illinois Human Rights Act to make it a state civil rights violation for employers to use an individual's criminal conviction record in any employment decision, unless there is a substantial relationship between the offense and the individual's employment, or hiring or continuing to employ the individual would pose an unreasonable risk to property or the safety of others," said Schuyler Ferguson, an attorney in Miller Canfield's Detroit office.

The state had already enacted a "ban-the-box" law that bars employers from rejecting job applicants based on arrest records or inquiring about an applicant's criminal history until later stages of the application process.

"These mitigating factors mirror those outlined in the EEOC's 2012 Enforcement Guidance-which courts have rejected the EEOC's ability to enforce-that have been adopted in a number of ban-the-box laws around the country," shrm.org

McKinsey and Company
The new landscape of risk
With catastrophic events on the rise, companies face nonlinear shifts to their risk-return profiles. Here's how to prepare. Going to extremes: Risks are now more frequent - and more intense when they occur.

Surprised? Some risks are more predictable than others. Prioritize the ones that could bring an existential crisis to your company. Great infographic walks you through simple overview and analysis: mckinsey.com

Teamsters Union Voted Out (16-2) of Third Logistics Facility - @ XPO Logistics - in New Jersey
This is the third XPO Teamsters unit in the past 15 months to have decertified representation by the Teamsters. The others were in Aurora, Illinois, and Laredo, Texas. XPO currently lists approximately 210 employees out of a 46,000-member workforce as being represented by the Teamsters.

The vote to decertify the Teamsters at the XPO facility comes not long after a similar vote at KWK Trucking, a small DHL-affiliated delivery service in Southern California. The Teamsters did not challenge that election, a lack of action that the Right to Work foundation viewed as a direct result of changes in federal law regarding the ability to make such challenges.

"Union bosses take every chance they get to maintain control over workers, even when they are overwhelmingly opposed by those they claim to represent," Mark Mix, National Right to Work Legal Defense Foundation president, said in a prepared statement. freightwaves.com

---

2021 May Be Looking a Lot Better

All the Indicators Headed in the Right Direction
Now it's a Case of the Tail Catching Up With the Dog

Consumer confidence jumps to highest level in a year
"Consumer Confidence increased to its highest level since the onset of the pandemic in March 2020," Consumers' assessment of current conditions and their short-term outlook improved significantly, an indication that economic growth is likely to strengthen further in the coming months. " said said Lynn Franco, senior director of economic indicators at The Conference Board.

Consumers' assessment of current conditions improved significantly in March. The percentage of consumers claiming business conditions are "good" increased from 16.1% to 18.5%, while the proportion claiming business conditions are "bad" fell from 39.7% to 30.5%. Consumers' assessment of the labor market also improved. Consumers' optimism about the short-term outlook improved considerably. Consumers' outlook regarding the job market was also more favorable. chainstoreage.com

Strongest DOL Job Report Friday Since Pandemic
Total nonfarm payroll employment rose by 916,000 in March, and the unemployment rate edged down to 6.0 percent, the U.S. Bureau of Labor Statistics reported today. These improvements in the labor market reflect the continued resumption of economic activity that had been curtailed due to the coronavirus (COVID-19) pandemic. Job growth was widespread in March, led by gains in leisure and hospitality, public and private education, and construction.

#1 Group: In March, employment in leisure and hospitality increased by 280,000, as pandemic-related restrictions eased in many parts of the country. Nearly two-thirds of the increase was in food services and drinking places (+176,000). Job gains also occurred in arts, entertainment, and recreation (+64,000) and in accommodation (+40,000). Employment in leisure and hospitality is down by 3.1 million, or 18.5 percent, since February 2020.

#6 Group: Transportation and warehousing added 48,000 jobs in March. Includes e-commerce, delivery, couriers.

#9 Group: Employment in wholesale trade increased by 24,000 in March.

#10 Group: Retail trade added 23,000 jobs in March. Job growth in clothing and clothing accessories stores (+16,000), motor vehicle and parts dealers (+13,000), and furniture and home furnishing stores (+6,000) was partially offset by losses in building material and garden supply stores (-9,000) and general merchandise stores (-7,000). Employment in retail trade is 381,000 below its February 2020 level. bls.gov

---

Senior LP & AP Jobs Market
Senior Director, Asset Protection for Macy's Herald Square & NYC


As Senior Director, Asset Protection you will serve as subject matter expert in the following areas: shortage, fraud, investigations, legal compliance, and training. Create and implement AP strategies in partnership with VP, Asset Protection. Manage, direct, & deploy District Managers of Investigations (DMIs) to support districts & stores. Perform other duties as assigned. oraclecloud.com

Senior Director of Risk Management, Loss Prevention, and Safety for Goodwill Industries Of Central Florida, Orlando, FL


Under the supervision of the Chief Operating Officer, manages all risk, occupational safety, loss prevention, workers compensation, and internal process auditing. Major duties include the performance of analysis, assessment, and training for: safety, risk management, loss prevention, and workers compensation insurance, accidents, and safety policies, in general. Conducts and drafts operational reports for management analysis of risk management, safety, and loss prevention. indeed.com

Editor's Note: Of truly special note here is that two Goodwill divisions are led by Presidents who are former Loss Prevention executives.

Loss Prevention Director for Rent One, in St. Louis, MO - 100+ stores in 10 states
The Loss Prevention Director is on the front like of defense to identify and prevent theft of cash and merchandise. A great Loss Prevention Director is driven, has outstanding analytical skills, and isn't afraid to dig in and find the truth. This position is never boring and requires extensive travel throughout the nation's heartland. itnhire.com

Director, Safety & Loss Control job posted for Marsh and McLennan
in Fort Lauderdale, FL
This leadership position has overall responsibility for delivering risk consulting services including strategically developing, directing, and implementing loss prevention programs, training and OSHA compliance services. careers.mmc.com

---

Amazon Explored Opening Home Goods, Electronics Discount Stores

Staples Won't Give Up Trying to Buy Office Depot

Publishing Note: The Daily will not be publishing a 'Canadian Connections' column tomorrow. It will return on Wednesday, April 14.


Quarterly Results
Joann Q4 comp's up 21%, omni-channel net sales up 194%, net sales up 20.9%
Joann FY 2020 comp's up 23.5%, net sales up 23.3%

Walgreens Boots Alliance U.S. Q2 overall comp's up 2%, reflecting comp pharmacy sales up 4.5%, retail comp's down 3.5%, sales up 0.4%

Guess Q4 sales down 23%, FY 2020 sales down 30%


Last week's #1 article --

Nike severs ties with 7 more retailers including Urban Outfitters and Macy's