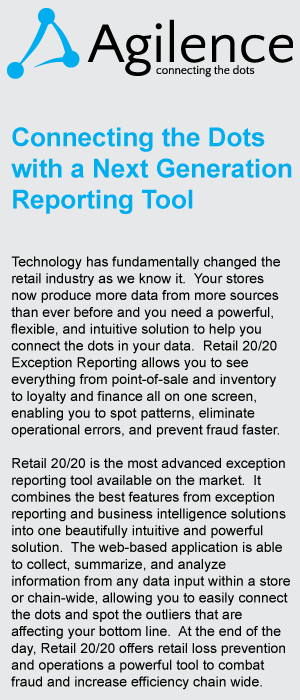 Kenya's West Gate Mall Massacre - Could it happen here?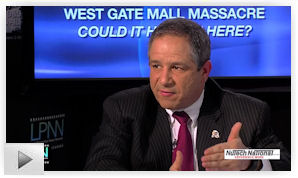 In September 2013, armed gunmen attacked the Westgate shopping mall in Nairobi, Kenya, resulting in 61 civilian deaths, six dead security officers and over 175 injured. Special Agent In-Charge Richard Frankel of the FBI deployed to Kenya with a Rapid Deployment Team and assisted the Kenyans in the forensic and intelligence investigation related to the terrorist attack. In this LPNN interview, Mr. Frankel talks about this high-profile investigation, the odds of a similar attack occurring in the U.S., and the importance of active-shooter programs for retailers. With the ultimate responsibility of protecting your employees and customers, learn what LP executives can do to prepare for and prevent such a catastrophic event.
---
"Live in NYC" Event Closing


LPNN Quick Take #21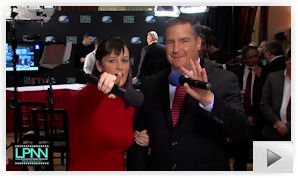 After a jam-packed day full of LP leaders, retailers, solution providers - and all the valuable information and fun in between - MCs Joe LaRocca and Amber Bradley sign off from the D&D Daily's "Live in NYC" at the NRF Big Show 2015. Re-live all the great moments here. Thanks for watching and we'll see you in Long Beach!


Solution Providers, have a video or commercial you want to publish? Contact us.


What The Military Can Teach Us About...Resilience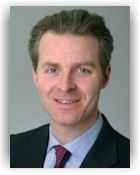 By David Shillingford
SVP, Supply Chain Solutions
Verisk Analytics


"Success is how high you bounce when you hit bottom." George S. Patton

On October 8th, 2014 a 26-year-old Staff Sergeant received a standing ovation from a roomful of generals, admirals and captains of industry. The occasion was the Business Executives for National Security Eisenhower Award Dinner; the Staff Sergeant was Mike Malarsie, a US Air Force veteran who was blinded by an IED attack while serving in Afghanistan. SSgt Malarsie described how, upon regaining consciousness at Walter Reed hospital, he set about a life lived in gratitude for what he still had rather than mourning what he had lost. And that is exactly what he has done as he tours the country sharing hope and giving inspiration to many.

Resilience is a Fundamental Competitive Advantage

In nature, sport, business or war, and as individuals and organizations, the difference between the weak and the strong becomes most apparent in challenging and changing environments. It is therefore our ability as individuals and organizations to persist through and recover from hardship where great potential for long-term competitive advantage lies. Resilience is at the heart of this.

Different Types of Resilience

There are three types of resilience: material, personal and organizational. Material resilience is scientifically defined as 'the capability of a strained body to recover its size and shape after deformation caused especially by compressive stress'. Resilience is also used more generally to describe the ability of infrastructure to withstand, or recover from, physical damage. Personal resilience may also have a physical component but more often, and more importantly, refers to the mental ability to 'bounce back' from hardship, misfortune and disappointment. Organizational resilience is a function of the personal resilience of those in the organization, along with how they relate to each other.

Personal Resilience

Unlike the object that 'recovers its size and shape after deformation', humans have the capacity to more than simply recover from hardship; we can become more resilient each time we overcome a challenge. And, as SSgt Malarsie was careful to note, the hardship does not need to be extreme as it was for him, it is the small daily challenges that, when met head on, steadily increase our resilience and help prepare us for bigger challenges. Although we may feel physically and mentally fatigued as we meet challenges, there is no 'pool' of resilience that is being emptied, quite the opposite - we become stronger whenever we take on a challenge. Just like physical strength and going to the gym, resilience is built up through practice and repetition. And here's the magic, the more resilient you think you are, the more resilient you actually are. Or, in the words of the great Muhammad Ali:

"Only a man who knows what it is like to be defeated can reach down to the bottom of his soul and come up with the extra ounce of power it takes to win when the match is even."

Personal Resilience - The Foundation of Organizational Resilience

Just as people are at the heart of organizations, personal resilience lies at the heart of organizational resilience. Organizations that understand the importance and drivers of personal resilience can take steps to enhance the resilience of team members. There is a huge difference between the organization that encourages individuals and teams to challenge themselves versus the organization that causes people and teams to build cushions and safety nets for fear of the consequences when things go off course. It's hard to see at first glance but companies tend to fall either side of this line because the difference is cultural and comes from the top.

Organizations should also focus more on resilience when hiring. Job candidates are often asked to cite a challenge that they have previously overcome and will likely have a prepared answer. This is fine, at least in terms of showing foresight and preparation but it misses the point of the question. More insight can be achieved by explaining to the candidate the value of demonstrating resilience and that a swift and successful resolution to a challenge does not necessarily achieve this. More focus on personal resilience will also help companies better appreciate one of the many qualities of candidates with military service.

Read more here.



CreditCards.Com Study: 39% of Fraud Alerts Are Triggered by Legitimate Transactions A new report from CreditCards.com found that more than half of customers who received fraud alerts had false positives. A polling of 1,000 adults founds that 38 percent had received fraud alerts at least once. Of this group of consumers who had received fraud alerts, 39 percent said that all the alerts were in error while 14 percent had mostly legitimate transactions that triggered fraud alerts. Only one in five blocked transactions were actual cases of fraud. paymentweek.com

FBI - IC3 Issues Internet Crime Report for 2014
The Internet Crime Complaint Center (IC3) has released its Internet Crime Report for 2014, indicating that scams relating to social media-including doxing, click-jacking, and pharming-have increased substantially over the past five years. With median dollar loss for complaints reporting loss of $530.00. Average dollar loss overall being $2,971.00. The average dollar loss for complaints reporting loss being $6,472.00. Total complaints received in 2014 being 269,422. The mission of the Internet Crime Complaint Center (IC3) is to provide the public with a reliable and convenient reporting mechanism to submit information to the FBI concerning suspected Internet-facilitated criminal activity and to develop effective alliances with industry partners. ic3.gov.com

Online retail giant Amazon starts paying corporation tax in the UK

How a luxury e-retailer reduces fraud

"Fraud is not a person - it is a dynamic grouping of statistics that deviate from the norm."
Stuart B. Levine, CFI, CFCI
CEO, The Zellman Group & Zelligent



Lego Thieves lead to High Speed Police Chase on NY Thruway What started as an investigation into an attempted shoplifting incident involving more than $1,000 worth of LEGO sets in Ontario County Saturday turned into a high-speed police chase that caused several crashes, including one that injured a New York State Trooper. Employees at the Walmart in Hopewell called 911 about 3:50 p.m. to report three people trying to leave the store with unpaid LEGO sets. The three people identified by the employees left the store but left the LEGO sets behind. Deputies said the three left in a car, which allegedly matched a description of a vehicle used in a shoplifting incident from the same Walmart store on Friday. Rochester residents Darrel D. Hughes, 23, and Ella M. Cotton, 26, were charged with fourth-degree grand larceny, a felony, for allegedly stealing electronic equipment from the store on Friday. Hughes, who was allegedly driving the car, is also facing numerous vehicle and traffic charges. William D. Johnson, 22, also of Rochester, was charged with attempted fourth-degree grand larceny in the attempted theft of the Lego sets on Saturday. During the chase, the suspects' car allegedly hit one vehicle in Canandaigua and a New York State Police vehicle on the Thruway, causing that vehicle to collide with a Monroe County Sheriff's Office vehicle. Police apprehended the suspects after a short foot chase in a wooded area along the side of the Thruway, deputies said. democratandchronicle.com
Couple accused of pawning 112 gift cards obtained from returning stolen merchandise Royal Palm Beach couple pawned 112 gift cards they obtained by returning merchandise they stole from retail stores that they claimed they had purchased, deputies said. The Palm Beach County Sheriff's Office arrested Laura Ticehurst, 38, on Wednesday. Her boyfriend, Hector Gonzalez is still at large. Deputies said they were investigating Ticehurst for another crime when they became aware of a large amount of pawn transactions involving her and her boyfriend, Gonzalez. In four months, the pair had pawned 112 gift cards for 50 cents on the dollar, according to the arrest report. Ticehurst told deputies she, along with a man identified as Luis Reyes, would steal items from various stores, such as Target and Marshalls, go to a different store location and return the stolen items. Because they didn't have receipts, they would get gift cards for the items instead of cash. There, Gonzalez and Ticehurst would pawn the gift cards, she said. According to the arrest report, Reyes confirmed Ticehurst's story, saying that he couldn't pawn the gift cards himself because he has no photo I.D. Records show Ticehurst pawned 37 of the cards over nine transactions. Gonzalez pawned 73 cards over 20 transactions. All three face charges of organized scheme to defraud, dealing in stolen property, false verification of ownership and dealing in stolen property. sun-sentinel.com


Fencing Operation: Kroger's ORC Unit working with Police to bust Kansas C-store owner selling stolen goods Law enforcement authorities in Hutchinson, KS conducted search warrants at three locations on Friday as part of an investigation conducted with the cooperation of Kroger Corporation according to a media release. The investigation revealed that Chetankumar Parvinkumar Patel otherwise known as Chris Patel, the owner of the Zip Trip in Hutchinson was purchasing what he believed to be stolen goods from a member of Kroger's organized retail crime unit. The stolen goods, some of which were for human consumption were then placed on the stores shelves for retail sale. During the execution of the search warrants 162 grams of K-2, 14 grams of marijuana and some of the goods Patel purchased were recovered. Patel was arrested for possession of marijuana, possession of K-2 with intent to sell within 1000′ of a school, no drug tax stamp, four counts of felony theft / possession of stolen property and one count misdemeanor theft/ possession of stolen property. ksn.com

Austin, TX Police look for men accused of stealing GoPros from multiple Target stores in Central Texas According to police, one of the men usually distracts store employees or removes security devices while the other man walks out of the store with the GoPro cameras. The men do not usually try to conceal the cameras, walking out with them in hand. The 11 robberies happened at various Target stores in the Austin metropolitan area, including Buda, Kyle, Bee Cave, San Marcos, Round Rock, Pflugerville and Georgetown between March 31 and April 27, police said. Police said in one of the robberies at a Target in San Marcos on April 22, a store employee approached one of the men and reached in his waistband for something, and the man threatened physical violence and ran to his vehicle. kvue.com


Pair attempt to steal $3,000 worth of merchandise from Walmart in N. Huntingdon, PA, fight loss prevention Police in North Huntingdon are searching for the man and woman they said loaded up two shopping carts with merchandise and fought loss prevention workers who stopped the attempted theft. The incident happened Sunday at the Walmart on Mills Lane in North Huntingdon Township. Lt. Rod Mahinske said the man and woman each shopped for high-ticket items around the store, like razors and air compressors, and had $1,800 and $1,300 worth of items in their carts, respectively. Mahinske said the couple then tried to push the full carts out of the store without paying for the items. At that point, they were stopped by a loss prevention officer. "I guess they tried to stop them. The white male pushed the security guard. Once he pushed the security guard, that took it from a retail theft to a robbery," Mahinske said. The security guard wasn't seriously hurt. wtae.com

Macy's shoplifter arrested in Wayne on drug charges
Police seized 238 prescription pills and arrested a 37-year-old Bloomfield woman Friday afternoon following two shoplifting incidents at the Willowbrook Mall. Adrianne Devries is charged with theft of movable property, distribution of prescription legend drugs, possession of controlled dangerous substances, possession of a hypodermic needle and shoplifting over $200 in property, Wayne Detective Capt. Laurence W. Martin said in a statement. She was released with a court date. Devries allegedly shoplifted $1,104 worth of handbags from the Macy's around 2 p.m. and store security guards detained her. When Wayne Police Officers Mark Ciavirella and Robert Franciose arrived, they found scores of pills in her possession, as well as several pieces of jewelry that wasn't from Macy's. northjersey.com

Sunglass Hut employee 'bear hugs' shoplifter till Portland, OR Police arrive
An employee who recognized a man as a potential repeat shoplifter put the accused into a hold and was "bear-hugging" him until help arrived, prosecutors said. Benjamin N. Flayton, 25, appeared in court Friday on charges of third-degree robbery and first-degree theft. Flayton walked into the Sunglass Hut store inside Lloyd Center last Wednesday around 11:15 a.m. and stole about $2,000 worth of sunglasses. That same day, around 6 p.m., Flayton tried to enter the store for a second time. An employee recognized him and tries to stop him from entering. Flayton pushed the employee and continued walking toward the sunglasses. The employee grabbed Flayton as he was taking $1,500 worth of sunglasses. Flayton struggled with the employee but was tripped by another mall employee and taken into custody outside the store. koin.com

Man Tries To Steal 3 Air Conditioners from Home Depot In Somerville, MA
Police report that at about 2 p.m., Robert Scafidi, 43, of Newton, was spotted at Home Depot exiting the store with three air conditioners, an eight-pack of PowerAde, and a Dewalt Power Washer on a flatbed cart without paying for any of the items. Asked by store security what was happening, Scafidi allegedly said he had paid for the items, and his friend in a nearby U-Haul had the receipt. The aforementioned U-Haul was locked, and the friend was nowhere to be found. patch.com






Organized Retail Crime News Report by U.S. World News

Do you have an ORC case to share? Publishing it educates the LP & retail community
which might fuel even more jobs and funding.
Share your ORC news and help the industry grow


2 dead, several hurt in North Dakota Walmart Shooting Two people, including the gunman, died and another person was injured in a shooting early Tuesday at a Walmart Supercenter store in Grand Forks, North Dakota, police said. The shooter was the only person with a gun, and no police officers fired a weapon, according to Lt. Derik Zimmel. "We do not believe there is any further risk to the public," Zimmel said. He would not go as far as to say the gunman shot himself and provided no details of what led to the shooter's death. One other person was taken to a hospital with gunshot wounds that were not believed to be life-threatening, Zimmel said. Altru Hospital in Grand Forks did not immediately release any information. Police did not provide information about the gunman or victims. Grand Forks Air Force Base issued a statement saying an airman was involved in the shooting, but did not elaborate. Officers responded to reports of gunshots a few minutes after 1 a.m. When police later them from the building, they passed a Walmart employee lying on the ground, covered in blood. A SWAT team that responded to the scene searched a car in the parking lot but found no threats. wdaz.com


Teenager arrested following Quincy Mall Gun Scare Incident
Sgt. Adam Yates said William E. Erickson, 18, of Quincy, Illinois, was arrested after being discovered in the Quincy Mall with an Airsoft pistol and stolen property. Police say mall security called 911 after a Bergner's employee reported seeing a suspicious man with a handgun outside of the store. Yates said when officers arrived, they found Erickson in the mall on a bench in the fountain court area. Officers then searched Erickson and discovered the Airsoft pistol in his waistband. Police then arrested Erickson and say they found items on him stolen from Walmart, Hy-Vee and Shopko. wgem.com


Ocoee, FL Police Officer forced to shoot Armed Woman inside a Burger King A police officer shot a woman who was pointing a gun at him inside a Burger King, Friday night. Police said it began as a fight between the woman and her brother, who works at the restaurant. "It got to the point she got so impatient she grabbed him at a counter where he was working," said Lt. Mike Bryant, a police department spokesman. "She grabbed ahold of him and a push and shove match went on." Employees said the woman locked the restaurant's doors. No customers were in the building during the incident. But police said there were three employees in the store, one of whom noticed the woman was armed with a gun. Officers said that upon forcing their way in to the store, they witnessed a fight and told the woman to drop the gun, but she didn't. Ocoee police said the officer, who hasn't been publicly identified, was forced to shoot the woman. "She lifted a gun in his direction and the officer defended himself," Bryant said. The woman, whose name has not been released, is expected to survive her injuries. wftv.com

PA State Trooper kills Save-A-Lot Burglary suspect who pointed BB gun at him
A Pennsylvania State Trooper investigating a burglary at a western Pennsylvania grocery store Friday fatally shot the suspect when he pointed what turned out to be a BB gun at him, police said. The suspect, identified as Michael Lowrey, 40, of Somerset, died at the scene, police said. Two troopers responded to a burglar alarm at the Save-A-Lot grocery store in Somerset around 4 a.m. and found the rear door pried open, state police said. While searching the store, one trooper heard a noise in a dark storage area and confronted Lowrey, who was wearing dark clothing and holding a black handgun, police said. Lowrey was ordered to drop the weapon, but instead he pointed it at the trooper, police said. The trooper fired, hitting Lowrey in the torso, state police said. It was only after the shooting that troopers realized the weapon was a BB gun, police said. State police said their investigation is continuing. indianagazette.com

RCMP probing shooting near Coquitlam Centre Mall in British Columbia
A suspect is on the loose and at least two areas of the Coquitlam Centre parking lot are behind tape following a brazen daylight shooting near the busy mall Friday. While details have not been confirmed, Mounties descended on the mall before 3 p.m. after an SUV was shot at and its driver hit by bullets. The specific location of the shooting has not been confirmed, but witnesses said the driver pulled into the south side of parking lot to get medical attention. vancouversun.com



2 men shot near EZ Pawn in East Houston, TX Police are investigating a shooting that left two men wounded late Sunday in east Houston. According to the Houston Police Department, it happened around 9:30 p.m. at Federal and Maxey near Interstate 10. At that time, police responded to a call of a shooting near an EZ Pawn store. When police arrived at the scene, they found two male with gunshot wounds - one shot in the chest and the other with a wound in his hand. khou.com


Indianapolis Police arrest suspected Serial Robber
A suspected serial robber was arrested Monday by the Indianapolis Metropolitan Police Department. IMPD arrested 33-year-old Roger Bell of Indianapolis on multiple robbery and burglary warrants. Bell is alleged to have robbed several locations on the northeast side of the city. Those locations included (2) Family Dollars, (4) Dollar Generals, (1) Dollar Tree and (1) Little Caesars. cbs4indy.com


Man fires gun at Cash Room door in failed Burglary attempt at Marrero, LA Walmart A gun-wielding man is being sought after he attempted to burglarize the Walmart early Saturday morning in Marrero. According to the Jefferson Parish Sheriff's Office, the incident happened around 1 a.m. at the store near Barataria and Lapalco boulevards. While few details have been released, the JPSO said the unidentified man made his way into the business, which was closed, and went straight for the cash vault room. The suspect attempted to access the cash vault room, but was unsuccessful. He pulled out his gun and shot at the door in attempt to gain entry, the JPSO said. Officials said the man was unsuccessful and left the store shortly afterward. Only overnight employees were inside during the incident. No injuries were reported. wdsu.com

Burglary reported at Dick's Sporting Goods in DeWitt, NY
DeWitt police are investigating a burglary occurring at 7:38 p.m. Sunday at Dick's Sporting Goods in ShoppingTown Mall. According to video surveillance, the suspects forced open the main entrance gate shortly after the store closed for the evening, police said. Police said various Airsoft products were taken. The investigation is continuing. No arrests have been made at this time. syracuse.com

Goody's employee injured during Armed Robbery in Whiteville, NC
Police in Whiteville are investigating an armed robbery of a department store. Lt. Clay Hagood said a man entered Goody's Saturday around 7:30 p.m., showed a handgun and demanded money. A man working at the store on Columbus Corners Drive was injured in the robbery, but Hagood would not provide details about the altercation. wbtv.com

Homosassa, FL Man faces Grand Theft charges; third strike rule
A Saturday afternoon trip to a Wal-Mart in Ocala ended in a trip to the Marion County Jail for a Homosassa man. According to a Marion County Sheriff's Office report, William D. Dicks, 42, was seen putting items into a backpack by a loss prevention officer. When Dicks realized he was being watched, the report added, he began putting the items back on store shelves. But he may have forgotten about two pair of $10 sunglasses he was seen putting on the brim of a cap he was wearing; he tried to leave still wearing them, but was stopped by a Wal-Mart employee. After Police discovered Dicks had three grand theft convictions in 2012 he was taken to the jail and booked on a charge of grand theft. Florida law allows any offender previously convicted of two or more thefts to be charged with a felony, regardless the value of the item in the new offense. ocala.com

J.C Penney employee arrested for $4,200 cash theft in Trenton, NJ
A 17-year-old male from Trenton who was employed by J.C. Penney in Quaker Bridge Mall was arrested Saturday for allegedly stealing approximately $4,200 from the cash register. Police say the money was stolen over the course of several weeks beginning on March 1. trentonian.com

Milwaukee, WI Police say man dressed as woman robbed Target
Milwaukee police said they are looking for the man who held up a Target store on Chase Avenue while dressed as a woman. Police said the man pulled a handgun out of his purse and demanded goods. Authorities said a clerk filled a bag with several iPads and the man ran off. wisn.com

UK: Cargo Theft Gang jailed for stealing $309,000 worth of Toblerone Chocolate A gang who stole $309,000 worth of Toblerone chocolate and $35,000 of whisky from semi trucks have been sentenced to more than 25 years in prison. The six thieves were jailed today for their individual roles in three thefts which took place in the Dover area in April 2013. A pallet containing boxes of high value whisky worth $35,000 was stolen from the trailer of a distribution center yard in Lydden, Kent. Then on April 20, 2013, a $61,000 DAF semi tractor unit without a trailer was taken from a haulage yard in Whitfield. A third theft took place six days later when the distribution center in Lydden was targeted again. Thieves broke into the premises and stole the keys to a truck and its refrigerated trailer containing Toblerone chocolate worth $309,000. dailymail.co.uk



Jared The Galleria of Jewelry in the Maplewood Mall, Maplewood, MN was the victim of a Grab and Run on Saturday evening: merchandise valued at $2,400





Kay Jewelers in the Houston Premium Outlets, Cypress Texas the victim of an Armed Robbery Saturday morning; Fifteen Rolex Watches were stolen with a total value of $179,750



Murray Jewelry in Longview, TX hit by a 5 person overnight Burglary team

Brooklyn, NY man caught at Jersey City ShopRite with 7 fraudulent credit cards

Alleged Shoppers' Drug Mart shoplifter linked to Factory Direct $1,500 electronics theft

Pittsburgh Family Accused Of Shoplifting At Walmart Together, Children Involved

Men threatened to stab Bellingham, WA Macy's employee with syringe during shoplifting attempt

Thieves cut through roof of Burlington, ON pawn shop, steal $15,000 in items

Two arrested in string of recent C-store burglaries in Roanoke City and Bedford, Botetourt, Montgomery and Roanoke Counties



Surveillance Video Captures Arson at Uptown Gas Station in Dallas, TX








To apply to today's Featured Jobs, Click Here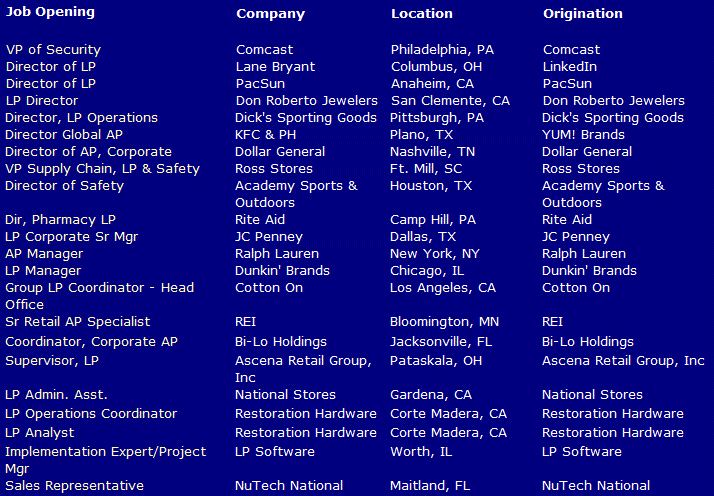 Limited Time Only - Post Your Multi-Unit LP jobs for FREE - Learn More Here




Today's Daily Job Postings from the Net - Appearing Today Only

To apply to today's Internet Jobs, Click Here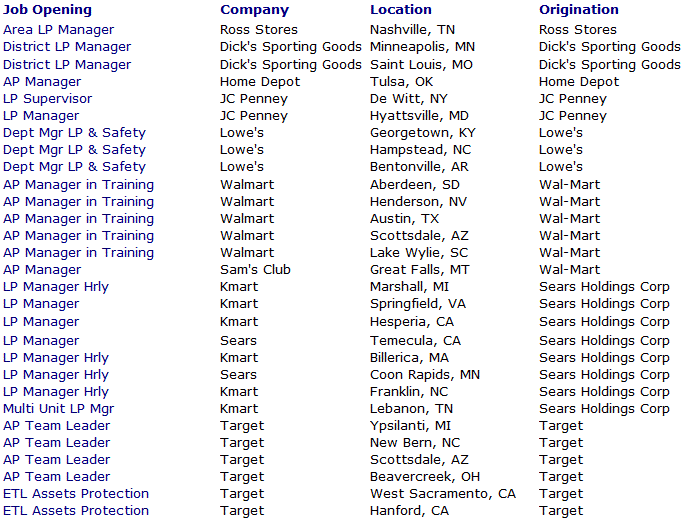 Brian Broadus was named Vice President of Loss Prevention for Mattress Firm.
Mark Robinson was promoted to Executive Director, Asset Protection for Toys "R" Us.
Theresa Rowsell was named Director Asset Integrity for Kit and Ace.






Why You Should Make your Goodbyes as Warm as Your Welcome When your employees rave and get excited about working for your organization, not only does it attract other prospective employees, but they also raise your own profile. The key is, though, it's just as important to make their goodbye as important as their entrance. Show warmth

5 Simple Steps to Setting Up a New Manager for Success New managers are hired on or assigned to new teams all the time. To make the transition easier, and to get everyone started off on the right foot, it's critical to go through a New Manager Assimilation Process. This way everyone gets to know him or her and it sets the groundwork for a working relationship. 5 phases to connect


Last week's most popular articles--

5 Reasons Your To-Do Lists Aren't Working for You According to a study by the Family and Work Institute, over half of all Americans admit to feeling overwhelmed. Most of us feel like there's too much to do in the time we are given in a single day. However, there is a secret to reducing the stress that comes with productivity, and it lies with your list-making skills. Here are mistakes you want to avoid. Find a safe place

4 Ways to Reignite the Flame with Burned Out Employees Sometimes, especially if employees have been with an organization for quite a while, the enthusiasm fades. Maybe they get a little too comfortable in their position. The key for employers is to reignite that flame, and here are some ways to do just that. Get them involved

"Speed Kills" As we all sprint virtually every day to accomplish our tasks, one must remember that, without stepping back and getting out of your box to see exactly where you're going or where you've been, you won't ever be able to see where you really need to go. And in that case speed really does kill and you may never even see it coming because you're moving too fast. That's why three-day-weekends are so great; they make you stop and listen. You've just got to make sure you hear it.

Just a Thought,
Gus Downing




Post Your Tip or Advice! Click Here

Please make sure to add d-ddaily@downing-downing.com to your contact list, address book, trusted sender list,
and/or company white list to ensure you receive our newsletter.
FEEDBACK / www.downing-downing.com / ADVERTISE WITH THE DAILY