North American Fraud Awards 2018 Winners
Tyco Retail Solutions wins Most Innovative In-Store Solution
Dick's Sporting Goods wins in two categories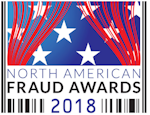 • Best Newcomer: ALTO
• Most Innovative In-Store Solution: Tyco Retail Solutions
• Most Innovative Online Solution: ONCAM and Video Analysis Solutions
• Vendor of the Year: ThinkLP
• Best Collaborative Solution: Verizon & Erie County Sheriff's Office
• Rising Star Award: Brian Wildman, Compass Group NA
• AP Manager of the Year: Juan Interiano - Dick's Sporting Goods
• AP Team of the Year: The Digital LP Team - Dick's Sporting Goods
• AP Director of the Year: Scott McBride - American Eagle Outfitters
• Hall of Fame: Bob Maclea

See the complete list of categories and winners

DA wants Home Depot shooting suspect put to death for Dallas officer's slaying
The Dallas County district attorney is seeking the death penalty for the man accused of killing a Dallas police officer and wounding his partner and a loss prevention officer at a Home Depot store last month.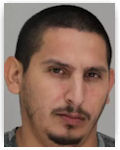 A Dallas officer working an off-duty job at the store detained Juarez for an outstanding warrant. While the off-duty officer was double-checking the warrant, Juarez pulled a gun and shot Santander, Almeida and Painter, police records show.

Santander, 27, died the next day. Almeida, 26, was released from the hospital this weekend. Painter was released last week.

Almeida was shot in the face, and Painter was shot three times. Juarez fled but was later spotted in southeast Dallas.

The police group is also asking the Dallas Police Department to consider broadening the policy on when officers can handcuff someone.

Juarez was with the two officers and the loss prevention officer in a Home Depot office when he "removed his hands from his pockets, drew a handgun and shot both officers," police records show.

Dallas Police Association President Michael Mata he hopes the Police Department allows officers to have "the ability that when investigating any possible criminal activity that we handcuff for citizens' or officers' safety." dallasnews.com

President & Other EZCorp Executives on plane that crashed in Honduras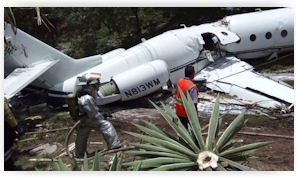 A private plane that departed from Austin Tuesday with the president of an Austin-based pawn shop company on board crashed in Honduras around 12:30 p.m.

Honduran officials say there were six people on board. The Honduran Civil Aviation Agency says all the passengers and crew on board were taken to the hospital.

Joe Rotunda, the president of Austin's EZCorp was on board along with his employees. All of them survived the crash. kxan.com

Total Retail Loss Concept Presented at Australia's Profit Protection Future Forum
Over 150 like-minded retail loss prevention individuals came together to discuss current issues with Australasian retail shrinkage at The Profit Protection Future Forum: Total Retail Loss conferences on Tuesday 15 May in Melbourne and Thursday 17 May in Sydney.

The workshops were led by Professor Adrian Beck, who brought to Australia over 28 years of specialisation in retail loss prevention. Professor Beck presented findings based on his Total Retail Loss concept and trends in global loss prevention, presenting a case study from three European grocers that netted a total loss of 35 billion euros. In that total amount, 53% was attributed to wastage and 25% to lost profits from out of stocks, and 22% to theft. By practising the Total Retail Loss methodology, the grocers experienced a 17% uplift in profit.

Professor Beck also addressed the changing context of loss in retail due to the profound changes in the retail environment, specifically self-scan and mobile technologies. prwire.com.au
---
Facial Recognition Making the News
Amazon Pushes Facial Recognition to Police. Critics See Surveillance Risk
In late 2016, Amazon introduced a new online service that could help identify faces and other objects in images, offering it to anyone at a low cost through its giant cloud computing division, Amazon Web Services.

Not long after, it began pitching the technology to law enforcement agencies, saying the program could aid criminal investigations by recognizing suspects in photos and videos. It used a couple of early customers, like the Orlando Police Department in Florida and the Washington County Sheriff's Office in Oregon, to encourage other officials to sign up.

But now that aggressive push is putting the giant tech company at the center of an increasingly heated debate around the role of facial recognition in law enforcement. Fans of the technology see a powerful new tool for catching criminals, but detractors see an instrument of mass surveillance.

On Tuesday, the American Civil Liberties Union led a group of more than two dozen civil rights organizations that asked Amazon to stop selling its image recognition system, called Rekognition, to law enforcement. The group says that the police could use it to track protesters or others whom authorities deem suspicious, rather than limiting it to people committing crimes.

Many of the companies supplying the technology are security contractors little known to the public, but Amazon is one of the first major tech companies to actively market technology for conducting facial recognition to law enforcement. But few companies have Amazon's ability to effectively push widespread adoption of tech products.

"The idea that a massive and highly resourced company like Amazon has moved decisively into this space could mark a sea change for this technology," said Alvaro Bedoya, executive director at the Center on Privacy & Technology at the Georgetown University Law Center. nytimes.com

Your Favorite Stores Could Be Tracking You With Facial Recognition
According to a report from McClatchy DC, many stores are turning to a California-based company called FaceFirst for their facial recognition needs. When reached for comment, FaceFirst said it could not list its clients to Racked because of "customer NDAs and confidentiality agreements.

Companies that use such software upload photos of people they want to watch, like customers who've already shoplifted from their stores, disgruntled former employees, or persons of interest who can be found on local watch lists. FaceFirst's technology promises to know "the moment a shoplifter enters your store" and says brands that have used its services have seen a 34 percent reduction in theft.

FaceFirst says it can see past disguises like eyeglasses, hats, or wigs, and FaceFirst CEO Peter Trepp says the technology "can match a face against the database of 25 million people in just under a second."

This type of surveillance is becoming more prevalent in retail. In 2015, Walmart admitted it was using FaceFirst to catch shoplifters but said the program had since been terminated. In 2016, industry experts told Bloomberg that Macy's and Benetton use facial recognition technology, although both brands denied the report. In England, the BBC found that one in four stores used the technology.

Just two months ago, the ACLU reached out to 20 of the biggest stores in the US to ask if they use facial recognition technology, and published its findings online.

As the ACLU wrote in its report on facial recognition technology in retail, even shoppers who feel such security is beneficial should at least be made aware of it - especially considering that since the technology is so new, there is little regulation. racked.com

Walmart Shirks Privacy With Self-Checkout Videos, Suit Says
Walmart Inc. violates Golden State privacy law by using video cameras to record customers' facial features at self-checkout kiosks, according to a proposed class action that landed in California federal court on Monday.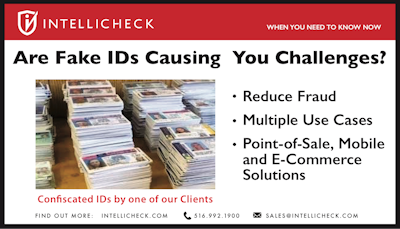 "Defendant's video recording at its self-check-out kiosks captures customers' personal identification information, to wit, their eye color, hair color, and facial features, in conjunction with a credit card transaction," Valesquez says. "In so doing, defendant puts its customers at risk of the very dangers the Legislature sought to avoid [in enacting Song-Beverly]."

The device captured his likeness in much more detail than standard security footage taken by the traditional cameras scattered throughout the store, the consumer says. That's because the cameras aren't used exclusively for security purposes, but rather to provide Walmart with valuable biometric information about shoppers like Valesquez, according to the complaint.

"Defendant's video recording subjects consumers, including plaintiff, to the potential threat of onerous harassment, including but not limited to, identify theft, marketing campaigns, and unwelcome, distasteful, or otherwise threatening communications," Valesquez says. law360.com
---
McDonald's workers describe rampant harassment, workplace groping
and suggestive comments
Cooks and cashiers at McDonald's stores in eight states filed 10 complaints with the Equal Employment
Opportunity Commission this week, alleging they have faced sexual harassment, assault and retaliation on the job.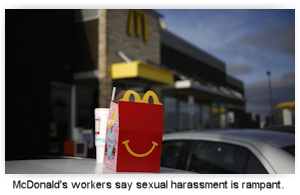 The company said it did not tolerate misconduct. "At McDonald's Corporation, we are and have been committed to a culture that fosters the respectful treatment of everyone," McDonald's spokeswoman Terri Hickey said in a statement. "There is no place for harassment and discrimination of any kind in our workplace."

The #MeToo movement has turned a spotlight on workplace misconduct, starting with women in Hollywood. But workers in food services and retail file more than three times as many harassment complaints as those in higher-paying fields, according to a recent analysis of government data from the Center for American Progress, a left-leaning think tank in Washington.

A 2016 survey by Hart Research Associates found 40 percent of women in the fast-food industry say they've encountered unwanted sexual behavior at work, including suggestive comments and groping.

Complaints from the McDonald's workers were filed with financial support from the Time's Up Legal Defense Fund, a $21 million charity launched in January to support low-income workers who want to report sexual harassment. About 20,000 people have donated to the effort in the past five months.

The National Women's Law Center, the advocacy group running the fund, said it has received more than 2,700 requests for the assistance.

"They represent every type of job and industry you can think of," said Sharyn Tejani, director of the Time's Up Legal Defense Fund. "Frequently they write in all caps: 'SOMEONE PLEASE HELP ME.' " washingtonpost.com

Shopping at Amazon Go
Launch the Amazon Go iOS app, scan the QR code into the gate reader and you can enter the store. It requires one scan at a time, per person, as they enter through the gates.

How the Amazon Go store works is there are a tonne of cameras in the ceiling tracking your movement around the store and it can determine when an item is removed-and put back on the shelf.

We put the system to the ultimate test, as our preschooler and his cousins went wild inside the Amazon Go store, picking up and putting back candy, cookies and whatever was on the bottom shelves.

By the time we left the store, about ten minutes later, the Amazon Go iOS app sent us a receipt-It was 100% accurate in determining what we 'left' the store with. Your trip time spent in the store is also noted.

The Amazon Go store is probably a dream come true for workers going on a lunch break and don't want to waste time standing in line to pay for food. Here, you just grab and go and it's the most frictionless shopping experience I've had to date. iphoneincanada.ca
Supreme Court Rules Employers Can Require Class-Action Waivers
The U.S. Supreme Court ruled Monday that employers could block their workers from joining together as a class to fight legal disputes in arbitration agreements. Instead, each employee must file an individual arbitration claim when a suspected violation arises

The opinion, delivered by Justice Neil Gorsuch, is seen as a major victory for employers and for the Trump Administration in the biggest business case of the term. cfo.com

$16M Counterfeit Bust at Storage Facility in South Texas

ULTA Beauty Director LP job was taken down from website

"American Dream Miami"
Miami-Dade approves 1.2M sq. ft. $4B megamall that would be largest in US

Albertsons to Test Amazon Go-Like Technology at Pumps & in Stores


Quarterly Results
Urban Outfitters Q1 comp's up 10%, total sales up 12.4%

Tiffany Q1 comp's up 7%, sales up 15%

Target Q1 comp's up 3%, online sales up 28%

The Container Store Q4 comp's up 2.7%, net sales up 5.3%, full yr comp's up 0.9%, net sales up 4.5%

Ralph Lauren Q4 North American comp's flat, revenue down 14%, European comp's down 6%, revenue up 13%, Asia comp's up 4%, revenue up 17%
Ralph Lauren Full Yr. North American revenue down 15%, Europe revenue up 3%, Asia revenue up 6%, Total company sales down 7%

Advanced Auto Q1 comp's down 0.8%, net sales down 0.6%

Red Robin Gourmet Burgers Q1 comp's down 0.9%, sales up 0.2%