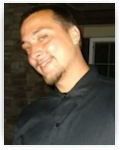 (Update) Visalia, CA: Kmart LP employee stabbed at Visalia store dies from his injuries
The Kmart employee who was stabbed in Visalia has died from his injuries Friday morning. 31-year-old Jeff Campbell passed away a day and a half after he was stabbed in the neck and chest while escorting a customer out of the store. The suspect, identified as 43-year-old Jeremy Kechloian had been acting strangely inside the store, so he was asked to leave. For unknown reasons, he stabbed Campbell, a loss prevention associate, near the store's exit. Kechloian is being held without bail and will be back in court later this month. abc30.com



In Case You Missed It
The D&D Daily's Q1 'Retail Violent Death Report'
The D&D Daily released its Q1 2018 Retail Violent Death report in a Special Report earlier today, showing that there were 125 publicly reported deaths in the first quarter of 2018, a 12% increase over the same time period in 2017. Click here to read the new report.


NATIONAL POLICE WEEK
Collaboration Begins With Recognition
Send An Email of Appreciation to Your Colleagues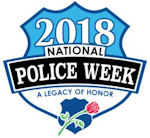 In 1962, President Kennedy proclaimed May 15 as National Peace Officers Memorial Day and the calendar week in which May 15 falls, as National Police Week. Established by a joint resolution of Congress in 1962, National Police Week pays special recognition to those law enforcement officers who have lost their lives in the line of duty for the safety and protection of others.

National Police Week is a collaborative effort of many organizations dedicated to honoring America's law enforcement community. The principal organizers of National Police Week include: National Law Enforcement Officers Memorial Fund (NLEOMF), Fraternal Order of Police/Fraternal Order of Police Auxiliary (FOP/FOPA), Concerns of Police Survivors (C.O.P.S.). nleomf.org

What Makes Retail Workers Uniquely Vulnerable to Sexual Harassment
Inferior complaint procedures, lack of corporate oversight, and low-wages for workers mean that retail has a sexual harassment problem.

Retail has a sexual harassment problem, according to a recent analysis by the Center for American Progress. While media attention has largely focused on the prevalence of harassment in politics and media, the study demonstrates its pervasiveness across all industries, but particularly in ones with a high number of service-sector workers, says the authors of the analysis.

The analysis examined a decade's worth of data around private sector sexual harassment charges filed through the U.S. Equal Employment Opportunity Commission. Of the more than 85,000 charges analyzed, 48.3 percent specify the industry in which these claims were made.

Notably, 13.44 percent of the EEOC's sexual harassment claims were made in retail, which is the second highest percentage after the accomodation and food services industry.

What accounts for this? Experts link the high rate of sexual harassment in retail to the particular vulnerability of its workforce, its low wages, and a hazy, complicated, and sometimes ineffective complaint process following an incident. Retail workers who spoke to Racked cite the same factors when speaking of their experiences with sexual harassment.

Josie Torielli, the Assistant Director of Intervention Programs at the New York City Alliance Against Sexual Assault, connects the high rate of sexual harassment in the retail industry to the demographics of the industry's workforce. She says that "from what we know about all sexual violence is that it is a crime of power and control, and that usually people who perpetrate these crimes will try to use vulnerabilities against the people that they are targeting." racked.com

Chipotle to pay $8M to Ex-Manager
Fired after being accused of stealing $626
In 2015, Jeanette Ortiz was fired as a general manager at a Fresno, California Chipotle after working for the chain for 14 years, The Fresno Bee reports. Ortiz was accused of stealing $626 in cash from the restaurant's safe, with Chipotle superiors claiming to have viewed video footage that implicated her.

However, Ortiz's attorneys allege that Chipotle destroyed the footage after Ortiz denied stealing the cash. According to the attorneys Ortiz was maliciously fired after going on medical leave due to a job-related injury caused by carpal tunnel syndrome.

Last week, jurors ordered Chipotle to pay Ortiz $6 million for emotional distress and $1.97 million for loss of past and future wages. businessinsider.com

A Crime Problem on the Upper West Side: Shoplifting at Duane Reade
Top targets are razors, baby formula and cold medicine; the thefts have driven a 11.3% increase in the precinct's major crime.

A surge in shoplifting at one of New York City's most recognizable drugstore chains is driving crime in the staid streets of Manhattan's Upper West Side-and rattling the police.

New York Police Department Capt. Timothy Malin said he has had to take officers off emergency radio calls and deploy them directly to the neighborhood's six Duane Reade locations more than 880 times since the start of the year.

Thefts from Duane Reade account for 41% of larcenies under $1,000 this year and 32% of shoplifting grand larcenies in the 20th precinct, which covers most of the Upper West Side. Larcenies at the stores alone are up 43% this year compared with the same time last year, Capt. Malin said. The precinct has recorded no murders this year.

Overall, the shoplifting at Duane Reade has driven a 11.3% uptick in major crime in the precinct.
Another big drugstore chain, CVS, isn't experiencing the same theft issue at its two stores in the 20th precinct. In a statement, CVS said the company doesn't speak to specific security measures but it does use "technology to balance the need to prevent theft with ensuring the products we sell are easily accessible to customers."

The police, Duane Reade executives and industry groups said the larcenies are part of a growing "gray market," in which gangs steal hundreds of consumer products and send them to illicit warehouses, where the goods are inventoried, scrubbed of labels and resold either to local stores or through third-party websites. wsj.com



Century 21 guard busted after seen on video choking, beating teen caught swiping Prada shoes in Manhattan
Crime didn't pay for a Prada-loving shoplifter - or the belligerent security guard who busted him.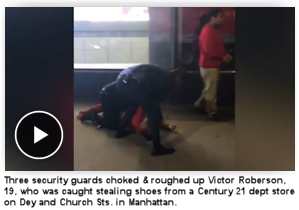 Both men were arrested after shoe-stealing suspect Victor Roberson was brutalized by guard Wilson Acosta on the sidewalk outside the flagship Century 21 store in lower Manhattan, police said.

"I felt as though I never should've been beaten so bad for what I stole," a repentant Roberson said after his arraignment Saturday.

Three security guards choked and roughed up Victor Roberson, 19, who was caught stealing shoes from a Century 21 department store on Dey and Church Sts. in Manhattan. (via Twitter)

A video shot by a passerby captured Roberson announcing "I can't breathe" as Acosta and two other security officers pinned the teen to the sidewalk and pummeled him. One of the guards was caught on video punching Roberson, who was left bleeding from the mouth and with a cut to his head. "I saw one of the security guards put his hands around his neck and choke him." The video showed a helpless Roberson, restrained by three men, taking blows to the face.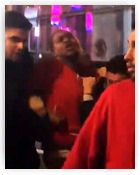 The arrested Acosta was quickly pulled off the job, according to a Century 21 statement issued Saturday.

The 24-year-old from the Bronx was charged with assault. His LinkedIn profile indicated Acosta started working at Century 21 in 2011, and joined the downtown store (pictured) two years ago.

A crowd soon gathered as the immobilized Roberson took the beating, prompting calls to the NYPD. Cops arrived, dispersed the crowd, and arrested both suspect and security guard. nydailynews.com

Milwaukee Black Panthers demand action from Tosa Police after incident
at Mayfair Mall
One day after a controversial arrest outside Mayfair Mall the Milwaukee Black Panthers are demanding action from the Wauwatosa Police Department.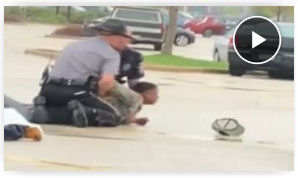 Cell phone video of the incident shows a 17-year-old being arrested by police Friday outside Mayfair Mall. At one point a Wauwatosa Police officer punches the 17-year-old in the face. Officers say they were called by Mayfair Mall security for five people causing a disturbance. Police say one of them tried to fight the officer who was attempting to detain him. They say the video shows only a small segment of the interaction between the teen and officer.

The Black Panthers say they're holding police and mall security accountable and are demanding the officer be fired and the department goes through diversity training, "It doesn't matter if that individual was causing a disturbance in the Mayfair Mall, he did not deserve to be brutally assaulted, and punched in his face and knocked down and then placed on his stomach and punched in his face again," said King Rick. cbs58.com

MI Governor Signs Law Adding Retail Fraud - Shoplifters to Reimburse State or Local Government Expenses
The need for this new law was brought to state legislatures attention by a Detective with the Norton Shores Police Department. He noticed that the number of retails frauds at the Lakes Mall in Muskegon County were on the rise. The law also adds dealing in stolen goods and failure to make a court-ordered appearance to the list. minews26.com

McKinsey Accused of Running 'Criminal Enterprise'
The founder of rival AlixPartners says the consulting firm hid conflicts of interest to win lucrative court appointments to represent bankrupt companies.

The founder of corporate restructuring firm AlixPartners has accused rival McKinsey & Co. of making at least $101 million in bankruptcy consulting fees by concealing potentially disqualifying conflicts of interest from the courts.

In a complaint filed on Wednesday, Jay Alix said McKinsey had conducted a "criminal enterprise" to secure lucrative consulting appointments, making it liable for violations of the federal Racketeering Influenced and Corrupt Organizations Act. cfo.com

"E-commerce Resilient" Vs. "E-commerce Challenged"
Expansion of Store Fleets Slowest in Five Years - 1% Growth
Morgan Stanley Report - The Retailer's List
The analysts pointed to a slowdown in the expansion of store fleets across retail, with current growth at less than 1% as compared to a 2% to 3% expansion over the past five years. And even as retailers make fewer risky decisions about capital spending, their margins are eroding as the "lion's share of retailer growth" comes through e-commerce, which has lower margins than store sales, the analysts note.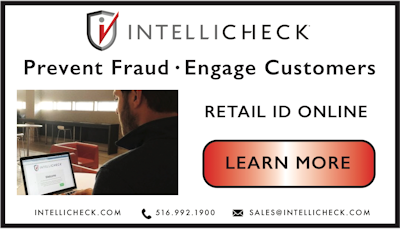 All that leaves the more "e-commerce resilient" retailers in a better position to draw returns from their investments in stores and other spending, according to the Morgan Stanley team. Among them are the off-price sellers - namely TJX Cos., Ross Stores and Burlington Stores - which have been rapidly expanding their store fleets and posting enviable sales gains. The analysts also include in this group Home Depot, Lowe's, Costco, Ulta, Michaels and auto parts sellers.

As the Morgan Stanley team frames it, retailers have been caught in a "margin downdraft" since 2012 - during which time their earnings margins have shrunk by 230 basis points - due mainly to e-commerce competition, the rise of price transparency, shifts in their own sales from stores to online and the high cost to retailers of free shipping.

The analysts describe the retailers in this boat as "e-commerce challenged," as they are "the most at risk from the growing presence of Amazon" and falling returns on the investments they make to compete. The group, in the analysts' view, includes: Pier 1 Imports, Williams-Sonoma, Bed Bath & Beyond, Dick's Sporting Goods, Walmart, Target, Sally Beauty, Macy's, Nordstrom, Kohl's, L Brands, Chico's, Tiffany, Lululemon, Michael Kors, Urban Outfitters, Gap, Tapestry and American Eagle. retaildive.com

Don't Let Divisions Lead to Workplace Dysfunction
For many of us, the workplace has become the most diverse setting in our lives. Our work relationships tend to cut across race, gender, religion, sexual orientation and political persuasion. Because of this, workplace environments have the potential to orient us toward working across differences more than anyplace else.

Still, businesses often represent a microcosm of society and companies find it more and more difficult to avoid the tension that society's divisiveness creates. Studies show that workplace tension causes both generalized stress and an increased reticence around talking about controversial issues, even when they impact the work. shrm.org

Federal Overtime Rule Changes Are Coming Jan '19
A halted 2016 rule would have doubled the salary threshold, but the new proposal is expected to be less sweeping. The new rule will likely be more accepted by the business community, said Eric Magnus, an attorney with Jackson Lewis in Atlanta. shrm.com

"Brandon's Bunch"
Bonus-grabbing Executives are fleeing Toys 'R' Us
With extra dough a long time before the formerly titantic chain goes down at the end of July.


Toys 'R' Us Chief Executive David Brandon and many of his top lieutenants will exit the bankrupt chain on Monday - with the pockets of at least five of them stuffed with bonus money, The Post has learned.

The execs will walk away from the sinking ship of a chain while thousands of hourly workers finish the grim task of completing liquidation sales at hundreds of stores across the country.

The five execs in Brandon's bunch shared $8.2 million in retention bonuses, approved by the company a week before the Sept. 19 bankruptcy.

"It's very unusual for the C Suite to leave before the business is entirely wound down," said bankruptcy lawyer Richard Weltman.

Industry insiders say that it's likely that senior Toys 'R' Us executives will be sued for their roles in the bankruptcy. nypost.com

Staples Lays Off More Corp. Jobs

Framingham-based TJX lays off 300 employees

The clock is ticking for Ascena

Burberry Accuses Target Of Counterfeiting Its Iconic Scarves, Other Accessories

80% of Merchants Believe Real-Time Payments Will Replace Payment Cards

Sears Exploring Formal Sale of Assets

Rockport Files Bankruptcy - Store Closings Likely


Quarterly Results
Jamba Q1 comp's up 2.3%, 2017 comp's down 0.4%
Ingles Markets Q2 comp's up 1.7%, net sales up 4.1%

Last week's #1 article --
Sensormatic Global Shrink Index
New Shrink Study from Tyco Retail Solutions Reveals the Products and Brands Most Likely to be Stolen from Stores
Shrink costs U.S. retailers a staggering $42.49 billion in 2015.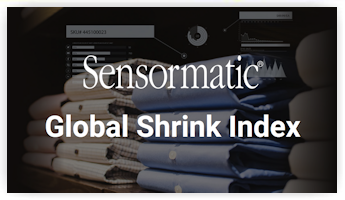 That's according to the 2018 "Sensormatic Global Shrink Index" from Tyco Retail Solutions, which found that the most likely to be stolen from U.S. stores included clothing, cosmetics, jewelry and confectionery, as well as consumer electronics. The brands targeted the most included Guess, Gap, Revlon, Apple (and Beats), Samsung and Sony.

U.S. fashion and accessories stores had the highest rate of shrink by retail vertical, the survey found. Office equipment stores had the lowest. Read more here

Retail Risk - Dallas: The world's biggest LP conference series comes to Dallas - May 17th 2018
Since its inception the Retail Risk conference series has become a mecca for senior retail risk and loss prevention professionals. Here's why...

An outstanding agenda, bursting with an international cast of retail risk and loss prevention elite, leading academics and law enforcement personnel. Each offering their own unique insights and expertise, with nothing held back. All for delegates to study, learn and profit from and provided free of charge.

Add to this a great range of exhibitors demonstrating the latest tech and techniques; unparalleled networking opportunities between professionals; round table sessions facilitating free discussions in complete confidence on hot topics affecting retail; as well as complimentary refreshments and an excellent, hot lunch... and you can see why Retail Risk - Dallas will become a welcome addition to the biggest retail risk and loss prevention conference series in the world.

For more information, including registration, click here