Vitamin Shoppe's Gary Johnson:
LP Leaders Must Be A Catalyst For Change

By Jennifer Overstreet
Published: May 13, 2013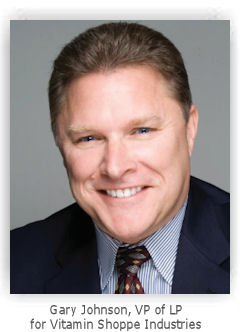 Not long ago, retail loss prevention was focused on catching shoplifters. But over the course of the last couple decades, the profession has evolved along with the entire industry. Effectively countering cyber crime, organized retail crime, workplace violence and other increasingly complex threats means loss prevention executives are more than a physical presence in a store – they're earning a voice in strategic business decisions and working cross-functionally in sophisticated ways.

In advance of our Loss Prevention Conference next month, we've been exploring how many of today's seasoned LP executives have played an integral part in this evolution throughout the course of their careers. To wrap up our series, we spoke with LP Advisory Council Chairman and Vitamin Shoppe Vice President of Loss Prevention Gary Johnson about his personal career journey.

Read on to find out how his first employers gave him a leg up in the business, how rewarding it is to help others and why retail business savvy is critical to success in LP.

When were you first exposed to the loss prevention profession? What made you decide to pursue a career in loss prevention/asset protection?

I first heard about loss prevention while studying law enforcement at Western Illinois University. I decided to do my internship with a retailer named Osco Drug because the thought of catching shoplifters sounded fun — and it was one of the paid internships! After that, I became quite interested in it as a career. I always had an interest in business and law enforcement, and it paid more than a patrolman with the Chicago Police Department, so it was the best of both worlds.

How has your unique personal background helped you succeed in your LP career?

When I began in LP, my early mentors were really retail operators first and loss prevention professionals second. They taught me how to sell prevention concepts, how to show the dollars and cents of a particular initiative, and the importance of influencing people to want to play a role in reducing shrink. Certainly, I had to build experience and confidence with the core competences of loss prevention techniques, but looking back it was more important to gain proficiency with retail concepts and "soft" leadership skills.

Tell us about a particular moment, challenge or success that made you certain this was the right profession for you.

Wow, there have been many. It's very rewarding to help people, whether it's developing a program that keeps people safe at work, helping advance someone's career, or catching a criminal that has hurt others. For example, I still recall working at Pier 1 Imports and how gratifying it was to solve a case involving a string of robberies, one of which involved a sexual assault of an associate. Working the data from my office in Fort Worth, I was able to connect numerous dots and link the right law enforcement agencies. Back in the day, this sharing of data didn't frequently happen between private sector and law enforcement. I'll never forget the associate's reaction when I informed her that the guy who assaulted her had been caught.

The role of LP is continuing to expand and grow. When it comes to hiring and promoting team members, what kind of talent and skill sets are you looking for to be successful now and in the future?

Yes, the role of LP continues to evolve — and that's a great thing! The C-suite has recognized the value that a professionally led loss prevention program means for the business. LP impacts not only shortage reduction and shrink but also IT security, data security, product safety, workplace violence programs, brand reputation, social media and so many more parts of the business. When looking for talent, it's critical to find LP people who have solid core competences, but just as important is retail business savvy. Understanding how all facets of the business work, the ability to identify gaps, and, of course, build remediation plans. Leadership skills are essential. Being able to coach, train, and be a catalyst of change is vital because today's LP professional must be able to influence and motivate cross-functional teams at all levels.
---
This article was published by and recently appeared in LP portion of Retail's BIG blog, a part of the National Retail Federation's (NRF) website. An excellent resource for LP executives to incorporate in your quest for information and education of the LP industry. This is an industry leading publication and one of the best, if not the best, resource for industry leading, thought provoking material that you need to use as you continue to build your career.