NYPD Commissioner William Bratton Joins LP Community
at Annual Downing & Downing Dinner Event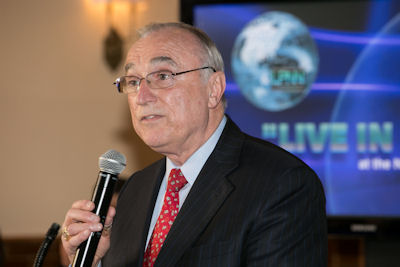 For over 20 years, Downing & Downing has hosted the loss prevention industry's signature new year's event, bringing together retail LP teams and solution providers from the Northeast and throughout the country during the annual NRF Big Show in New York City. The popularity of the D&D Daily and the Loss Prevention News Network (LPNN) has helped make the event even bigger in recent years, drawing larger crowds, educational value, and more prominent industry figures. With "America's Top Cop" - NYPD Commissioner William Bratton - speaking at this year's dinner, "Live in NYC 2016" proved to be our biggest event yet!

Commissioner Bratton arrived to a packed house on Monday evening, January 18th, where dinner guests greeted him with a gracious round of applause. Bratton spent time meeting and taking pictures with LP teams and solution providers in attendance. He then spoke to the crowd about the ORC problems, efforts and current issues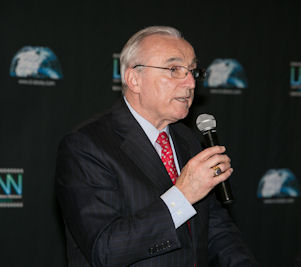 concerning the retail industry - including active shooters, terrorism, retail's label as a "soft target" and what we can all do to help in these efforts. As one of the founders and huge supporters of Los Angeles' ORC Association, Bratton has been a driving force behind helping to establish New York City's new Metro ORC Association. And his passion for the topic certainly showed in his speech to the audience.

Rarely do we have the opportunity to hear from one of the most notable and accomplished law enforcement executives in the United States. And given the current state of affairs and all of our concerns about the safety of our employees, customers and the nation as a whole, we were absolutely thrilled and honored that he took the time to meet with us.

We were able to film Commissioner Bratton's speech during the event, and we will be airing it in the near future through our LPNN channel here on the Daily. Stay tuned!


D&D Daily Honors Rosamaria Sostilio,
SVP Asset Protection, Hudson's Bay Company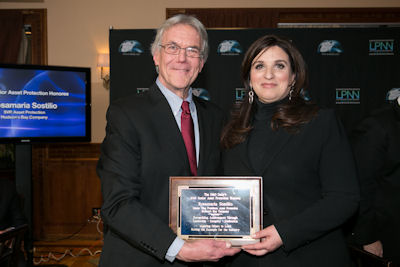 Each year, we at the Daily, along with input from a number of other senior LP leaders, like to recognize a senior leader in our industry that we feel represents the BEST in our industry. An executive who has displayed leadership qualities over time that go beyond the textbook and beyond his or her respective employer. An executive who impacts the whole industry and is able to inspire others to make a difference and help set the standards by virtue of their own actions and expectations.

This year's honoree was Rosamaria Sostilio, Senior Vice President of Asset Protection for HBC - a true leader who has earned the respect and admiration of her peers throughout her 25+ years in the loss prevention industry. Following Commissioner Bratton's speech at the dinner, Gus Downing, Publisher & Editor of the D&D Daily, presented Sostilio with a commemorative plaque marking the achievement. Sostilio accepted the award and gave a short speech to the crowd, where she expressed gratitude for the honor and appreciation to the industry which she has undoubtedly made her mark on.


"Live in NYC 2016" - Our Biggest Broadcast Yet!
LP's Digital Fast-Break Conference
28 Informative Interviews Filmed Over 8 Jam-Packed Hours!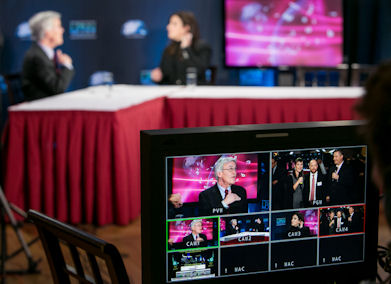 "Live from New York, it's the D&D Daily!" declared Joe LaRocca and Amber Bradley in their now-signature LPNN broadcast kickoff. Our charismatic Co-MC's guided us through yet another groundbreaking marathon broadcast at this year's "Live in NYC" event, which streamed live online to thousands tuning in throughout the LP industry. Designed as LP's 'Digital Fast-Break Conference', the free broadcast provided knowledge, stories, and insights normally restricted to conference attendees.

Gus Downing, Publisher & Editor of the Daily, interviewed LP leaders, retailers and solutions providers on a variety of hot topics - including organized retail crime, cybersecurity, LP's role in technology, mastering the change process, research & development, critical incident management, and so much more! While Joe and Amber (and a few surprise guests) provided plenty of fun and excitement along the way!
The D&D Daily is proud to present:
The 2015 Group LP Selfie Photo Challenge Winners!
Winners were chosen LIVE at the NYC event by NuTech National! Congrats to all!
During our "Live in NYC 2016" broadcast, three LP teams were selected in a drawing to win a free pizza party, sponsored by NuTech National.

One retail LP team member was also selected to win an all-expense-paid trip to attend the upcoming NRF Protect Conference in Philadelphia this June.

Congrats to all the winners! Be sure to submit your team's new photo in 2016 - and you too could win one of these great prizes!


Some of the Retail LP Teams who took their picture with
NYPD Commissioner William Bratton

| | |
| --- | --- |
| Hudson's Bay Company | Macy's |
| Bloomingdale's | J. Crew |

Want to see and download more pictures from the event? Click here