The Truth about Employee Theft:
5 Myths that Deter Resolution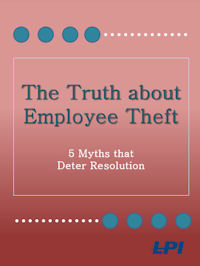 Internal theft is the leading cause of loss in the retail and restaurant industry. Although, in theory people enjoy the discussion, in practice the confrontation can be discomforting. No employer wants to "believe" that their employees have stolen from them. Often that discomfort helps to create certain myths about employee theft.

In psychology there is something called the "self-confirming" hypothesis. That is we only attend to the information that supports what we already believe. In an investigation that means we seek out only the evidence that supports our theory and ignore the pieces that don't fit.

This is often the case in our beliefs on employee theft. It is far easier to believe that only "bad" people steal. The problem with that belief is not whether it is valid, but whether we are using the proper definition of "bad."

This eBook contains some of the most common "myths" or beliefs that companies hold in evaluating the level of employee theft in their organization.