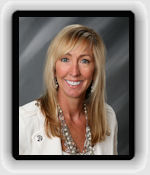 Teresa Godwin Joins Vector Security's NAD Team!
Newest National Account Manager to serve the Southern United States

Citing her long-term experience in serving national retail customers, Gary Fraser, Vector Security's Director of North American Sales for its National Accounts Division, recently appointed Teresa H. Godwin to expand Vector's National Accounts sales force. Godwin, a 19-year industry veteran, held previous positions at Sensormatic – Tyco – ADT, and most recently with Universal Surveillance Systems (USS). She will be responsible for a growing number of Vector Security accounts throughout the Southern United States.

According to Fraser, the appointment makes great use of the strong career experience
Ms. Godwin brings to Vector. "Managing a successful national accounts program requires placing personnel in key performance areas of the company who understand the national retail loss prevention environment as well as they understand the operation and application of the various technologies. As Vector Security advances from its initial focus on intrusion and fire detection services to video, electronic article surveillance and now managed network assets, our goal is to keep searching for high quality people to help us deliver these services. Teresa is the latest in a number of people who we have recruited to meet that demand." Fraser goes on to say that Vector's transition, which began in late 2003, was fueled by attracting a number of highly qualified and enlightened personnel, with experience in national retail video, electronic article surveillance and managed network assets, who were placed in key management roles at the company.

Recently, Vector announced the completion of a new credit facility valued at $225 million, which includes $75 million in new financing, to help fuel the company's future growth. According to Pamela J. Petrow, President, "This additional availability of capital signals Vector Security's strong commitment to embrace future growth opportunities in a variety of significant ways." According to Petrow, "The value of the senior credit facility, in itself, is a strong indication of how lenders view Vector Security's financial viability. In an environment where lenders need to be selective of the companies and business plans they fund, we're proud to know that lenders continue to be very supportive of and continue to grow with Vector Security by making this additional capital available. Vector's superior financial performance and continued strong annual growth, even during the 2008-2010 recessionary periods, is one of the many reasons why lenders continue to support Vector Security."