The Seven Laws of Employee Theft Investigations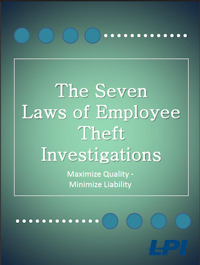 Employee theft accounts for nearly fifty percent of all losses. Resolution of internal issues is a cornerstone to loss reduction. Although in "general" it's as simple as removing the problem – in practice the 7 Laws ensure that:

● Quality investigations are executed
● Potential liabilities are minimized
● Defendable argument for our actions and decisions are created

Each company's individual culture, practices, and operating policies will have an impact on the investigation process. The specific dictates of the investigation process are unique but the broad practices should be ensured. Investigations are one of the most critical elements to loss control, but they are also one of the high liability actions we will take. A thorough, thoughtful, and agreed upon practice increases our efficiency and limits are exposure...