The ISCPO

A Global Platform for Supply Chain Security & Loss Prevention Professionals
Dedicated to educating, developing and driving value to their members

The International Supply Chain Protection Organization has been extremely successful since its inception just one year ago, in their efforts to facilitate communications and bring together the Loss Prevention executives in this highly specialized group on a global scale. With launching their web site just 30 days ago this group has met with an overwhelming response from Supply Chain Loss Prevention executives worldwide. The Daily had the privilege to speak with Glenn Master, Co-founder and Chairman for this organization, about their efforts and about how they plan on supporting the industries they represent and the members they hope to help develop.

Launched in 2012, the ISCPO has been focused on building its core deliverables and establishing an organization that truly represents a group of executives that quite frankly has been un-recognized and under appreciated for decades. With the primary focus being on developing a global resource for these executives to be able access information, tools, and fellow executives that can help them improve their individual and corporate performance and impact, the group allows these executives the opportunity to network, grow, and seek the answers they need to solve the issues and problems we all face in our day to day professional lives.

Starting the group in LinkedIn at first, gave Glenn the opportunity to gauge the interest level and really be able to fine tune exactly what the group needed to accomplish and deliver in order to truly add value to this specific industry group and the individuals themselves. After the first three months they had over 300 fellow Loss Prevention executives coming together under the common goal of increasing the level of professionalism and impacting the companies they all work for. And now, after launching the web site last month, they've grown to over four hundred members representing twenty different countries.

With the launch of the group's website, they're expanding their abilities to impact the industries in which they serve all over the world. Launched August 6th the web site was designed as a means to create a global platform for them to be able to interact, share, and communicate about issues and trends that are changing their industry as fast as the retail industry is changing itself. With its secondary goal of delivering and facilitating educational offerings, the group plans on holding events and allowing for the publication of various industry whitepapers or postings in relation to certain industry topics on their web site.

Meet the ISCPO Leadership Team


Glenn Master, Chairman and co-founder; Director of Loss Prevention for Newgistics

Rod Fulenwider, Vice Chairman and co-founder; General Manager for D & L Protective Services

Byron Smith, Treasurer and Chairman of Risk Mgmt./Legal committee; Corporate Supply Chain Asset Protection Manager for 7-Eleven

Aaron Henderson, Chairman Distribution committee; Director of Loss Prevention for Penske Logistics

Corey Tinsman, Chairman Manufacturing committee; Security Manager for Texas Instruments

Gunther Hoock, Chairman Logistics committee; Director, Safety, Security & HazMat for Horizon Lines
Bill Gavin, Chairman Retail committee; Director of Loss Prevention Supply Chain, BCB, Business Services, and Loss Prevention Business Intelligence for Office Depot
Law Enforcement, Chairman position currently open

With an internal organizational structure reflecting the wide span of various industries, they formed six specific committees that can help deliver subject matter expertise to their membership based on the specific industry group they represent.

Glenn credits the early successes of this organization to being able to establish a network platform that allows these executives, who span across different business segments, all sharing a common goal, to come together in one group—a platform and group that has never been done before. In the past, supply chain executives who needed information or assistance with an issue outside of their specific four walls had to rely on the old technique of calling around and finding the resource. This process took time and quite often didn't produce the results needed to quickly resolve issues and move programs forward. However, with this new structure and platform making resources being easily accessible, they can offer subject matter expertise as fast as the click of the mouse.

The future of this organization seems almost ensured, as the executives who are steering it are proven leaders in their own specialties. With hopes of launching official membership and partnering globally with retail cargo theft task forces and law enforcement in the near future, the organization will then be in a position of being able to offer assistance in helping to solve more complex criminal cases as well. Going one step further Glenn also talked about how the organization has partnered with the Loss Prevention Foundation to promote the LPC and LPQ certifications, and how they would like to expand their formal educational opportunities for all supply chain Loss Prevention and Security executives. Next year they also plan on holding their first two-day supply chain conference in September 2014 in Texas and will hopefully be releasing more information on that very soon.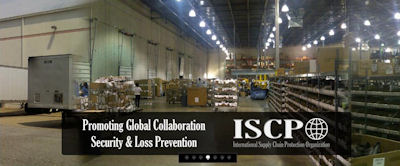 This group has done an incredible job so far at bringing these executives together under the common goal of Leadership & Development and we at the Daily applaud their effort. If you're an LP or security executive in the supply chain field we strongly recommend you become a member, as all of us are only as strong as the group we are a member of, and this group has some of the industry's best.

For more information about the ISCPO and their networking and educational efforts visit their website, www.iscpo.org. You can also visit their LinkedIn page here.