The Increase of Internal Fraud Over Time
When it comes to shrink, the first thing that comes to mind for many is shoplifting and organized retail crime. As loss prevention professionals, though, we understand that this just isn't the case. Every year the National Retail Security Survey reminds us that shrink is increasing, and that 44-47 percent of that shrink comes from internal fraud. Add to this training and clerical errors and it becomes clear that well over 50 percent of all shrink comes from inside the organization. But why does this number keep growing?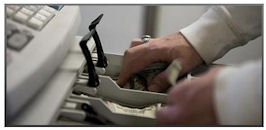 First, let us remove clerical errors from the equation (after all we are human), and focus on the actual fraud taking place. With total shrink increasing annually, and internal fraud increasing with it, there has to be something going on here that is causing employees to take more and more each year. One of the theories behind this is a fairly simple economic factor, inflation. Items are becoming more expensive, and in many cases smaller. This means that employees can take fewer items, but have a large impact over time. This theory is fairly logical, but it doesn't fit all areas of retail.

Another theory that goes along with inflation involves employee salary. The thought process behind this theory is that retail associate's pay increases do not reflect the increase in inflation. In other words their pay goes up, but not as much as it "should have." In the area of organizational behavior there is a workplace deviance referred to as property deviance. Property deviance involves an employee who feels as though they are not being paid fairly, and so they either steal or damage items from their employers (nine times out of 10 they go the stealing route). This theory makes sense, but there is more to it.

To go along with property deviance there is something referred to as graduation, or escalation. This is when employees start to take more and more over time because they have not been caught and feel as though they can. This act has been studied by many, and has been confirmed in factory and office setting, but never for retail. We felt as though this needed to change because it's one thing to make decisions based on a theory and another to make decision based on a proven theory. We set out to try and confirm the theory of escalation using statistics from our own clients, and put our results in an executive white paper.