Rosamaria Sostilio, Sr. VP of AP for Saks 5th Avenue
Chairperson NRF Loss Prevention Advisory Council
Rosamaria Sostilio, SVP of Asset Protection for Saks Fifth Avenue, was appointed Chairperson of the NRF Loss Prevention Advisory Council this past June. Rosamaria has close to 30 years of industry experience and is one of the first executives to assume a senior vice president position in Asset Protection. We recently caught up with Rosamaria in New York and had an opportunity to talk.

D&D: Rosamaria, congratulations on your appointment.
RS: Thank you so much. I'm grateful for Gary Johnson's leadership and I'm honored to succeed him as Chair for the NRF LP Council. The LP council is such a prestigious group and I would also like to thank them for all of their support.

I returned to my office after this year's conference even more energized than I ever have been in the past and I'm extremely excited about the next two years, as we have a number of exciting initiatives happening at the NRF. The evolution of the retail industry is quite extraordinary, and the rate of change seems to accelerate each and every day. It is indeed an exciting time to be in this industry, especially as many of our companies are evolving to Omni-channel retailers.

D&D: There is so much happening within our industry today as you mentioned. From Omni-Channel, Mobile POS, NRF's Retail as a Career campaign, etc. etc. You really have your work cut out for you.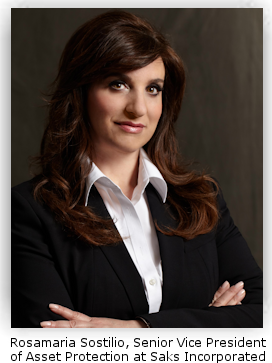 RS: I think that's an understatement, but I view all of the changes not as challenges but rather exciting opportunities; for me personally and for our industry. As loss prevention professionals, we have an important role – more critical than ever before – in supporting this transformation in the industry and at our respective companies. We must serve as true stakeholders and have a seat at the table. Our advice, perspective, and counsel are needed and should be appreciated. Loss prevention in an Omni- channel environment means not only overseeing merchandise that goes in and out of our buildings, but also ensuring the best customer experience while protecting the company's assets as they flow through the many channels of retail. In this day and age, loss prevention and retail also mean serving as a reliable source of information and a beacon in the community during times of emergency. Truly our role in the retail industry and as loss prevention professionals extends beyond the four walls of our stores.

D&D: What are some of your immediate objectives?
RS: Over the next two years, I hope to inspire and challenge everyone to elevate their role in their companies and to get involved in the industry and in NRF. Our focus as an organization will continue to be on innovation, community and career development as we support the retail evolution, and I believe that there are ample opportunities for each of us to take an active role. Throughout my career in loss prevention, I have seen the NRF grow to meet the ever changing needs of the LP community. And much of that can be attributed to the active participation of our members. In fact, since my initial involvement with the NRF, I'm proud to say that the NRF LP Community now has over 8 committees, with representation from over 9,000 retailers. I want to bolster participation and attendance at this year's conference in Ft. Lauderdale and exceed the more than 2,000 attendees that came to San Diego this past June.

D&D: One of the pillars in the NRF's current campaign is innovation. Can you touch upon that?
RS: Our industry is ever evolving. A critical piece of innovation is ongoing education and sharing ideas and best practices, and we are fortunate that the NRF remains the Gold Standard of retail trade organizations in its availability of information and ongoing education. We need to challenge the status quo, look for new and better ways to do things, and embrace new technologies as appropriate. We are at the forefront of innovation.

D&D: Touch upon the commitment to community if you would.
RS: As retail executives we need to think beyond the four walls of our stores. As LP professionals and members of the NRF, we can have a real impact on our local communities that we serve. In fact, one of the most significant accomplishments we've had as an organization is our involvement in championing Organized Retail Crime legislation and partnering with the law enforcement community, educating them and keeping the issues top of mind as retail crime continues to rise. Subsequently, more than 40 states have introduced ORC legislation to assist retailers and law enforcement in prosecuting these complex ORC rings in the past decade. We are a powerful force in our communities.

D&D: You've always been recognized for giving to others, getting involved and mentoring others to successful careers within our industry. Why is that?
RS: I've always viewed mentoring as a way of giving back and getting involved. A tenant of the NRF is to promote retail as a career. Over the next two years I will be placing a major emphasis on career development and promoting career opportunities. As I and many others can attest to, retail is not just a summer job. It can instead be a very rewarding career filled with opportunities and the potential for longevity. Whether your passions lie in human behavior, physical security, investigations, security management, technology, risk management or ethics, there are career opportunities in abundance and we need to start spreading the word and looking for future leadership. The Advisory Council alone represents a cross section of retailers, and combined we have hundreds of years of experience to offer.

If you are just starting out in retail, you can learn from the experts - attend the Investigator network meetings and join the professional development calls. One of the committees I helped to develop is the Women in LP caucus, which has now evolved into a professional development program, and includes mentoring, quarterly development calls and many networking opportunities.

If you are in management, you can give back by mentoring a junior executive or colleague or join an NRF LP committee. We must take an active role in developing our own careers and those of others.

D&D: Any predictions for the next two years?
RS: From my early beginnings as a member of the NRF and of the past 8 years serving on the LP Advisory Council to the next two years as this organization's chair, I believe that we have and will continue to make a real impact in the industry and the communities we serve. I encourage everyone to take an active role, take advantage of the available resources and share your feedback with me (rosamaria_sostilio@s5a.com).

We have much more to accomplish over the next two years, and I'm confident that we can continue to make a difference together.