Corporate Asset Protection Team Members help Dallas-area charity
serve meals to the homeless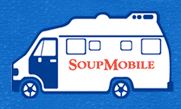 On November 9, more than 50 corporate associates and family members from 7-Eleven joined the non-profit The SoupMobile in creating meals for the homeless. The organization serves more than 200,000 meals every year to the homeless in the Dallas area. The Corporate Asset Protection Team joined the group to build about 1,200 sandwiches that included chips and cookies. Many of the associates' family members joined as well. It was an awesome event, and Team 7-Eleven Together is Making a Difference! #7elevenserves

The SoupMobile also shelters the homeless in their eight group homes in a program called SoupMobile Village. And every year the SoupMobile takes 500 homeless men, women and children off the streets of Dallas and puts them up at the spectacular downtown Dallas Omni Hotel for Christmas. You can find out more about the SoupMobile by going to www.soupmobile.org.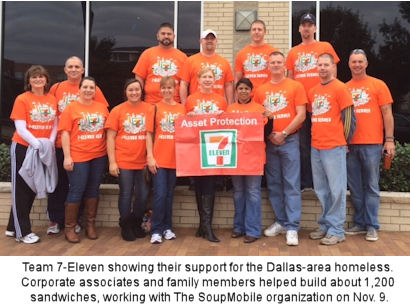 Thank you to Byron Smith, Corporate AP Manager, Acquisitions & Supply Chain, 7-Eleven,
for submitting the article and picture.