Photos released of three suspects being sought for stealing 62 bras from Victoria's Secret in the Tri-County Mall in Springdale, Ohio Three women walked into Tri-County Mall and walked out with more than $3,200 in bras. The theft happened on Nov. 5 at about 12:30 p.m. at the Victoria's Secret store in the mall. Springdale police say three women stole 62 bras valued at $3,224. Detectives said the women waited outside the story for employees to get distracted, then they ran in and loaded the bras into bags. (Source wcpo.com)



Three Montgomery, Alabama women accused of stealing nearly $2000 of merchandise from Walmart Three Montgomery women trying to create their own holiday discounts at the Andalusia Walmart were still in the Covington County Jail Tuesday after nearly $2,000 worth of merchandise was taken, according to Andalusia Police Department Sgt. Jody Scott. Scott said, the three suspects were each charged with theft of property II, after allegedly walking out the door with an array of items. (Source andalusiastarnews.com)

Columbus man charged with robbery in Springfield, OH, stealing Crest White Stripes from Rite Aid A 31-year-old man is accused of stealing Crest White Strips from a pharmacy on Friday, then threatening to stab a store security officer when he was confronted. Jerry W. Gelpi, who told officers he lived in Columbus but couldn't remember the address, was acting suspiciously. A Loss Prevention agent saw Gelpi open two boxes of Crest White Strips with a pocket knife and put the product in his pants pocket. When confronted, Gelpi reportedly handed the white strips over and stated he would pay for them. Gelpi then pulled out his knife and told the agent he would stab him. Gelpi then reportedly fled the store, where a police officer saw him fleeing. Gelpi was apprehended soon after. (Source abc22now.com)


Two female shoplifters being sought for theft of cases of Red Bull being stolen from a Fort Worth, Target; assaulted a Loss Prevention agent Officials in Fort Worth are trying to identify two women from surveillance photos who are accused of stealing Red Bull energy drinks and assaulting a loss prevention officer, according to a spokesperson for the police department. Police say that the women were seen loading the Red Bulls into a cart at the Target on Overton Ridge Boulevard at 12:40 p.m. Oct. 26. When the suspects tried to exit the store, loss prevention officers tried to detain them, but the women allegedly assaulted one of the officers and fled the store. (Source myfoxdw.com)

Lower Nazareth, PA woman steals $785 in merchandise from PetSmart
A Monroe County woman, accompanied by her dog, entered a Lower Nazareth Township pet store Friday and stole nearly $800 in merchandise, according to court papers. Store security at PetSmart noticed that Roseanne Marie Simeone, was acting suspiciously in the store. Simeone had formerly been employed as a vendor at the store, and is under investigation for retail thefts in multiple jurisdictions. Simeone had come into the store about 1:50 p.m. with her dog, which she often had groomed at the store. Simeone was spotted taking flea and tick medication off the shelves and placing them in a bag with a sweater on top. (Source lehighvalleylive.com)

Kroger Loss Prevention apprehends a man with over $600 in baby formula in Johnson City, Tenn. Johnson City Police Department arrested James Rickey Kennedy and charged him with theft over $500.00, 3 counts of criminal simulation and 2 counts of contributing to the delinquency of a minor. On 11/11/13, officers responded to Kroger, on a shoplifting. During the investigation it was determined that Kennedy selected more than 40 cans of baby formula and passed the point of sale without making payment. Kennedy fled from the scene with more than $660.00 worth of product. Kennedy had two children with him during the theft. (Source johnsoncitypress.com)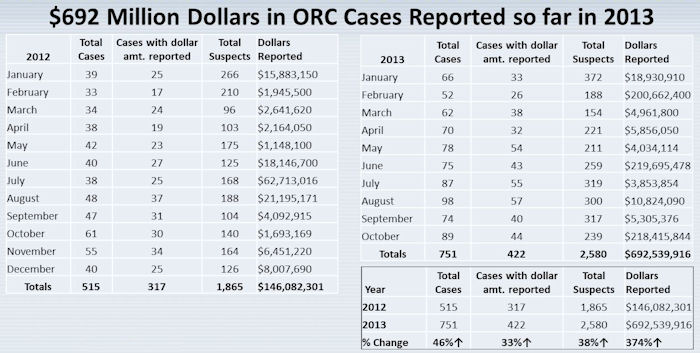 As reported by the D&D Daily.
Follow our analysis all week for more ORC statistics.

"Protection 1 is proud to be sponsoring the D-D Daily ORC column to ensure the LP industry gets the information, education and critical data they need to fight this national epidemic."
Rex Gillette, VP Retail Sales, Protection 1.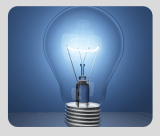 What's Happening?
Coming soon:

Mobile App's

LP Show Coverage

The Top 10