Vector Security Awarded 2013 Retail Market
Partner of the Year for North America
by Axis Communications
Security leader recognized for continued growth and commitment to
IP video surveillance technology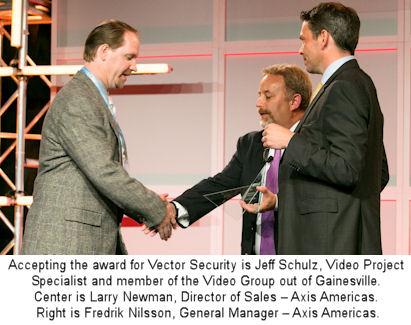 PITTSBURGH, PA, November 14, 2013 – Vector Security, Inc., one of North America's top electronic security companies, was named the 2013 Retail Market Partner of the Year for North America by Axis Communications, the world leader in network video.

Axis presents the Retail Market Partner of the Year award annually to recognize the success and commitment of one partner to driving the shift from analog CCTV to IP-based network video surveillance in the retail segment. The award was presented to Vector Security during the eighth annual Axis Channel Convergence Conference (ACCC) held in Carlsbad, CA. from October 7-10.

"Vector Security is pleased to be recognized by Axis Communications for our work with IP video," said Steve White, Corporate Vice President of Business Development, Vector Security.

Read more here.