Retail Net-Alert Welcomes Macys and h.h.gregg to its Organized Retail Crime Network Notification System

Macys and h.h.gregg to use Retail Net-Alert to combat theft and loss of merchandise from organized retail crime.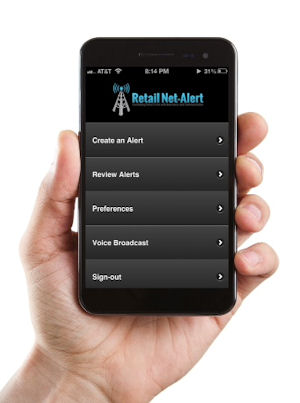 Atlanta, Georgia - Nov. 20th, 2013 – Department store chain, Macys, and home appliances and consumer electronics retailer, h.h.gregg, have adopted Retail Net-Alert's Organized Retail Crime Network Notification System as part of their efforts to combat theft and loss of merchandise to organized criminals. Retail Net-Alert is a subsidiary of Atlanta-based Strickland Security & Safety Solutions, and uses a mobile application and encrypted database to improve the defenses of retail businesses against Organized Retail Crime (ORC).

ORC refers to professional shoplifting, cargo theft, retail crime and other organized crime occurring in retail environments. The FBI estimates that ORC cost businesses an estimated $30 billion a year with more than 94% of retailers becoming victims of such crime in the past 12 months. Such criminal events are increasingly brazen and violent, and show no sign of decline despite heightened security measures.

At the core of the Retail Net-Alert system is the mobile application that runs on any modern smartphone. The application features an easy to use interface for fast and accurate communication between teams and individuals, and integrates voice broadcasts and facial recognition capabilities to quickly react to criminal activities as they occur.

"We are thrilled to have both Macys & h.h.gregg on the team," said Rob Strickland, President of Strickland Security & Safety Solutions. "The best method to combat the multi billion-dollar ORC problem is to take a collaborative approach that factors in people and technology and provide timely communication and information to key stakeholders."

Todd Zimmerman, National LP Manager at h.h.gregg adds: "We have found Retail Net-Alert to be the fastest and smartest way to increase theft awareness in our multi-store company. We are confident that their systems will position us, and any company, on the cutting edge of protection against ORC.

Apart from clothing and electronics chains, Retail Net-Alert is currently being tested in other markets and industries including the grocery and drug store chains where retailers who also are frequent targets of ORC. "Our strategy is to work with the grocery and drug retailers in the near future to demonstrate that our awareness and notification system can make a difference to the safety of their employees and safeguard of their products," Rob Strickland concluded.

About Retail Net Alert
Retail Net Alert is designed to assist retail loss prevention executives & store management with providing Organized Retail Crime (ORC) incident notifications to their peers and neighboring locations. The software can be customized to interface with local ORC email groups or to collaborate with fellow retailers. The software is available for every major smartphone, tablet and PC device. For more information visit the website www.retailnetalert.com.



Retail Net-Alert Contact:
Robert Strickland, President
Email: info@retailnetalert.com
Phone: 800-422-9075