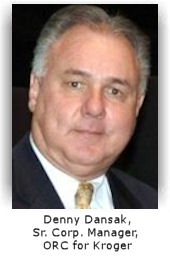 Kroger's ORC Leader Denny Dansak in the news - Retail giant makes law enforcement a priority at Kroger (KR) stores It's all in a day's work for Dennis Dansak, senior corporate manager of organized retail crime for Kroger. A former FBI special agent, Dansak runs a team of about 25 investigators who share video surveillance and other resources with police looking into theft rings. Since 2009, Dansak's team helped break up stolen property rings in Los Angeles, Seattle, Nashville and now Ohio. "We've had over 600 arrests of people involved fencing operations" since 2009, Dansak said. "Out of those 600 arrests, we haven't lost a case. Most haven't gone to trial. They all pleaded guilty." "We've interviewed boosters who tell us they average about $15,000 a month," said Dansak. Dansak said Kroger uses video surveillance and interviews with detained boosters to gather information on organized retail crime rings. Dansak spends a lot his time educating law enforcement agencies on the advantages of building bigger cases, instead of prosecuting boosters for single theft at a single store or jurisdiction. "The key is working with law enforcement," he said. "We can identify all the fences we want. But if we can't get prosecutions made, that's a stumbling block. Coming from the DA's office ... I can tell you law enforcement wasn't educated. Once they understand this is not shoplifting, they see this results in large amounts of seizures, recovered property. We go after their financial accounts." In Los Angeles last year, Dansak said Kroger helped authorities seize $752,000 from a safety deposit box tied to an organized retail crime ring. Three years ago in Seattle, it helped law enforcement track a theft ring to a car dealer who was shipping vehicles to Cambodia filled with stolen goods. (Source wcpo.com)

Alhambra, Ca., man sentenced for $1 million credit card fraud scheme
An Alhambra man received a sentence of more than 7 years in federal prison Thursday for heading a global credit card fraud ring that netted more than $1 million, authorities said. He was convicted of leading a fraud ring that, "used stolen credit card numbers from around the world to buy hundreds of thousands of dollars of luxury goods, cosmetics, electronics and other merchandise at retail stores," Mrozek said. Once credit card information was obtained, "That stolen information was used to manufacture counterfeit credit cards that bore the names of 'runners' — co-conspirators who went to retail stores including Nordstrom, Macy's, Apple and Abercrombie & Fitch — who used the fake cards to make fraudulent transactions," according to Mrozek. "After the runners purchased items with the counterfeit credit cards, they either returned the goods for credit, or the goods were sold to other parties." (Source insidesocal.com)

Two male suspects busted with $16,000 worth of gift cards, stolen credit cards and fake IDs in American Fork, Utah Wal-Mart American Fork Police said Lin Chen and Zheng Bing Ni from California, allegedly used stolen credit cards to buy dozens of $900 gift cards at Wal-Mart. Chen and Ni told police the person they were working for would let them keep 20% of everything they were able to steal in Utah. The investigation is ongoing. (Source ksl.com)

ORC defendant pleads guilty to six thefts gets 24 months in prison in Mahoning Township, Oh.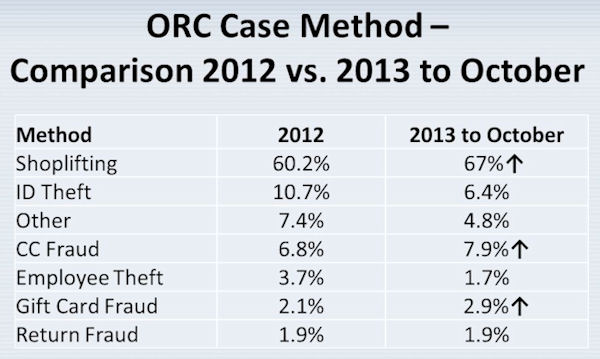 As reported by the D&D Daily.
"Protection 1 is proud to be sponsoring the D-D Daily ORC column to ensure the LP industry gets the information, education and critical data they need to fight this national epidemic."
Rex Gillette, VP Retail Sales, Protection 1.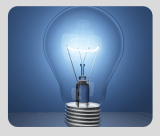 What's Happening?
Coming soon:

Mobile App's

LP Show Coverage

The Top 10