Boise Idaho Police Department wins national award
for efforts in reducing ORC

Boise's ORC Interdiction Team helps reduce retail loss to fraud and theft by 41%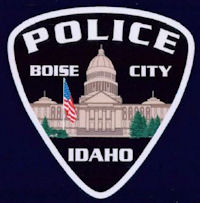 This fall, the Boise Idaho Police Department was awarded the 2013 International Association of Chiefs of Police and Cisco Community Police Award for cities with a population of 100,001 to 250,000 residents. The Boise Police Department earned the distinction, in part, because of the work of its Organized Retail Crime Interdiction Team.

Formed by BPD in 2005, the team has helped reduce retail loss to fraud and theft by 41 percent in Boise compared to national rates. Through strategic partnerships with retailers such as Albertsons, Fred Meyer, Home Depot, Walmart and many others, the department team was able to implement a sophisticated prevention solution that is now being held up by other law enforcement agencies as a national model for successful community policing practices. BPD was honored at the IACP's Annual Conference in Philadelphia on October 20. To read the full IACP press release, click here. Congratulations to everyone involved in this successful initiative. It's partnerships like yours that show the great results that can come when Loss Prevention collaborates with Law Enforcement, working together to achieve one common goal.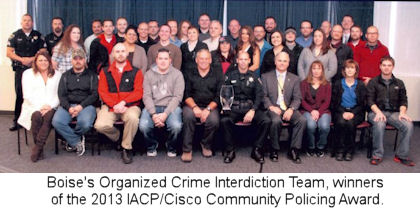 ORC a worldwide problem - and it's a big problem in Australia & they're shipping goods overseas as well - their recent "Operation Lightfingers" busted 98 suspects International criminal groups are targeting Australian stores this Christmas, using runners to buy goods with fake gift cards and then ship the stolen items overseas to be sold. Police said shoplifters had become "highly sophisticated", stealing millions of dollars worth of retail goods with the fake cards and vouchers. Some of the criminal groups employ runners who will steal goods and ship them overseas, he said. Other gift cards are bought online using fake credit cards. (Source smh.com.au)

Seattle South Precinct Anti-Crime Team bust ORC retail theft ring - fencing operation A South Seattle business owner was arrested on Friday for knowingly buying and reselling stolen items inside his store. On 12-13-2013, at approximately 2:00 p.m., the South Precinct (ACT) Anti- Crime Team served an arrest/search warrant on a store in the 7600 block of Rainier Avenue South. The search warrant followed a 6-month long undercover investigation by South ACT concerning the purchase and resell of stolen items from area Safeway and QFC stores. During the 6-month long investigation, officers worked undercover posing as boosters; selling various items to the 44-year-old man and his wife. Information gathered during the course of this investigation, provided investigators with probably cause to believe that the store owner and his wife were knowingly buying stolen items for pennies on the dollar and then using those stolen items to stock the shelves of their business. The items were then resold to customers at retail price. (Source seattle.gov)



4 Stores- 5 convenience store employees charged with reselling items stolen from Kroger, Publix in Huntsville, AL Investigators partnered with Kroger and Publix grocery stores for several months, investigating convenience stores that police say bought merchandise stolen from Kroger and Publix. According to police, this detail, combined with previous operations, resulted in a reduction of retail thefts for the two grocery stores. (Source al.com)


Jefferson County, TX Sheriff seeking a serial shoplifter facing 8 felony theft charges; believed to be connected to a shoplifting ring

"Protection 1 is proud to be sponsoring the D-D Daily ORC column to ensure the LP industry gets the information, education and critical data they need to fight this national epidemic."
Rex Gillette, VP Retail Sales, Protection 1.