Verint Expands its Retail Focus with
Welcoming New Industry Experts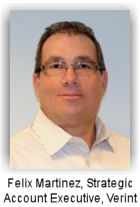 Verint Systems Inc. (NASDAQ: VRNT) has announced the recent hiring of two experienced business development professionals who will focus on the needs of retail organizations for its Video and Situation Intelligence Solutions business line. Felix Martinez, Strategic Account Executive, and Doug Harris, Strategic Account Executive, will help build upon Verint's market leadership in the retail industry as well and introduce new customers and partners to its comprehensive portfolio.

Martinez offers nearly 27 years of sales and management experience in the retail industry. His award-winning and results-driven tactics have helped both end-users and integrators choose and deploy best-in-breed technologies. In his new role with Verint, Martinez will be responsible for generating new sales opportunities as well as building a larger national integrator network. He holds an Electrical Engineering degree that has provided the basis for implementing non-disruptive technology and building customer relationships – delivering service levels unmatched in the industry.

Harris is an accomplished executive professional with over thirty years of sales and engineering in vast technology markets. He comes to Verint with a strong knowledge of emerging technologies, specifically around retail and business analytics. As a previous business owner and national integrator, Harris has a clear understanding of supporting and driving integrators to success. In his new role at Verint, he will be focused on growing relationships with integrators and global retailers.



About Verint Video and Situation Intelligence Solutions
Verint Video and Situation Intelligence Solutions help protect people, property and assets, and enhance operational efficiency. The award-winning Nextiva portfolio delivers a sophisticated framework for capturing enterprise-wide IP video and other security and operational information, and provides users with integrated analytics, situation management and operational management capabilities. Designed for use across the enterprise, finance, retail and critical infrastructure markets, Verint solutions help address the top security and operations challenges facing today's organizations through advanced security and business intelligence, vertical solutions and subject matter expertise.