Axis Upgrades Top-of-the-Line Pan/Tilt/Zoom AXIS Q60 Series with Launch of Nine New Cameras

Indoor, outdoor-ready and active cooling PTZ domes feature improvements to image quality, optical zoom, light sensitivity, multi-stream and intelligent video; Includes cameras with shock detection, image stabilization and automatic defog


CHELMSFORD, Mass. – February 5, 2014 – Axis Communications, the market leader in network video, has upgraded its entire top-of-the-line AXIS Q60 PTZ Dome Network Camera Series for improved image quality, light sensitivity and enhanced capacity for intelligent video.

AXIS Q60 Series – which includes indoor, outdoor ready (-E) and active cooling enclosure (-C) models – now features nine new robust, high-speed pan/tilt/zoom cameras for wide area surveillance in indoor, outdoor and desert-like environments:

| | |
| --- | --- |
| ● | AXIS Q6042/-E/-C with Extended D1 resolution and 36x optical zoom; |
| ● | AXIS Q6044/-E/-C with HDTV 720p and 30x optical zoom; |
| ● | and AXIS Q6045/-E/-C with HDTV 1080p and 20x optical zoom. |

These PTZ dome IP cameras are ideal for city and perimeter surveillance, airports, train stations and harbors, along pipelines, construction and manufacturing sites, as well as sports stadiums.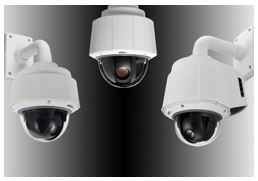 "At Axis, we always strive to make our cameras even better and the improvements we have made to the AXIS Q60s are particularly evident with the HDTV models, especially in low-light situations," says Erik Frännlid, Axis' director of product management. "Customers will appreciate that we have maintained the successful form factor and mechanics that make AXIS Q60 cameras reliable and easy to install."

AXIS Q6044/-E/-C PTZ domes have 30x optical zoom, compared with 18x in previous 720p models, and their light sensitivity is nearly three times better than the industry norm for HDTV cameras. They also support electronic image stabilization to reduce effects of camera vibrations – i.e. from wind or traffic – to provide clearer, more useful video. In addition, they support automatic defog to detect fog in the scene and digitally filter it out of view for clearer video.

AXIS Q6045/-E/-C PTZ domes also have better light sensitivity than its AXIS Q6035/-E/-C predecessors. Furthermore, they have additional built-in video analytics including highlight compensation to mask bright lights for ease of viewing, object removed, fence detector, object counter and enter/exit detection.

An added feature in all new AXIS Q60 cameras is shock detection, which mechanically detects and triggers an alarm if the camera has been hit. The new AXIS Q60 cameras are equipped with a powerful CPU (central processing unit) and co-processor. They enable better image quality and usability, with lower noise, higher light sensitivity for sharper images and more efficient video compression with H.264 Main Profile.

Read more here.