Gus Downing, Publisher & Editor of the D&D Daily, Announced as Keynote Speaker at Upcoming LAAORCA Conference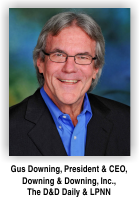 The Los Angeles Area Organized Retail Crimes Association (LAAORCA), the biggest retail LP/police partnership organization of its kind in the United States, will host its 5th annual conference in Pasadena, California, on Thursday, March 6, 2014 from 8 a.m. to 4 p.m. at the Pasadena Convention Center. The event's theme this year is "Walking in the Shoes of our Partners" and will feature a slew of exciting, informative topics for both law enforcement and retail Loss Prevention professionals alike.

The keynote speaker headlining LAAORCA's premier conference this year will be Gus Downing - President, Publisher and Editor of Downing & Downing and the D&D Daily. His speech will focus on Organized Retail Crime, as he discusses where the industry is going and what you need to do to help lead the way. As North America's leading Loss Prevention Headhunter for the last 30 years, Gus will talk about the growing problem of ORC and how it impacts your career long-term. With ORC increasing, mobile payments at the door, online pickups expanding and counterfeit goods exploding, the role of Loss Prevention is changing as fast as the retail space. This timely discussion will cover all of the above and more - as the LP Executive of tomorrow will look totally different than the one today.

Below is a full list of speakers scheduled for the event:

Keynote Speaker: Gus Downing, Publisher and Editor of the D&D Daily, President of Downing & Downing
Mark McClish- Statement Analysis - Advanced Interviewing Concepts.
Deputy City Attorney Travis Austin, LA City Attorney's Office-Civil Litigation.
Deputy City Attorney Kevin Gilligan, LA City Attorney's Office- Counterfeit Abatement Prosecution.
Mr. Grant Moore- Investigations Utilizing Smart Devices.
Eric Shen, U.S. Postal Inspector- Identity Theft.
Sgt. Ostojic, Polk County Florida Sheriff's Department, Organized Retail Crime Alliance.
Sgt. Seifert, Las Vegas Metropolitan Police Department RAPP Team- Organized Retail Crime Partnership.
Rick Serrato, Serrato & Associates- Gang Impact on Organized Retail Crimes.
Mike Swett- Organized Retail Crime Investigations & Search Warrant Preparation.

Register for LAAORCA's Conference here.

See a full agenda of the event here.

For more information contact Detective III Kent Oda, 2014 LAAORCA Co-Conference Coordinator at:
(626) 372-9091, koda@laaorca.org
31 people, including street gang members from "Crips" and "Bloods" busted for operating criminal enterprise - ORC as well in Asbury Park, N.J. The six-month investigation, dubbed "Operation Dead End," began last summer in conjunction with other efforts focused on stemming violent street crimes and firearms offenses in Asbury Park. The investigation discovered members of the criminal organization regularly conspired to commit several different firearms-related offenses, including unlawfully possessing firearms and transferring guns among various members of the criminal organization. The investigation also found members of the criminal organization distributed narcotics, including crack cocaine, heroin, and a synthetic substance known as "molly," a form of Ecstasy, and further revealed members of the criminal enterprise acted together on numerous occasions to commit organized thefts, burglaries, and at least one robbery involving firearms. Several defendants were charged with shoplifting and shoplifting conspiracy, while others were charged with theft. In addition, numerous defendants were charged with conspiracy to distribute a CDS and other distribution of CDS-related offenses. (Source ahherald.com)

Traveling female duo hits Winn-Dixie in Biloxi, MS & others with stolen credit cards to purchase re-loadable Visa cards - more cards found Biloxi Police Sergeant Donnie Dobbs said two women used stolen credit cards to purchase $3,200 worth of re-loadable Visa cards from Winn-Dixie Saturday. Security video shows the women were only in the store for about one minute before they committed the fraud. Dobbs said an alert store associate realized what the women were doing and recognized their description from a WLOX News broadcast in December. Authorities said both women were wearing wigs and baseball caps that were similar to the disguises worn in the previously reported fraud. During the investigation, police seized the rental car the two women were using, an additional wig and 11 additional re-loadable credit cards. (Source wlox.com)

Multi-state credit card fraud suspect busted for over $50,000 in purchases with stolen credit cards in Altamonte Springs, Fla. Investigators in Seminole County are reaching out to agencies across state lines after catching a man they said may be responsible for more than $50,000 worth of credit card fraud. Jeffrey Villines, of Georgia, was arrested in Altamonte Springs after someone inside a Dillard's store spotted him trying to spend more than $1,400 on flagged gift cards, police said. (Source wftv.com)


ORC trio busted hitting Target store in Scottsbluff, NE. Police say that George and McKayla Cantu, as well as Shelly Cervantes were caught on surveillance cameras stealing several Nintendo DS systems from the electronics section. They say George was in possession of the stolen items, while the females acted as lookouts. A VIN search of their vehicle revealed that the car was stolen out of Greeley, Colorado. All three were arrested on charges of shoplifting and possession of a stolen vehicle. George Cantu is also charged with resisting arrest. (Source privateofficer.com)

Two charged with stealing 66 pieces of jewelry from Elizabeth City, Va., Walmart
Elizabeth City Police say on Friday, February 7th, two people broke into an unmanned jewelry cabinet in the store and stole 66 pieces of jewelry worth $2,450. They were both arrested on warrants for felony larceny and felony possession of stolen goods. While in the store they shoplifted other items and were subsequently charged for those items as well. The duo had also been previously banned from all Wal-Mart stores for a prior larceny case in Virginia, hence were charged with trespassing as well. (Source wtkr.com)

Two men steal $6,500 worth of iPhones from Walmart in Aurora, Ind.

Flint, MI woman admits to stealing hundreds of cans of baby formula from Walmart and Meijer stores A Flint woman told a Livingston County Circuit Court judge she stole dozens of cans of baby formula from two stores to sell it to fund her drug habit. Kimberly Kay Genella admitted Friday that she would place "40, 50 or 60 cans" of baby formula in a cart, and because that would look suspicious to store personnel, she used dog food or cat food to cover the cans before walking out of the Hartland Township Wal-Mart and Meijer stores in August and October. Genella would then sell the cans to a woman at a gas station. (Source livingstondaily.com)

"Protection 1 is proud to be sponsoring the D&D Daily ORC column to ensure the LP industry gets the information, education and critical data they need to fight this national epidemic."
Rex Gillette, VP Retail Sales, Protection 1.