Gus Downing, Publisher & Editor of the D&D Daily, Announced as Keynote Speaker at Upcoming LAAORCA Conference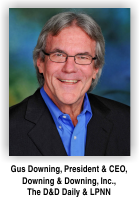 The Los Angeles Area Organized Retail Crimes Association (LAAORCA), the biggest retail LP/police partnership organization of its kind in the United States, will host its 5th annual conference in Pasadena, California, on Thursday, March 6, 2014 from 8 a.m. to 4 p.m. at the Pasadena Convention Center. The event's theme this year is "Walking in the Shoes of our Partners" and will feature a slew of exciting, informative topics for both law enforcement and retail Loss Prevention professionals alike.

The keynote speaker headlining LAAORCA's premier conference this year will be Gus Downing - President, Publisher and Editor of Downing & Downing and the D&D Daily. His speech will focus on how three groups are impacting Organized Retail Crime, as he discusses where the industry is going and what you need to do to help lead the way. As North America's leading Loss Prevention Headhunter for the last 30 years and now the publisher & editor of the LP industry's #1 Daily digital news source, Gus will show you the numbers behind the growing problem of ORC, the historical partnerships that it's created, who's played the biggest roles in impacting the current national models, and how ORC is impacting both the retail industry and the public law-enforcement community. With ORC increasing, identity theft exploding, everybody buying anything they can online, mobile payments at the door, buy online in-store pickups expanding, the role of the Loss Prevention executive is changing as fast as the retail space and so is ORC. This timely discussion will cover all of the above and more - as the LP Executive of tomorrow will look totally different than the one today.

Below is a full list of speakers scheduled for the event:

Keynote Speaker: Gus Downing, Publisher and Editor of the D&D Daily, President of Downing & Downing
Mark McClish- Statement Analysis - Advanced Interviewing Concepts.
Deputy City Attorney Travis Austin, LA City Attorney's Office-Civil Litigation.
Deputy City Attorney Kevin Gilligan, LA City Attorney's Office- Counterfeit Abatement Prosecution.
Mr. Grant Moore- Investigations Utilizing Smart Devices.
Eric Shen, U.S. Postal Inspector- Identity Theft.
Sgt. Ostojic, Polk County Florida Sheriff's Department, Organized Retail Crime Alliance.
Sgt. Seifert, Las Vegas Metropolitan Police Department RAPP Team- Organized Retail Crime Partnership.
Rick Serrato, Serrato & Associates- Gang Impact on Organized Retail Crimes.
Mike Swett- Organized Retail Crime Investigations & Search Warrant Preparation.

Register for LAAORCA's Conference here.

See a full agenda of the event here.

For more information contact Detective III Kent Oda, 2014 LAAORCA Co-Conference Coordinator at:
(626) 372-9091, koda@laaorca.org

ORC charged on male-female duo in Cranberry TWP, PA., after hitting Lowe's
Jared Adam Pakler, 25, of Pittsburgh, and Jena Leigh Nowry, 28, of Ambridge, are facing multiple charges related to two incidents at the Lowe's store. Police allege the duo entered the store on Oct. 6 and Oct. 14, and in both instances filled a shopping cart with items that they then tried to return for a refund without a receipt. On Oct. 6, the pair reportedly returned $290 worth of goods and got a gift card valued at more than $290 before leaving the store. Nowry is alleged to have used a Pennsylvania driver's license with her former name on it to obtain the gift card. On Oct. 13, the pair returned to the store and allegedly used the same method to return more than $252 in goods in a cart, once again getting a gift card. Pakler allegedly displayed the driver's license of another man, according to court papers. (Source thecranberryeagle.com)

Four busted hitting Kohl's in Linden, N.J., with burglary tools to cut security tags
A Linden woman, Elizabeth man and Rahway man have been arrested in connection with allegedly shoplifting from the Kohl's department store and using a 15-year-old Elizabeth boy in the commission of the crime. Store loss prevention personnel told police that a woman wearing a blonde wig walked out of the store pushing a shopping cart with $492 worth of clothing while her three accomplices pushed another shopping cart in the checkout line as a diversion. All four, including a 15-year-old Elizabeth boy, then fled in a rented Taurus. Police said the clothes were recovered in the car, along with a blonde wig and a pair of scissors, apparently used to cut security tags off the clothing. (Source mycentraljersey.com)

"Protection 1 is proud to be sponsoring the D&D Daily ORC column to ensure the LP industry gets the information, education and critical data they need to fight this national epidemic."
Rex Gillette, VP Retail Sales, Protection 1.