Axis Introduces Interactive Camera Visualization Tool for SketchUp 3D CAD Software to Depict Real World Surveillance System Coverage in Building Design Plans

SketchUp users can select different Axis network cameras and place into design plans to conceptualize installation and visually depict camera field of views; Different mounting positions and view angles can be evaluated, and users can pan, tilt and zoom cameras to determine best video surveillance coverage


CHELMSFORD, Mass. – February 25, 2014 – Axis Communications, the world leader in network video, today introduces the Axis Camera Extension for SketchUp 3D CAD software providing interactive 3D models of Axis Network Cameras to aid in the planning and design of video surveillance systems. Users can conveniently select and place Axis cameras directly into CAD building plans to visually depict the areas the cameras will cover once installed.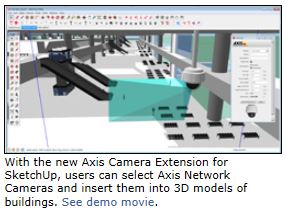 The new SketchUp extension from Axis, which is free to download, allows users to see exactly how the cameras fit into the building's layout and easily spot if camera views are obstructed by columns or walls. Different mounting positions and viewing angles can be evaluated through interactive camera models showing the respective camera coverage areas. This effectively reduces the risk of unexpected blind spots when planning and designing surveillance systems.

SketchUp users can select Axis Network Cameras from the toolbar to compare and evaluate different camera models and determine optimal mounting positions. Users can also pan, tilt and zoom to adjust field of views and define the best settings for optimal surveillance coverage. See the demo movie here.

SketchUp 3D CAD software also integrates with Google Maps, which makes it easier for integrators, architects and engineers to design surveillance systems for city surveillance or critical infrastructure projects.

"Our team continues to produce an increasing number of tools to make surveillance system design straightforward and more accurate for our A&E community and integrator partners," said Geoffrey Bauer, A&E Program Manager for North America. "We're excited to add the extremely popular and easy-to-use SketchUp for 3D camera design to our existing portfolio of CAD drawings, which includes Axis Coverage Shapes for Visio and Axis Camera Families for Autodesk Revit. SketchUp helps users select the right camera model, installation position and individual field of view in a virtualized 3D model based on the client's building design. Providing this visual surveillance design tool further engages the customer in the design process to align their expectations more closely with a realistic solution."

Axis' broad portfolio of video surveillance system design tools also includes Axis Coverage Shapes for Microsoft Visio and Axis Camera Families for Autodesk Revit.

The Axis Camera Extension for SketchUp is available today and can be downloaded free of charge from axis.com/tools. The Axis Camera Extension for SketchUp is initially available in English, and more languages (French, Italian, German, Spanish, Russian, Japanese, Korean, Brazilian Portuguese and Chinese) will be added in Q2, 2014.