Virginia's Quik-E Foods Cuts Losses with March Networks Retail Video Surveillance Solution


OTTAWA, ONTARIO, February 27, 2014 – March Networks, a global provider of intelligent IP video solutions, today announced that customer Quik-E Foods of Lynchburg, Virginia is upgrading to its next-generation retail solution for enhanced security and loss prevention. The March Networks solution integrates high-quality video, audio and transaction data to combat point-of-sale (POS) fraud and other threats to the business. The powerful solution has already helped Quik-E Foods improve operations and resolve serious incidents across its chain of 12 convenience stores and five automated car washes.

"We caught a cashier who was pausing transactions and then pocketing the money once customers left the store. The scam was adding up to more than $6,000 in losses," explained Quik-E Foods Vice President Todd Burgess. "With the deep POS integration and search tools in our March Networks solution, those transactions showed up as voids, and we also had the video evidence to verify what was happening. There wasn't a need to search for hours and hours. It was instant."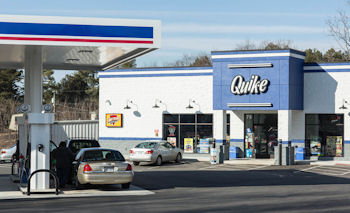 Working with March Networks certified provider Integrated Technology Group, Quik-E Foods is upgrading its existing March Networks NVRs to high-performance 8000 Series Hybrid NVRs. The recorders maintain the unparalleled reliability, centralized video management and scalability of previous generation March Networks NVRs. In addition, they deliver improved performance and video compression, expanded internal storage and the ability to support as many as 32 IP cameras or hybrid analog/IP configurations. This allows Quik-E to transition from 100 percent analog to 100 percent IP video cost-effectively and at its own pace.

The convenience store chain will also upgrade to powerful March Networks Searchlight for Retail software, which will be particularly helpful in optimizing operations at the family-run business. In addition to quickly investigating suspect transactions along with associated video, retailers can use Searchlight's automated reports to monitor operations, such as whether stores opened on time, shelves were stocked properly and employees were dressed as required. The daily reports will also help the retailer maintain compliance and operational standards. Searchlight accomplishes in minutes what formerly took hours of time and effort to adequately oversee.

Using the mobile video service March Networks Cloud, the Quik-E team also has convenient access to live and recorded surveillance video on their smartphones and tablets. With full backward compatibility, the mobile solution allows the IT team to review video for all convenience store and car wash locations, regardless of technology generation installed.

The reliability of the March Networks recorders proved invaluable to Quik-E in 2013 when 60 mph winds tore through the Lynchburg area, forcing the business to rely on generators for power. "When the power was restored, all of my recorders came back up," said Quik-E's Burgess. "The thing that most impresses me about March Networks technology is that it's a piece of equipment that's extremely reliable. I never have to fool with it."

"Quik-E Foods is a long-time customer who proves how a growing business can rely on our complete retail solutions to provide a real competitive advantage," said Net Payne, Chief Marketing Officer, March Networks. "They have used the technology to improve their operational efficiency, ensure security for their customers and staff, and protect their profitability. In addition, they have continued to add new, advanced capabilities without ever having to abandon existing recorder and camera investments."

About March Networks
March Networks, an independent subsidiary of Infinova, is a leading provider of intelligent IP video solutions. For more than a decade, the company has helped some of the world's largest commercial and government organizations transition from traditional CCTV to advanced surveillance technologies used for security, loss prevention, risk mitigation and operational efficiency. Its highly scalable and easy to use Command video management platform incorporates a web-based client interface to enable rapid system deployment and complete system control. It is complemented by the company's portfolio of high-definition IP cameras, encoders, video analytics and hybrid recorders, as well as outstanding professional and managed services. March Networks systems are delivered through an extensive distribution and partner network in more than 50 countries. For more information, please visit www.marchnetworks.com.