March StopORC Webinar to Cover "Gift Card Fraud: Addressing Current Issues and Future Challenges" with Meghan Burke from The North Face
Rancho Cucamonga, CA- March 12, 2014 – Meghan Burke, loss prevention coordinator with The North Face, will present "Gift Card Fraud: Addressing Current Issues and Future Challenges" at the StopORC Webinar on Thursday, March 27th at 12pm PST. The free StopORC Webinar is open to qualified professionals involved in combating Organized Retail Crime (ORC). Registration is available by clicking here.

The webinar will cover the growing crime of gift card fraud, a multi-billion dollar problem for retailers. Gift card fraud ranges from simple cons to complex fraudulent ORC scams involving numerous individuals in multiple locations. Burke's presentation will review methods used by thieves, what to watch for and ways to protect against it.

As Loss Prevention Coordinator for The North Face brand of VF Outdoor, Burke supports their LP program covering 34 stores on the East Coast and in parts of the Midwest. She began her LP career in 1999 as a fitting room control associate at J.C. Penney in their loss prevention program and afterwards was promoted to agent with their LP team. Burke subsequently held other LP positions at other retail companies and joined the LP team at The North Face corporate office in 2008.

StopORC Webinar participants are eligible for Loss Prevention Foundation (LPF) Continuing Education Units (CEUs) to help provide LPCertified (LPC) loss prevention professionals with credits to help meet the 20 CEU annual education requirement for recertification. LPC is an advanced certification for loss prevention managers, directors, and vice presidents who demonstrate a high degree of skill and knowledge in the loss prevention field.

StopORC.org is sponsored by Universal Surveillance Systems LLC (USS) and holds free monthly webinars featuring subject matter and experts who cover current topics such as ORC trends, methods, prevention, investigations, legislation and working with law enforcement. Previous webinars have discussed ORC tactics; online ORC investigations; cybercrime; investigating and prosecuting ORC cases; and writing, promoting and passing aggressive ORC legislation. The StopORC website features valuable industry intelligence in combatting ORC and is located at www.stoporc.org.

To register for the upcoming March 27th StopORC webinar with Meghan Burke, click here or call 1-800-488-9097 for more information.

To see previous webinars, visit: http://www.stoporc.org/webinar-archives/.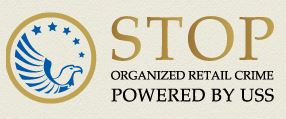 About StopORC.org:
The mission of StopORC.org is to fight organized retail crime through information sharing, education and advocacy, while strengthening the cause of loss prevention on a global level. StopORC.org provides a comprehensive centralized resource on ORC for anyone requiring current news and information. It is supported by an advisory board made up of ORC authorities Nelson Harrah, GAP, Inc.; John Morris, Macys; Mark VanBeest, jcpenney; David Nance, Sabre, Inc.; Scott Sanford, Barnes & Noble, Inc.; Jason Gonzales, Rite Aid; Dennis Dansak, Sr., The Kroger Co.; Lauren Cunningham, eBay; and Tony Sheppard, CVS Caremark.

For more information, contact:
Brittney Port
StopORC.org
800-488-9097
bport@universaleas.com