IAI's Top Three Ways to Stay Relevant
at the RILA Conference

Checkview, General Dynamics and InstaKey to give CFI scholarships, Elite Training Day registrations and International Association of Interviewer's memberships

CHICAGO, April 1, 2014 – The International Association of Interviewers (IAI) has teamed up with elite solution providers, Checkview, General Dynamics and InstaKey, to provide the top three educational opportunities for RILA attendees to stay relevant.

Stop by Checkview's booth 303, General Dynamics' booth 507 and InstaKey's booth 724 for a chance at:

1. A Certified Forensic Interviewer (CFI) Scholarship
2. An Elite Training Day registration
3. An IAI membership
Elite Training Day is geared toward elite interview and interrogators from all disciplines. The educational content is based in truly advanced techniques of interviewing and interrogation. The agenda includes a session entitled, "Top 10 Things You Need to Know When Investigating High Level Executives" and a detailed workshop on using data analytics as effective tools to reduce the risk of fraudulent activity.

IAI memberships are valuable tools for those dedicated to the art of investigation. IAI is the governing body and member association for the CFI designation. Its mission is to provide relevant and valuable education and training to support those practicing the art of interviewing and interrogation. The association's web content contains educational resources including a rationalization matrix, interview mapping, legal updates, podcasts, book reviews, blogs and much more.

"IAI is fortunate to have solution provider partners that are sincerely committed to advancing the industry as well as the educational goals of the loss prevention and safety professional," said Wayne Hoover, CFI, Executive Director for IAI.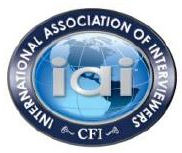 About the International Association of Interviewers
The International Association of Interviewers (IAI) is the only association specifically for CFI designees as well as all those dedicated to the art of interviewing and interrogation. The IAI mission is to provide educational, business and networking opportunities to interviewers from all disciplines through valuable resources such as instructive events, useful Web content, exclusive Webinars and much more. To learn more about IAI membership and existing educational resources visit www.certifiedinterviewer.com.