C-Store Chain Sold on March Networks Video Surveillance

Rock Solid Reliability, Ease of Use, Backward Compatibility a Winning Combination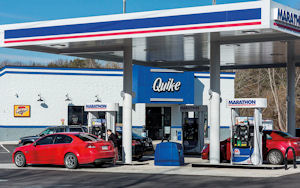 Digital video was still in its infancy when Quik-E Foods of Lynchburg, Virginia, began equipping its 12 convenience stores and five car washes with March Networks 3108 video recorders a decade ago.

"Over the years, we replaced some of our original recorders with March Networks 4208 and 8516 recorders, but I still have four 3108s," said Todd Burgess, Quik-E Foods Vice President. "They've been up and running 365 days a year all this time."

Quik-E Foods' experience is consistent with March Networks' reputation for rock solid reliability. "The thing that most impresses me about March Networks technology is that it's a piece of equipment that I never have to fool with," remarked Burgess.

Equally important, the C-store chain's collection of 3108, 4208 and 8516 recorders illustrates March Networks' commitment to backward compatibility. There was never a reason for Quik-E Foods to replace its perfectly functioning 10-year-old recorders to take advantage of software upgrades or other enhancements in video surveillance technology. When Burgess powers up his iPad and goes to the Cloud to review live or archived video from his 12 stores, for example, it makes no difference if it's a 3108 recorder or a brand new 8000 Series NVR.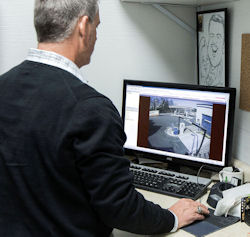 Burgess also likes March Networks' user-friendly interface. "Our managers use the Live Viewer, Evidence Manager and Investigator software on a daily basis," he said. "They all know how to use them as well as I do and they're all self-taught."

Several years ago, March Networks worked with Quik-E Foods to integrate its video surveillance and point-of-sale systems, allowing Burgess and the company's store managers to review recorded video with text overlay. "It's invaluable to be able to pull up a camera and see what's being rung up overlaid on top of the video," said Burgess.

Quik-E Foods is now in the process of upgrading to March Networks' Searchlight application. "Before, with text overlay, I could only search for voided or canceled transactions by logging in at each recorder locally," explained Burgess. "With Searchlight, all the transaction data is stored at corporate on a server, so I can go in and ask to see all voided transactions at all locations in a specified time range."

Better still, Searchlight will automatically deliver a daily emailed report identifying suspect transactions with links to the corresponding video.



While the system is primarily used for loss prevention, Todd's father and Quik-E Foods founder Wilton Burgess also takes advantage of its live viewing capability for operational oversight. Physically inspecting all 12 stores would take him two or three days. With the March Networks system, he can sit in front of his computer and accomplish the same thing in 20 minutes or less.