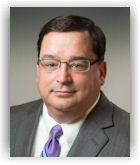 By Garth Gasse, Director of AP, RILA
The field of retail asset protection — like other aspects of the industry — is undergoing significant change as a host of complex new challenges related to data security and rapidly advancing technology join longstanding challenges related to workplace safety and shrink.
The four broad areas of data security, rapid technological advancement, workplace safety and shrink are requiring retailers to rethink and reengineer significant aspects of their operations in new and inventive ways. Leaders in the asset protection field are playing a much expanded role these days and being called upon to offer a vision of where the industry is headed that lead to the proactive development of strategies which accomplish multiple goals.
For example, asset protection thought leaders must address challenges in a way that ensures all their objectives are met, including those involving shrink, operational effectiveness, and internal controls, all the while ensuring consumer confidence, brand protection and the profitability of the company. Working cross functionally within their organizations and with the Retail Industry Leaders Association (RILA), asset protection professionals are balancing these considerations in four main areas that include:
• Data security: Although cybersecurity is not typically the responsibility of the asset protection or loss prevention departments, AP teams are still focused on the impact of potential security breaches on their enterprises. Recent attacks against retailers and others have understandably focused public attention on cybersecurity and data privacy. Cyber-attacks on retailers are aimed at sensitive consumer financial data that can be used for financial gain, and a breach can affect consumers' faith in the system and can damage the relationship between retailers and their customers. RILA is committed to aid the retail industry with our recently launched and multi-faceted
Cybersecurity Initiative
. This initiative, along with RILA's 2013 research study that identified challenges presented by emerging mobile point of sale (POS) technologies, are just two of the tools RILA provides AP leaders so that they can better protect their companies, their consumers and their communities.
• Technology and innovation: Understanding advancements and applications in new technologies, while maximizing effective use of existing technologies and legacy systems, can be a daunting task. Video surveillance systems, for example, have been used by loss prevention teams for years, but new uses for the data and analytics provided by these systems can also be used in operations and auditing (ensuring compliance with store standards), merchandising (identifying out of stocks), and others. This cross-functional application can also help justify costs and investment in these systems. Innovative AP thought leaders use technology to re-imagine how they operate and produce results. Newly emerging technologies, many developed as solutions outside the AP realm, are also being tested and implemented with retail AP challenges in mind. Facial recognition, predictive analytics, uses of big data, cloud-based applications and a layered CCTV supporting mobile POS are all examples of technologies on the horizon for retail asset protection, and no doubt will soon help retailers maximize profitability.
• The safety imperative: A key responsibility of retail asset protection teams, and one they do not take lightly, is ensuring safety in the workplace and stores. AP professionals realize the primary assets in their companies are their employees, and of course their customers. AP teams must train their teams in such disparate activities as responding to extreme incidents like active shooter events and ensuring safety in daily tasks by instilling proper lifting techniques or the use of personal protection equipment. And new challenges such as training an incoming workforce made up of the millennial generation demand that AP teams develop innovative training programs and new communication techniques. And safety programs are continuing to evolve based on science and technology. Revolutionary brain science research is now being applied to corporate safety awareness programs. Store teams are provided "gamified" eLearning modules to increase awareness and retention. The safety standard and training modules are a fun and repetitive efforts and have a big impact with incident reduction efforts. All these programs require a culture of safety that is only achieved thorough leadership, knowledge and a sound strategy. Driving a safety culture includes empowering executive leadership to embrace safety as a core value and deliver safety awareness and messaging. Achieving safety for employees and customers requires awareness and effort from everyone and approaches like these are having positive results.
• Operational shrink: Shrink management is changing, and many companies are increasing their focus on minimizing non-malicious shrink. Internal and external theft-related losses are significant, and AP teams have traditionally focused on these. But operational or process driven shrink is also impacting the bottom line at alarming rates. This year, a RILA research project currently underway is focused on challenges and opportunities faced by the AP community in engaging other parts of organizations to provide a more holistic approach to shrink prevention. Shrink management is the responsibility of many functional departments beyond AP, such as operations, merchandising, audit, supply chain and many more. If all these stakeholders included shrink awareness in their decision-making efforts, enhanced profitability would result. Several retailers have taken on this challenge and have formed shrink task forces, cross-functional teams with members representing all retail disciplines. Others have established an institutional shrink culture within their company, making shrink management the responsibility of all team members. These efforts are paying tremendous dividends to their shrink and/or profitability results. It is up to the AP leaders to drive the awareness of process driven, operational shrink with our many business partners in our companies.
The asset protection field is changing as rapidly, if not more so, as the rest of the retail industry. It's why education on the four overarching themes identified above are the focus of RILA's annual
Retail Asset Protection Conference 2014
being held April 6 to 9 in Indianapolis, Indiana. With a program developed by and featuring many of retail's top asset protection executives, the event is focused on top issues, leading practices and actionable takeaways on the issues that matter most to retail asset protection teams and the retail enterprise as a whole. (
Source retailingtoday.com
)