| | |
| --- | --- |
| | New Advances in Predictive Crime Risk Analytics Help Retailers Pinpoint Shrink with Unprecedented Accuracy |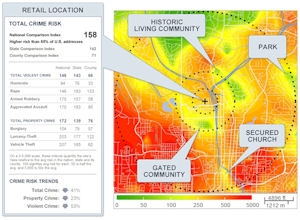 Using new, advanced Big Data modeling, Location, Inc. has released cutting-edge predictive crime risk analytics in SecurityGauge. SecurityGauge allows retailers to predict and mitigate shrink with new precision and unmatched spatial accuracy. Based upon over a decade of research and development, SecurityGauge has been proven to predict average annual per-store shrink with greater than 94% accuracy.

In separate blind tests performed with leading retailers from diverse retail sectors, SecurityGauge crime risk ratings predict actual per-store shrink with 94%-97% accuracy. These tests show that average annual shrink of high crime risk locations can be more than 3.5 times more than low risk locations. In one test, high crime risk stores experienced greater than $100,000 in additional annual shrink over stores SecurityGauge proactively categorized as low risk. Armed with this knowledge, retailers can precisely and objectively deploy security resources to store locations with higher return on investment.

Accurately predicting shrink on a store-by-store basis is the first step in effective shrink mitigation. SecurityGauge uses new technology with unmatched spatial accuracy to enhance retailers' capabilities in Loss Prevention and Real Estate:

| | |
| --- | --- |
| - | Choose new store locations based upon shrink predictions at any address. |
| - | Outfit new stores with security infrastructure proportional to anticipated shrink rate at time of construction saving costly retrofitting expenses. |
| - | Make strategic staffing decisions; hire more experienced store managers at high crime risk locations. |
| - | Objectively compare new stores (where historical shrink data is very limited) to established stores for security prioritization; SecurityGauge risk ratings put all stores on a nationally-comparable scale. |
| - | Estimate future store shrink to forecast security expenditures utilizing SecurityGauge crime risk projections. |
| - | Relocate high shrink stores. In some instances, moving just several city blocks can measurably impact shrink. SecurityGauge directs retailers to the lowest shrink risk locations within a desired trade area. |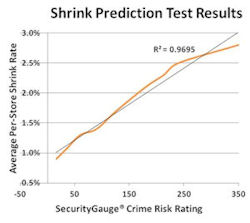 Please visit us to get your FREE SecurityGauge Report at the RILA Asset Protection conference, booth 723 or NRF Loss Prevention conference, booth 1327.

About Location, Inc.
We're inventors focused on location-based Big Data analytics. Many of our SaaS technologies are patented, patent-pending, exclusive or proprietary, and have been refined over a decade of research and real-world validation. We pride ourselves in methodologies of the highest caliber utilizing a rigorous quality-testing regime to ensure precision at every step. We'd love to hear about your biggest challenges and explore solutions with you.