7 big ORC cases in last 3 weeks alone

128 suspects - $30 million and counting

(And that's not even including the small cases.)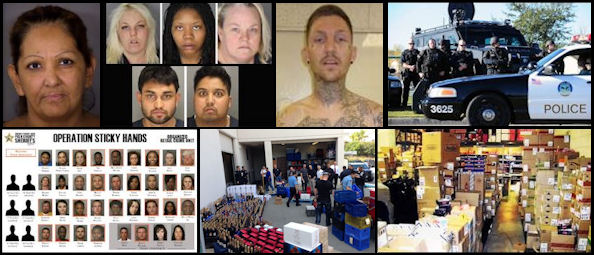 Over the last three weeks, we've seen major organized retail crime groups busted from coast to coast - north to south - into Canada - and throughout North America. The operations have been complex and varied, with suspects ranging from sophisticated criminals to gang bangers, ex-cons and even murderers. Since March 25th, the D&D Daily has reported on seven huge ORC cases, with $30 million in merchandise stolen and 128 suspects involved - 102 of which have already been arrested. Of truly special note, and for the first time in the Daily's history, we've seen a female ORC suspect in San Antonio, Texas, busted twice for ORC in 6 months. (The ring she was involved with appears to be linked to the Mexican cartel.) The startling numbers above don't even factor in the "lesser" ORC operations we report on a daily basis in our e-newsletter. The complexity and frequency of the larger cases, however, truly underscores the importance of our industry in a world where retail crime is only increasing. LP programs throughout the country have been instrumental in the investigative efforts of both law enforcement and other retailers. In recent weeks, ORC investigators from Kroger, Walgreens, CVS and others have helped put an end to criminal networks in Florida, Arizona, California and Ohio - just to name a few. We at the D&D Daily would like to thank all the LP teams involved for their efforts in these multi-month and even year-long investigations. We will continue to provide our readers with exclusive information not found in any other news source. While Retail Loss Prevention continues to do its part, we will continue to do ours. Stay tuned to the D&D Daily, LP's #1 Digital News Source.


6 indicted, 15 others sought in ORC theft ring in Lancaster, Ohio hitting Lowe's, Burlington Coat, Victoria's Secret and others Twenty-one people are facing charges related to a retail theft ring that was active for approximately one year and spanned multiple Ohio counties, prosecutors said. Some of the people allegedly involved in this retail theft ring, which targeted major chain stores in Fairfield, Licking, Union and Franklin counties, have been indicted with jury trials scheduled, and others still have outstanding warrants for their arrest. Fairfield County Assistant Prosecuting Attorney Jocelyn Kelly will prosecute each of the cases individually, along with the assistance of Ohio Attorney General Mike DeWine's office. Those involved in the theft ring are accused of having one group steal from stores, then getting a different group of people to return the items at a different chain store location for gift cards. "Then they went and sold the cards for cash," Kelly said. According to the attorney general's office, some of the thefts occurred at Lowe's, Burlington Coat Factory and Victoria's Secret, among other places. The Columbus Police Department investigated the case. However, each individual will have his or her own trial in Fairfield County because Kelly said a lot of the criminal activity occurred locally. The following have been indicted by Fairfield Grand Jury in April 2014. (Source lancastereaglegazette.com) (Source newarkadvocate.com)




Daily update: More on Operation Crossover in Long Beach - 'Insane Crips' gang ORC ring bust - Estimated value $5M according to retail source Ten search warrants were served in connection with "Operation Crossover" triggered by as many as 100 crimes were allegedly committed by members of the Long Beach gang "Insane Crip Gang." 10 arrested and 4 still on the loose. (Source ktla.com)



Female ORC suspect hitting Marshall's stores in Oklahoma City with getaway driver Larceny investigators say on Wednesday, April 9, the woman went to Marshalls located at 1425 W. I-240 around noon. A security guard at the store told police the woman was carrying 10 purses and walked out of the store without paying. The purses have a combined value of $1,300. Then, on Sunday, April 13, around 11:30 a.m. a woman matching the same description entered the Marshalls located at 13730 N. Pennsylvania Avenue. An employee told police the woman lifted six pieces of miscellaneous merchandise totaling $220 and left the store, running to a yellow Jeep, saying "I am coming. I am coming." (Source news9.com)

Minn. city's 'outside-the- box' charges nail organized retail thieves
Police say the 50-year-old caught on store surveillance cameras in the Midway area is a professional shoplifter who has an "almost daily routine of boosting merchandise from retail stores," according to a police report. While police had several theft cases against Kelvin Dewayne Byrd of St. Paul, the value of the items stolen wasn't enough to charge him with felony theft under state law (it has to be at least $1,000), said Sgt. Charlie Anderson, who heads the St. Paul Police Department's Organized Retail Crime Unit, which he started last year. Instead, Anderson worked with prosecutors to take a different tack, charging Byrd with felony burglary. When Byrd was caught shoplifting, stores had issued "trespass" notices to him, which banned him from returning for one year. But because police say Byrd kept going back in the buildings without permission and stealing items, he was charged with two counts of third-degree burglary. The maximum sentence for that offense is five years in prison and a $10,000 fine. The charge is "outside the box ... it's creative," Anderson said, but, he added, Byrd's offenses fit the burglary statute. It's a strategy of the ORC unit to be tough on "egregious, brazen, repeat" offenders who are tied to organized retail theft, Anderson said. (Source securityinfowatch.com)