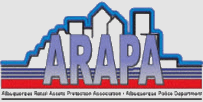 2nd Annual Southwest Organized Retail Crime Conference
Albuquerque, NM October 13, 2011
Recap by Ken Cox, Founding Member ARAPA
Albuquerque Retail Assets Protection Association

ORC is put on notice in the Southwest!
On Thursday October 13th, over 350 Law Enforcement and Retail Assets Protection Professionals from across the Southwest and the country converged on Albuquerque, NM to continue their fight against ORC. The Albuquerque Retail Assets Protection Association (ARAPA) and the Albuquerque Police Dept. hosted the event in downtown Albuquerque. Attendees were presented with information from a broad range of expertise from within the Retail Industry and Law Enforcement community. APD Chief Ray Schultz along with Joseph LaRocca from the National Retail Federation began the event sharing by how the partnerships of ARAPA have made significant impact on ORC not only in the southwest, but also in jurisdictions across the country. To date, more than 14 other major metropolitan areas adopting the ARAPA public-private partnership model to impact ORC. Topics covered at the conference included: ORC and Crime in a Southwest City; Using Technology and Partnerships to Fight ORC; Is ORC a National Security Issue and Its impact on Southwest Border States. Members from the U.S. Secret Service, U.S. Department of Homeland Security/Homeland Security Investigations, New Mexico State Police, Albuquerque Police Department, Retail Investigations Global Assets Protection E-Bay, Gap Inc, Verizon Business, Target Corporation Investigations, Secretary of the Dept. of Public Safety State of New Mexico, all presented up to date information in regards to the fight against ORC. But just as important was the time spent collaborating and building new partnerships. Since it was established in 2006, the ARAPA "prototype" has is been replicated by jurisdictions across the country because it provides Law Enforcement and Retail Assets Protection Professionals the ability to multiply the resources available in communities to address criminal activity which drains our economies through active serial ORC offenders. At the end of the day, the attendees left the conference with a new set of tools to add to their "Virtual ORC Tool Box" regarding how public private partnerships can help us fight crime.