Detex Launches New Website

New 'Idea Center' Feature Provides Guide to Door Security Products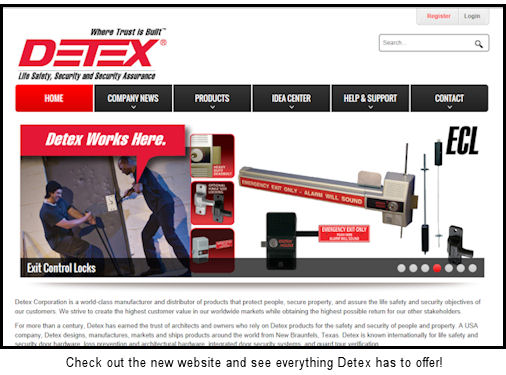 Detex Corporation, an industry leader in manufacturing high quality life-safety and security hardware for commercial buildings, has launched a new and improved website at detex.com. The biggest addition to the site is the new Idea Center, a tab for end users, architects and other visitors who are unfamiliar with door hardware or Detex products.

The Idea Center uses 3D building images, with labels, explaining how various Detex products can be used within the example building. There are various doors labeled with different product categories. Once you click on the image or the application, you will see a list of product applications that Detex can provide to address the needs of that application. These short descriptions allow the visitor to know all the various options available from Detex, each providing a link to specific product information. Detex will be adding to the list of industries over time.

Other features on the new website include:

| | |
| --- | --- |
| ● | The scrolling banner on the front page that displays Detex's sub-brands. Any of them can be clicked on to go to the overview page associated with that sub-brand. |
| ● | The menu, which has drop down menu links, enabling less clicks to find information. |
| ● | The Help & Support pages got a facelift and are now more user friendly than on the old site. |
| ● | New, user-friendly domestic and international rep maps. |
| ● | The whole layout is responsive, so there is only one site for monitor and mobile. The mobile version of the site is easy to user and very lightweight. |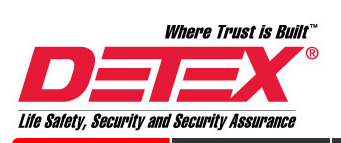 Detex Corporation is a world-class manufacturer and distributor of products that protect people, secure property, and assure the life safety and security objectives of our customers. A USA company, Detex designs, manufactures, markets and ships products from New Braunfels, Texas. Detex Corporation is known internationally for life safety and security door hardware, loss prevention and architectural hardware, integrated door security systems, and guard tour verification.

To learn more about the Detex Lockdown System, e-mail marketing@detex.com or visit www.detex.com.